20 Years After 9/11 Attacks, How Joe Biden's Approval Rating Stacks Up to George W. Bush's
In the aftermath of the September 11, 2001 attacks, the American people felt significantly more fondly about former President George W. Bush than they do about President Joe Biden 20 years later.
Just over seven months into their presidencies, Bush still enjoyed a majority approval rating, at about 52 percent, but Biden has seen his trend downward during the same time period. The withdrawal of troops from Afghanistan, bringing an end to a 20-year war that was sparked by the 9/11 terrorist attacks, is dragging Biden's approval rating down, with many agreeing it was right to leave but disagreeing with how it was handled.
Going from 52 percent approval at the end of July, Biden's approval rating dropped to 45.4 percent on September 7, a seven-point decline. At the same point in Bush's presidency, he had an approval rating of nearly 52 percent.
Biden defended his administration's timeline for leaving Afghanistan on the basis that troops would be endangered if he didn't because of an agreement signed under former President Donald Trump. However, Biden backed leaving Afghanistan regardless of whether Trump had an agreement with the Taliban because remaining in the country for another year or another five years wouldn't have made a difference after two decades of war.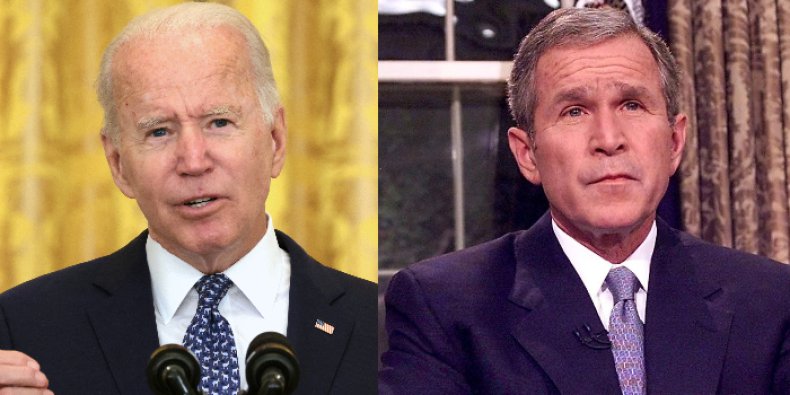 While the majority of Americans backed the decision to leave Afghanistan, a Pew Research poll found 71 percent of American adults thought Biden did only a "fair" or "poor" job of handling the situation. Republicans were far less likely than Democrats to give Biden's performance on Afghanistan high regards and members of the GOP honed in on the crisis to lambast the Democratic president.
Messages about Biden's failure in leading the U.S. withdrawal from Afghanistan is likely to follow the president to the 2022 midterms as Republicans look to win back control of both chambers of Congress. Some have even called for the president to resign and Representative Marjorie Taylor Greene introduced articles of impeachment against Biden, an attempt that's likely to fail given Democratic control of the House of Representatives.
Support for the Afghanistan war waned over the years, but when Bush called for raising arms against terrorism after the 9/11 attacks, Americans were on board. The week after the attacks, Bush saw his approval rating jump from the low 50 percentile to 86 percent. Days later, that approval rating jumped to 90 percent, according to Gallup, the highest approval rating of any president since Gallup started tracking presidential approval ratings.
In addressing Congress after the attacks, Bush announced that all evidence pointed to al Qaeda as the perpetrator of the attacks and demanded that the Taliban turn al Qaeda's leaders over to the United States. He also called nations around the world to join the fight against terrorism and for the U.S. military to "be ready."
"​​Our nation, this generation, will lift the dark threat of violence from our people and our future. We will rally the world to this cause by our efforts, by our courage. We will not tire, we will not falter and we will not fail," Bush said.
Of the 88 percent of people who saw Bush's speech, about 90 percent gave him high remarks with 62 percent categorizing the speech as "excellent." Only 1 percent considered it to be "poor," according to Gallup.
As the war continued and Bush's presidency entered its second year, the former president's approval rating faced a steady decline, before reaching his presidential low at 43.8 percent in his second term, according to FiveThirtyEight. While Bush's popularity would wane over his time in office, eight months into his presidency, he had the support of America, while Biden faces falling polling numbers, although the challenges that faced both presidents during the beginning of their terms were different.