20 years after Columbine: Survivors of 1999 Attack Carve Out Private Online Spaces for Victims of Gun Violence
On April 20, 1999, two students stormed through Columbine High School in Colorado and murdered 12 of their classmates and one teacher. It was a massacre that transformed a generation, ushering in a new era in which active shooter drills and armed guards became commonplace requirements at schools across the country.
Heather Martin, then a 17-year-old senior, remained hidden in a choir room with a horde of terrified classmates when the sound of bullets pierced through the halls. She survived, but — like many living victims of gun violence — suffered from crippling anxiety attacks. It didn't help that reports of shootings at schools and other public places seemed to go on unabated in the intervening years.
"Survivors feel very helpless when another event happens," Martin told Newsweek. "It comes out of extreme anger. It comes out of extreme grief. We know that the event itself is just the beginning."
According to The Gun Violence Archive, more than 2,000 people have been killed in what it categorizes as "mass shootings" — those with four or more victims — in the years since the organization started tracking deaths in 2012. Meanwhile, a tally from The Washington Post counts over 187,000 students at 193 schools who have experienced a school shooting since Columbine. The dizzying number of incidences has helped make gun control a leading issue in U.S. politics, though federal gun control laws remain notoriously difficult to push through Congress.
It was the 2012 shooting at a movie theater in Aurora, Colorado that served as a breaking point for Martin, who now works as a public school teacher in the city. Along with other survivors, she founded The Rebels Project, a nonprofit that has spent the last few years attempting to lessen the isolation survivors feel following acts of gun violence.
The organization, which is named after Columbine High School's mascot, functions as a support network that springs into protection mode every time a mass attack makes headlines.
"I think that the power of peer support is underrated a lot," Martin said. "A lot of time people would rather talk to somebody who knows what they've experienced. We're forming a network of counselors that we can recommend to people [and] we fundraise to help pay for therapy."
The Rebels Project also provides survivors with a safe enclave on social media, where it's routine for conspiracy theories and even footage from live attacks to spread furiously online after a shooting. A private Facebook group for survivors counts nearly 1,000 people in its ranks from 60 different traumatic incidents.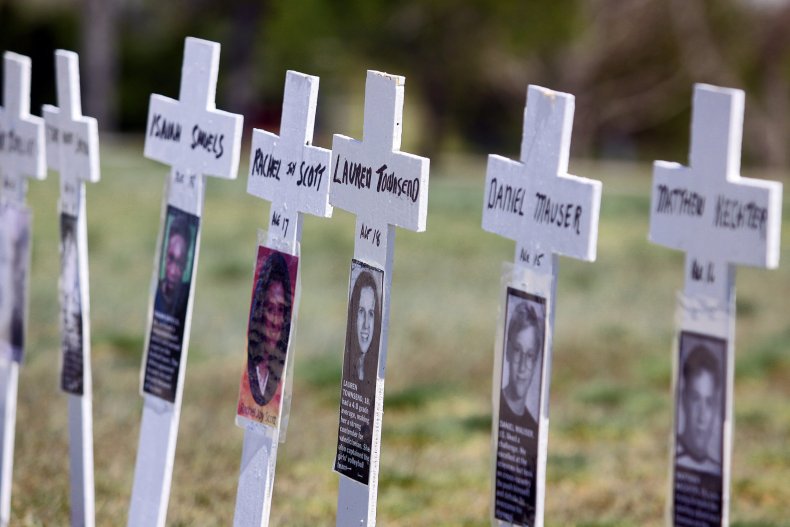 "There's kind of an initial outpouring of 'hey guys, keep your eye on the news. If you're going to be conscious, maybe avoid the news," Martin said, referring to the group's activity after an attack. "The survivors are very conscious of what triggers are."
Martin said she and other volunteers work to keep The Rebels Network's online spaces inoculated from the chaos, rumors and partisan debates that proliferate in other social media communities.
"We have a rule that we don't allow politics on the private Facebook page," she said. "The Rebels Project offers a space where that's not a barrier."
The nonprofit's other policy is to remain as tactful as possible when reaching out to traumatized communities — a cautious approach that stems from living through unending news cycles. Studies have repeatedly shown that community members can feel traumatized by watching news coverage of a local attack. In a study published Thursday by the University of California — Irvine, researchers found that the onslaught of press attention can feel invasive and create heightened anxieties among survivors and the wider community.
"When we visit a community, it's because we've been invited," Martin said.
When asked how she hoped news media would cover the anniversary of Columbine, Martin's answer was simple: don't glorify the shooters. The day would be easier to live through if the focus remains on survivors and victims, not the grainy footage from the attack that seemed to play on a loop in 1999.
"Kindness and compassion and resilience are how we want to honor this anniversary," she said.
9:13 p.m. (04/20/19): This story has been updated to include the correct name of Martin's group, The Rebels Project. It was previously printed as The Rebel Project.