200 New York Nurses Strike for More COVID Protections as Hospitalizations Surge in the State
As hospitalizations surge in New York, 200 nurses and healthcare workers went on strike in New Rochelle on Tuesday for more protections against the coronavirus.
The strike was organized by the New York State Nurses Association (NYSNA) after Montefiore New Rochelle Hospital allegedly refused to provide nurses with adequate protective equipment, ventilation, COVID-19 testing and other safety protocols in their latest contract negotiations, according to the union.
The union wanted more nurses hired and improved safety measures for hospital staff, according to NBC 4 New York.
"With COVID-19 cases rising steadily in the New Rochelle area and several red clusters emerging in Westchester County, it is clear to nurses that the hospital is not yet prepared for another surge of patients," the NYSNA said in a press release issued Monday.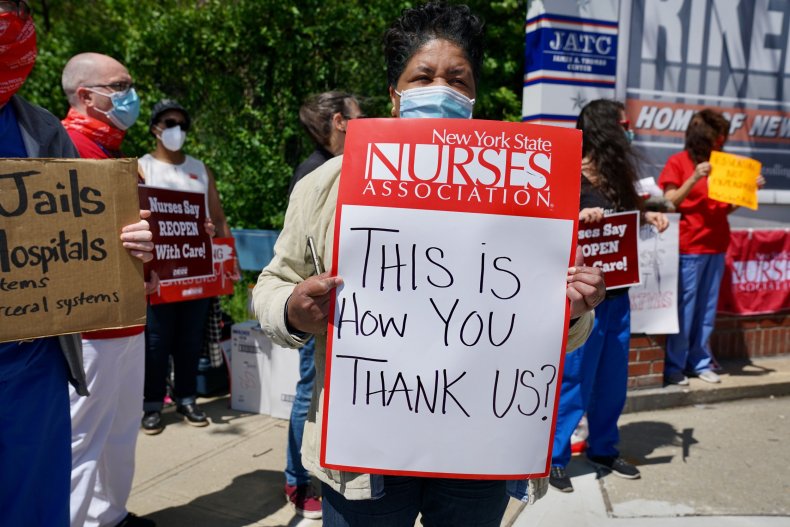 Nurses said they were concerned for the health of both their patients and fellow staff, according to NBC 4 New York. Some employees at Montefiore New Rochelle Hospital reportedly contracted COVID-19 and one employee died from the virus.
"It is really that detrimental to us to get a fair contract that we deserve," Nurse Marcia Hayles told the news station. "We worked right through COVID nonstop, tirelessly."
"The only thing we can do is pray for the best and pray that they realized they made a mistake," Nurse Shalon Matthews told a local Westchester news outlet, The Journal News. "And what we need has to do with our patients, not with anything else, we have to put our patients first."
New York Governor Andrew Cuomo said that hospitalizations in the state surged to 3,500 over the Thanksgiving weekend, during a Monday COVID-19 briefing. That number since climbed further, reaching 3,774 hospitalizations on Tuesday.
Cuomo also initiated an emergency order for hospitals to confirm a 90-day stockpile of personal protective equipment (PPE) and to increase bed capacity by 50 percent.
In response to the nurses' protest, Montefiore New Rochelle Hospital told NBC 4 New York that they offered "a good deal" to the health care workers in past contract negotiations, which have lasted over 18 months, but the NYSNA refused.
The hospital reportedly offered employees a seven percent wage increase, tuition reimbursement of $7,500 per year and health insurance for retired nurses, according to NBC 4 New York.
Montefiore New Rochelle Hospital since accused the NYSNA of power-grabbing as the hospital said it's prepared for the new surge in COVID cases and is stocked with 90 days of PPE for employees, contradictory to the union's allegations.
Marcos Crespo, senior vice president of community affairs for Montefiore New Rochelle Hospital, said the union was "selfishly putting the community at risk and using COVID-19 as a political football" during a news conference on November 30, reported on by The Journal News.
The NYSNA represented over 42,000 nurses and health care workers in the state. Nurses are expected to continue their strike until 7 p.m. tonight and begin again Wednesday morning, according to The Journal News.
The hospital will remain operational throughout the strike and enacted plans to transfer patients to other facilities if needed, according to NBC 4 New York.
The NYSNA organized a second strike of nearly 100 nurses at Albany Medical Center Hospital on December 1 over claims that the hospital forced nurses to reuse N95 respirator masks 20 times, far surpassing the Center for Disease Control and Prevention's recommendation of five times.
"This is a painful day for Albany Med," hospital spokesperson Matthew Markham told the Associated Press. "While some of our nurses have chosen to abandon their patients, even as coronavirus hospitalizations continue reaching record levels in the Capital Region, Albany Med will not abandon its mission."
Markham continued to note that temporary nurses have been deployed to the hospital to replace those protesting.