200 Oklahoma Black Gun Owners Set to Rally for 2nd Amendment Rights
An estimated 200 black gun owners are expected to take part in a pro-Second Amendment march in Oklahoma City on Saturday.
According to The Oklahoman, the demonstration is organized by Omar Chatman, 41, and is intended to bring attention to concerns that the Second Amendment rights of African Americans are not often respected.
"I have encountered the police and observed them while holding my gun from a safe distance," Chatman said. "I've been displeased with every encounter. They treat Black men with guns with condescension and sarcasm. They should engage us as they would anyone else."
Newsweek was not able to contact Chatman for additional comments about the march.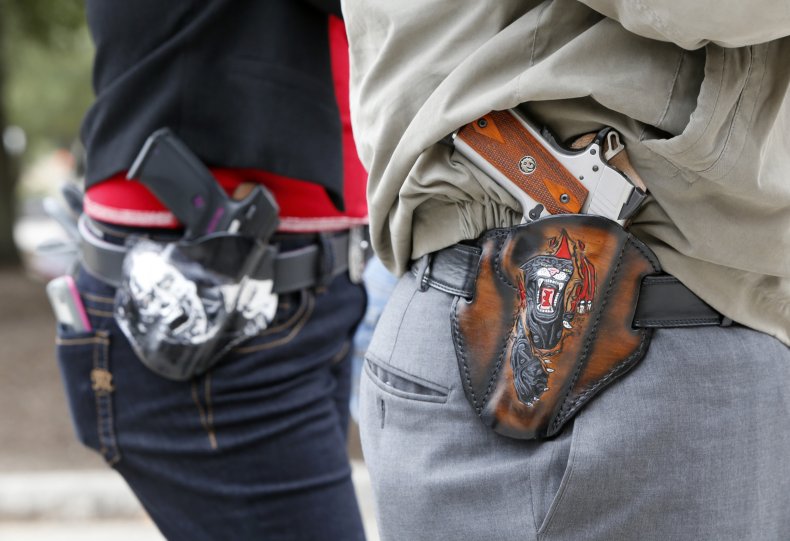 Philip Smith, president and found of the National African American Gun Association, said law enforcement agencies and society as a whole typically have a negative view of African Americans who carry guns.
Smith has not responded to Newsweek's request for additional comment.
The demonstration is not just about shedding light on how African Americans' Second Amendment rights are viewed, but demanding action on a number of separate issues in light of protests demanding justice for George Floyd, a black man who died while in Minneapolis police custody on May 25.
The Oklahoma protesters are demanding that Oklahoma County District Attorney David Prater reopen the case involving the 2015 shooting death of C.J. Pettit Jr. by a Midwest City police officer, and demanding that the state legislature enact laws holding police officers accountable for wrongdoing.
They are also calling police to be required to carry their own liability insurance and demanding that the World Court, also known as the International Court of Justice which falls under the United Nations jurisdiction, to investigate the U.S. for crimes against African Americans.
The march begins Saturday at 2 p.m. at the Ralph Ellison Memorial Library, with demonstrators walking a mile to the governor's mansion. Many are expected to openly carry their firearms, which is legal in Oklahoma.
Chatman, who will openly carry his AR-15 rifle during the demonstration, said he hopes to send a message to President Donald Trump and Oklahoma Governor Kevin Stitt that black communities will no longer be victimized by racists groups, corrupt cops, or criminals.
"Criminals have no color. It doesn't matter if you are a Black man, white man, Asian or Hispanic," he said. "If you come into our community, know we are armed."
On Thursday, Stitt hosted a round table discussion on race relations that was broadcasted on YouTube and Facebook channels. The discussion centered on programs to help minority-owned businesses to succeed, and helping minority business owners to meet those challenges.
"Oklahoma is better when we work together, and I encourage Oklahomans to lean in and listen to the stories and ideas..." Stitt said in a statement.
Newsweek contacted Stitt's office for comment on the march, but did not hear back in time for publication.