Obama Promises 'Costs' for Russian Military Incursion in Crimea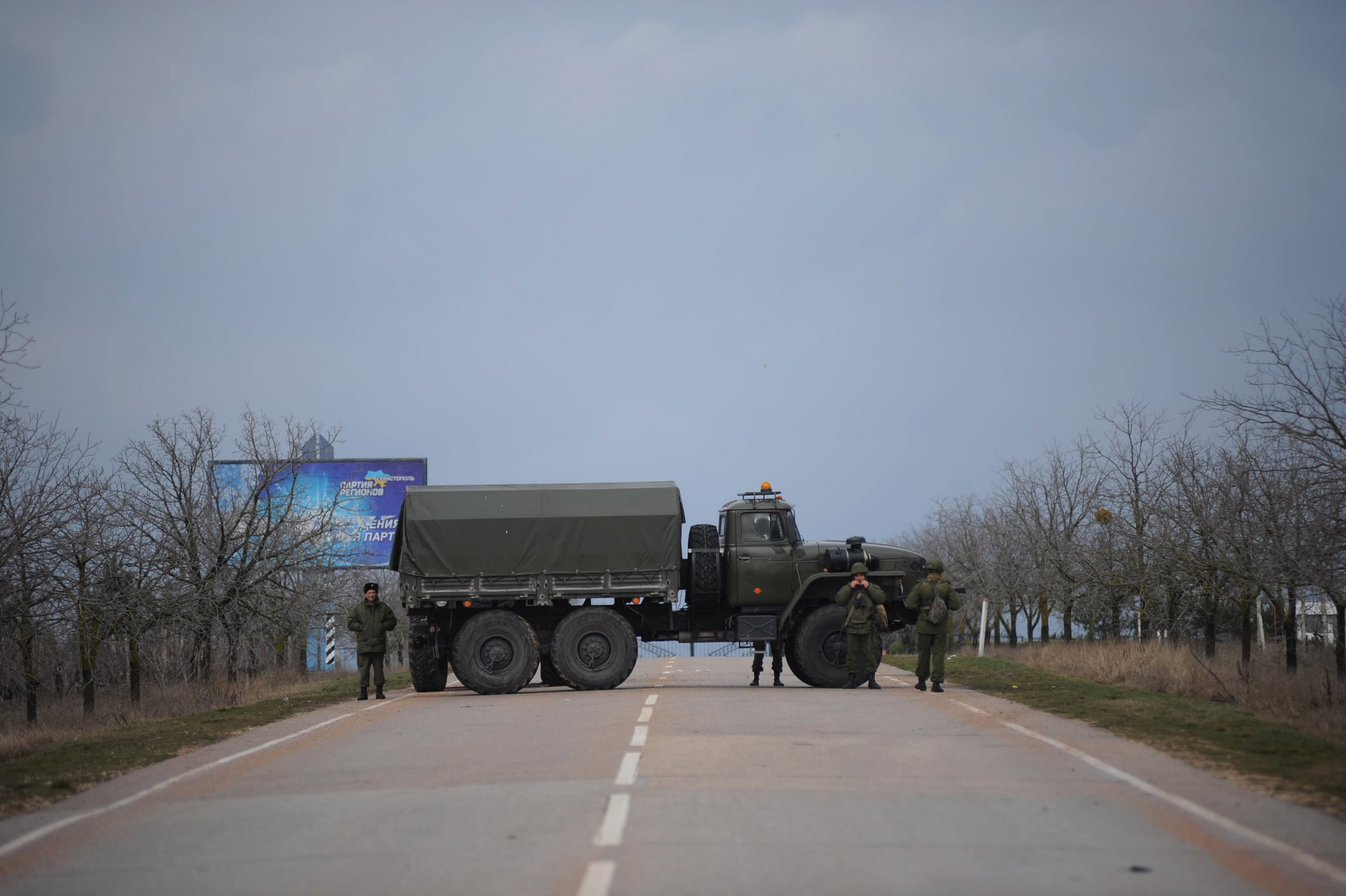 After the ousting of former Ukrainian president Viktor Yanukovych and the creation of an interim government made up of opposition leaders, the volatile situation in Ukraine has now come to a head in Crimea. Some 2,000 Russian gunmen took control of two airports in the region on Friday, prompting U.S. President Barack Obama to state that Russian military involvement in Ukraine would be "deeply destabilizing."
The Ukrainian people "must have the opportunity to determine" their own government, Obama said, adding that "there would be costs" if Putin made a move to intervene. The president made no mention of details about such consequences, saying that the situation — dubbed an "armed invasion" by the Ukrainian government — remained "fluid."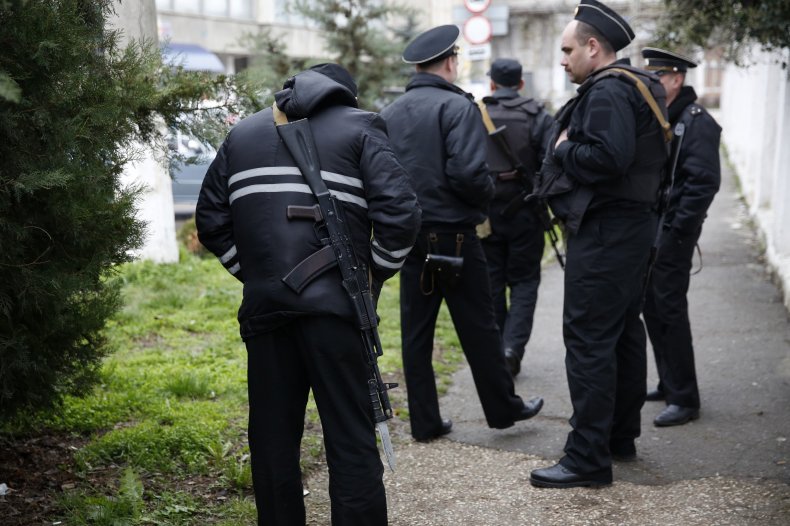 Crimea is a region in southern Ukraine, home to a pro-Russian majority and a smaller group of pro-Ukrainian government ethnic Tatars.
The armed men patrolling the airport are wearing unmarked green uniforms, and are reportedly not directly Russian military, but may be "blackwater" troops — security contractors working for the Russian military. This video shows scores of helicopters flying to the airport at Sevastopol, which is still operational, despite all flights from Ukraine being cancelled.
"They don't have Russian military uniforms and the Russian government is denying they are part of the Russian military," Dimitri Simes, president of the Center for the National Interest, told the Daily Beast. "But these are people that are legally allowed to perform services to the Russian fleet."
Ukraine's acting president Oleksandr Turchynov accused Russia of aggression and personally called on Putin to "stop provocations." Despite the fact that Ukrainian officials consider this a "military invasion and occupation," Russia has so far denied involvement.
"In an act of naked aggression against Ukraine, and under the pretense of military exercises, Russia has brought military forces into the Autonomous Republic of Crimea," Turchynov said.
Information from the region is sparse, but there are reports that gunmen have seized the Ukrtelecom building, cutting off 80 percent of Sevastopol's phone and Internet connections. Meanwhile, Flightradar24.com tweeted that flights are actually avoiding the closed airspace over Simferopol.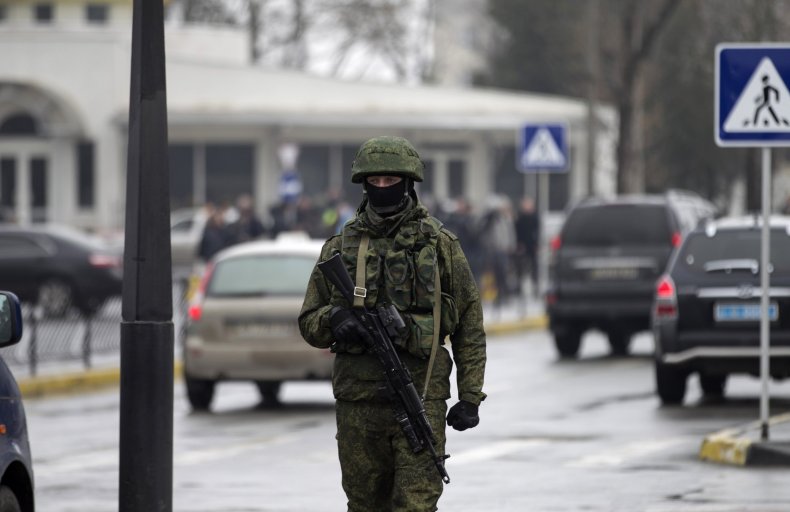 Roads to the airport at Sevastopol have been cut off, and some Russian sympathizers calling themselves "local militia" are obstructing road spike barriers to block highways that connect the Crimean peninsula to mainland Ukraine.
Secretary of State John Kerry today warned Moscow to restrain from meddling in Ukrainian affairs and stating that military moves in Crimea would be a "grave mistake."
"While we were told that they are not engaging in any violation of the sovereignty and do not intend to, I nevertheless made it clear that that could be misinterpreted in this moment," Secretary Kerry said today. "[I]t is important for everybody to be extremely careful not to inflame the situation and not to send the wrong messages."
Ukrainian prime minister Arseniy Yatsenyuk has called on Russia to "not violate the Budapest Memorandum," a 1994 diplomatic agreement signed by Russia, Ukraine, and the U.S. that guaranteed Ukraine's sovereignty and territorial integrity as an independent state.
Former president Viktor Yanukovych is currently camped out in Russia, where, during a press conference in Rostov-on-Don today, he declared that he is still the rightful president who will "fight for Ukraine." "I'm asking Russia to protect me from extremists," he said at the conference, which prime minister Arseniy Yatsenyuk, along with his new government, watched back in Kiev.
At an emergency meeting at the U.N. Security Council on Friday, called for at the request of Ukraine's new leaders, U.S. ambassador to the U.N. Samantha Powers said the U.S. is "deeply concerned" by "facts on the ground" in Ukraine.
"And Obama is 'deeply concerned'...How original," Radio Svoboda journalist Andrii Bashtovyi tweets.
Euromaidan supporters in Kiev and across the country have expressed their support for pro-Ukrainian government Tatars, tweeting, "We defended the Maidan, and we will defend Crimea."