2,000-Pound Great White Shark Unama'ki Spotted Near New Orleans During Mardi Gras
A white shark (Carcharodon carcharias) has been tracked west of the Mississippi River in the Gulf of Mexico, near the Louisiana coast. According to the ocean research group OCEARCH, this is the first time the species has been located in this particular stretch of coast.
"Is this a whole new piece to the white shark puzzle?" OCEARCH said on Twitter.
The 2,000-pound female, named Unama'ki, swooped into the area on Sunday (February 23)—seemingly in time for Mardi Gras. OCEARCH posted a screenshot of her location on Monday, revealing she appears to have found some cooler water nearer the coast.
"The water temperature at her most recent ping off the Louisiana coast is around 70 degrees Fahrenheit," said OCEARCH.
Her shark tracker pinged again on Fat Tuesday (February 25), showing she had drifted further out into the Gulf of Mexico only a couple of days after arriving. The tracker tagged her location as just south of New Orleans.
"Looks like white shark Unama'ki wants to participate in #MardiGras2020 after all!" said OCEARCH.
Non-profit OCEARCH started tracking Unama'ki and several other sharks last year. She was tagged near Scaterie Island in Nova Scotia, Canada, on September 20, 2019 and scientists have been keeping an eye on her progress down North America's east coast ever since.
The 15 feet 5 inches great white, whose name means "land of the fog" in the language of the indigenous Mi'kmaq people of Nova Scotia, made swift gains, arriving in the Gulf of Mexico in time for Halloween 2019.
To reach the U.S.' southernmost tip by the end of October, she had to complete a 2,000-mile trip in less than 2 months.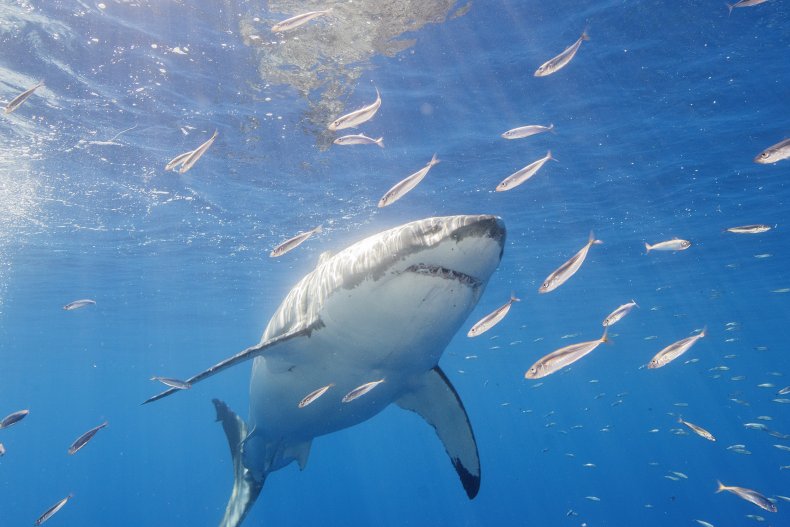 By tracking several sharks living in the Northwest Atlantic, scientists with OCEARCH have learned a lot about the populations living on North America's east coast over the last few years. They believe there are two sub-populations—one that spends the summer and autumnal months in Cape Cod, Massachusetts, and one that spends the time in Canada.
On Tuesday, another of the great whites spending a winter in Florida was seen speeding up the east coast. Helena—a 1,300-pound, 12 feet 5 inches female—was located at a spot near Charleston, South Carolina on Tuesday, three weeks after she had pinged in the Florida Keys.
"Look how fast @helena_shark is moving north. She was down in the Gulf of Mexico last month and a new ping today shows her off the South Carolina coast," said OCEARCH.