In $2,000 Stimulus Check Battle, GOP Challenges Nancy Pelosi to Revisit Foreign Aid
House Minority Leader Kevin McCarthy (R-Calif.) has called on House Speaker Nancy Pelosi (D-Calif.) to consider "concerns" expressed by President Donald Trump about foreign aid included in the omnibus government funding bill tied to recent COVID-19 relief efforts.
McCarthy made the remarks in an open letter addressed to his Republican House colleagues, which he shared on Twitter Wednesday night, saying that "Democrats appear to be suffering from selective hearing" by recently embracing Trump's call for stimulus relief checks to be increased from $600 to $2,000. McCarthy insisted the Pelosi and others agree to Trump's demand to "reexamine tax dollars wasted overseas" before vowing to alter foreign aid provisions included in the large spending bill.
"House Republicans have attempted to pass relief over forty times but each time, Speaker Pelosi has ignored our fellow citizens, saying 'nothing is better than something,'" McCarthy wrote in the letter. "Pelosi tried to use the American people as leverage to make coronavirus relief contingent on government funding – which includes billions of foreign aid at a time when there are urgent needs at home."
"[House Democrats] have conveniently ignored the concerns expressed by the President, and shared by our constituents," he added. "Thus, Republicans will offer a unanimous consent request to revisit the State and Foreign Operations title of the Omnibus so that we can fully address the concerns at hand. It will be up to Speaker Pelosi to decide if she wants to act on the behalf of the American people."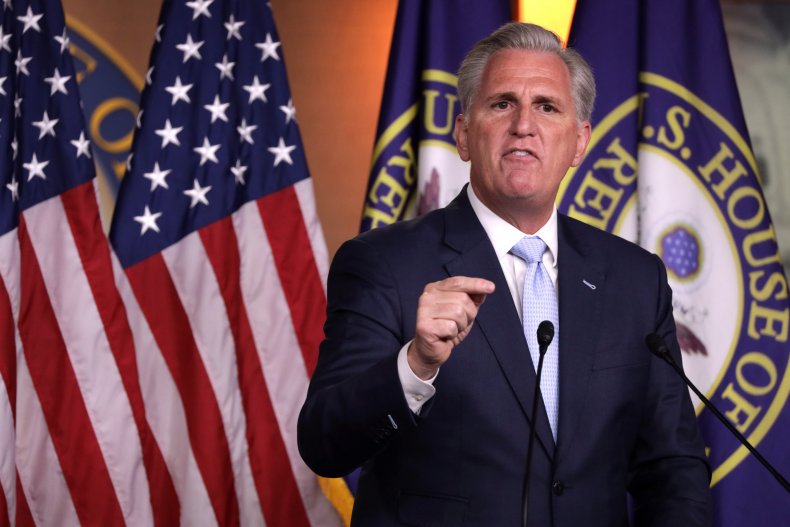 The passed legislation includes a $900 billion COVID-19 stimulus package as part of a larger government funding bill worth a total of $2.3 trillion. Included in the funding bill is around $4 billion in foreign aid, less than 0.3 percent of the $1.4 trillion in funding not related to the stimulus package. Foreign aid is not uncommon in large government spending legislation and the figures in the current bill are largely in line with suggestions from Trump's own State Department.
After months of stalled negotiations that appeared to have ended when Congress passed the legislation on Monday, Trump surprised many Republicans by releasing a video threatening a veto if the $600 direct payments to Americans were not increased to $2,000 on Tuesday, a request for an amendment that Democrats quickly agreed to. Trump also criticized foreign aid, although he was denouncing aid that he had already requested as part of his 2021 budget, according to the Washington Post.
McCarthy intends to challenge the foreign aid as a counter to Democrats, who hope to pass a stimulus package that includes $2,000 direct payments without altering the larger bill. Because the House is controlled by Democrats, the package containing $2,000 checks is more likely to pass the chamber than a version that "revisits" foreign aid in the spending bill, although it could hit a roadblock in the GOP-controlled Senate. It is not clear that Trump would sign a version that does not include other concessions even if it were to pass both chambers.
Newsweek reached out to Pelosi's office for comment.