$2,000 Stimulus Check Becomes Georgia Democrat Cudgel Against Kelly Loeffler, David Perdue
President Donald Trump's unexpected call for $2,000 stimulus checks has become a political cudgel for Georgia Democrats ahead of next month's critical Senate runoff elections.
Jon Ossoff and the Reverend Raphael Warnock are using the president's pitch to criticize their respective Republican rivals, Senate incumbents David Perdue and Kelly Loeffler, for not supporting larger direct payments for Americans struggling economically amid the coronavirus pandemic.
In a series of Twitter posts on Wednesday, Warnock asked if Loeffler "supports Trump 100% of the time, why won't she support $2,000 relief checks?" In a second tweet, the Democrat wrote: "Even Donald Trump agrees that a $600 relief check is totally inadequate. But @KLoeffler still won't step up to deliver real relief to Georgia families."
After House Republicans blocked an attempt by Democrats to pass $2,000 stimulus checks through unanimous consent on Thursday, Ossoff tweeted that "Senator David Perdue should stop this obstruction and endorse President Trump's proposal for $2,000 checks. Let's get the money moving to the people who need it."
After nearly nine months of stalled negotiations, Congress finally reached a deal earlier this week on a second coronavirus relief package. The $900 billion compromise bill includes extended unemployment benefits, additional funding for small businesses, and a second stimulus check of $600 for single Americans making $75,000 or less.
But Trump threatened not to sign the legislation in a video posted online Tuesday night, calling it a "disgrace." He also told Congress to increase the "ridiculously low" $600 direct payments to $2,000 for individuals or $4,000 for families.
Loeffler and Perdue have yet to fully embrace the president's call for $2,000 checks. In his latest advertisement, Perdue championed the virtues of the economic relief bill that included $600 payments. Loeffler said she'd "consider" the president's proposal "if it repurposes wasteful spending toward that."
Meanwhile, Ossoff and Warnock have amplified the president's call. Ossoff told CNN Tuesday night that Trump was "right" on this point and that $600 was a "joke." Warnock said in a statement: "As I've said from the start, the Senate should have acted on this months ago and support for Georgians should have been far greater. Donald Trump is right."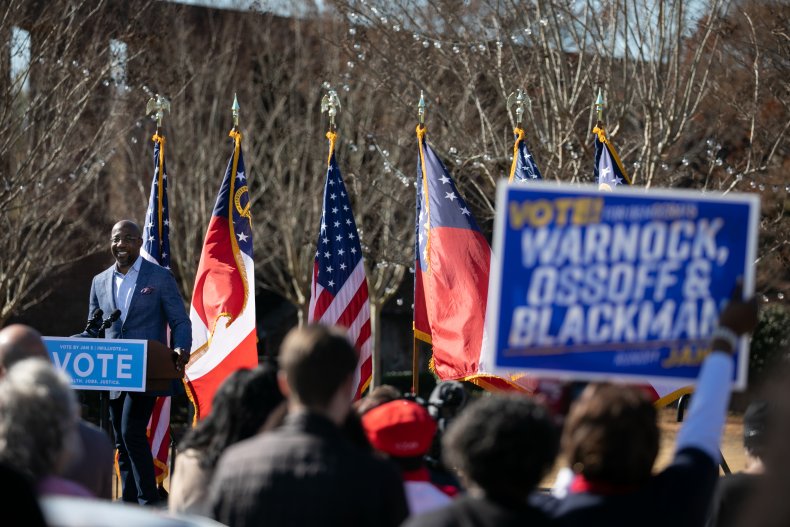 All eyes have been on Georgia ahead of the Peach State's unprecedented double Senate runoff races on January 5.
Loeffler and Perdue need to hold onto their seats in order for Republicans to maintain control of the upper chamber. Republicans are now set to control at least 50 seats in the next Senate, while Democrats will have 46 seats. Two independent senators caucus with the Democrats, bringing their total vote power to 48.
If Ossoff and Warnock both win their races, party control of the Senate would be split 50-50, and Democratic Vice President-elect Kamala Harris would be responsible for casting any tie-breaking votes.
Polling shows tight races for both Loeffler and Warnock and Perdue and Ossoff. A FiveThirtyEight average currently has Perdue with a 0.5 percent lead over Ossoff, while Warnock has a 0.6 percent advantage over Loeffler.
The contest is drawing an early-voting turnout that is on par for the state's general election on November 3. According to Georgia Votes, a website that tracks early-voting data, roughly 2,062,902 people have cast their ballot for the January 5 contests.
Newsweek reached out to the Loeffler and Perdue campaigns for comment, but did not receive a response prior to publication.