Will Americans Get $2,000 Stimulus Checks? Latest Update as Dems Win Senate
Stimulus checks for $2,000 could soon be on their way to Americans, after the Democrats won control of the U.S. Senate following historic runoff elections in Georgia.
Senate Minority Leader Chuck Schumer said Wednesday that delivering $2,000 payments is "one of the first things we want to do once our new senators are seated," although he didn't elaborate further.
Both Rev. Raphael Warnock and Jon Ossoff, now the projected winners of their runoffs, campaigned on the issue of stimulus payments.
On Monday, President-elect Joe Biden promised this week that if both Democratic candidates won Georgia's Senate seats—and with it, an effective majority in the upper chamber of Congress— $2,000 stimulus checks would be "out the door" to Americans shortly.
Democrats had pushed for higher stimulus payments during negotiations on a massive COVID-19 relief deal late last year. But Republicans resisted and lawmakers ultimately compromised on $600 payments in a $900 billion package.
Then President Donald Trump threatened to tank the deal agreed by lawmakers after months of negotiations when he suddenly demanded direct payments be raised to $2,000. The Democrat-controlled House later approved a bill for $2,000 payments, but it was blocked in the GOP-controlled Senate.
But now that both Warnock and Ossoff have been called the winners by a number of media outlets, seats will be split 50-50 between Democrats and Republicans, with Vice President-elect Kamala Harris serving as the tie-breaking vote for the Democrats.
At a rally on the eve of the election in Atlanta, Biden—who became the first Democrat to carry Georgia in a presidential election in almost three decades in November—made a last-minute plea to Georgia's voters by saying the fate of $2,000 stimulus checks would be decided by them.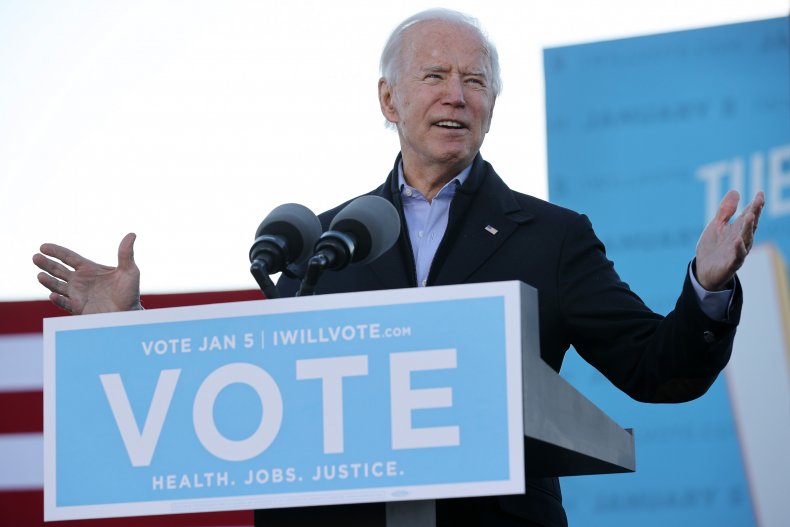 "Georgia, there's no one in America with more power to make that happen than you, the citizens of Atlanta, the citizens of Georgia and that's not an exaggeration. That's literally true," Biden said. "If you send Jon and the reverend to Washington, those $2,000 checks will go out the door, restoring hope and decency and honor for so many people who are struggling right now."
Biden added that if Republicans Kelly Loeffler and David Perdue won, "those checks will never get there."
Both Ossoff and Warnock campaigned on the promise of $2,000 stimulus checks.
At the Monday rally, Ossoff promised that he and Warnock would deliver the $2,000 payments when they get to Washington.
"For eight months straight the United States Senate blocked the direct relief that the people needed," Ossoff said. "Let him never deceive you, David Perdue opposed direct stimulus for the people all year long. Last week David Perdue changed his tune."
He added: "Georgia, you deserve senators who have your back, not just when they're about to face the people, but at all times. And when you send me and Reverend Warnock to the Senate, we will pass those $2,000 stimulus checks that the people need, that families need, to stay on their feet and in their homes."