$2,000 Stimulus Checks Likely Would Have Passed Senate if McConnell Had Not Blocked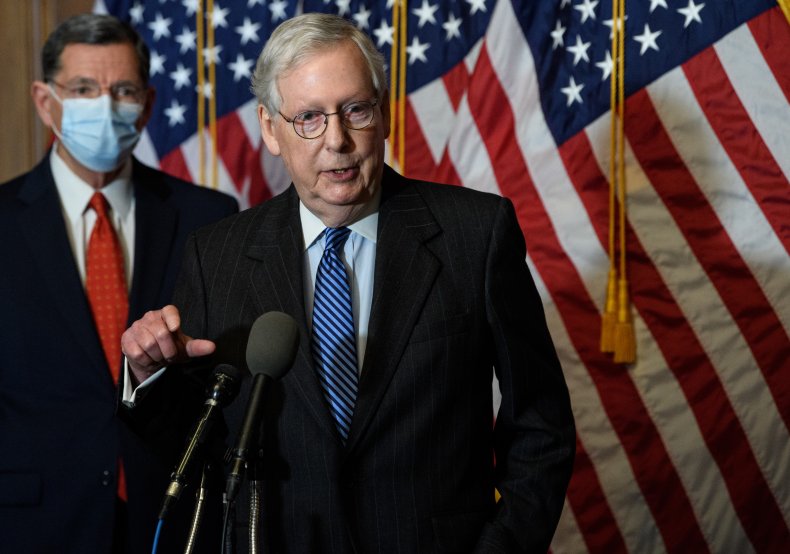 More than enough Republican senators would have joined Democratic colleagues to vote in favor of the proposal to increase stimulus checks to $2,000, with the legislation almost certainly passing the chamber had Senate Majority Leader Mitch McConnell (R-Ky.) not blocked it on Tuesday.
McConnell blocked the proposal by objecting to a move from Senate Majority Leader Chuck Schumer (D-N.Y.) to pass the bill by unanimous consent. President Donald Trump had urged Congress to increase COVID-19 relief checks from $600 to $2,000 last week, something that Democrats quickly agreed to. With at least five Republican senators being on record as supporting the increase, the bill was likely to pass with a minimum of 53 votes if McConnell allowed it to move forward.
GOP Senators Marco Rubio (Fla.), Josh Hawley (Mo.) and Susan Collins (Maine) have all said they would vote in favor of the proposal, with Hawley vowing to block the Senate from voting to override President Donald Trump's veto of the annual National Defense Authorization Act (NDAA) unless McConnell allows a vote on the increased direct payments.
Republican Senators David Perdue and Kelly Loeffler of Georgia have also indicated support for increasing the payment. Both incumbents are locked in tight races with Democratic challengers in next week's Georgia runoff elections, with the outcome determining whether Democrats or Republicans will control the Senate in 2021.
Senator Lindsey Graham (R-S.C.) has also indicated that he supports the $2,000 checks, although it is not clear whether he would vote in favor of the standalone proposal. Like Hawley, he has said he will not vote to override Trump's veto of the NDAA, while promising to satisfy the president's demand of repealing Section 230 of the Communications Decency Act.
After blocking Schumer's call for a vote on the bill, McConnell proposed a new version of the bill that ties the $2,000 checks to abolishing Section 230 while establishing a commission to look into unsubstantiated claims of massive voter fraud in the presidential election, an issue that has been heavily pushed by the outgoing president since losing to President-elect Joe Biden in November.
"Unless Republicans have a death wish, and it is also the right thing to do, they must approve the $2000 payments ASAP. $600 IS NOT ENOUGH!" Trump tweeted after McConnell blocked the vote. "Also, get rid of Section 230 - Don't let Big Tech steal our Country, and don't let the Democrats steal the Presidential Election. Get tough!"
The House approved legislation to increase payments, dubbed the Caring for Americans with Supplemental Help (CASH) Act, by a vote of 275-134 on Monday, with 44 Republicans joining all but two Democrats in support of the larger payments. However, the Democratic-controlled chamber is far less likely to approve of McConnell's version of the bill since it includes two additional measures that seem designed to appease Trump without bearing any obvious relationship to the economic relief efforts.
Newsweek reached out to McConnell's office for comment.