20,000 American Flags Placed at Washington Monument to Honor COVID Victims
Thousands of American flags were installed near the base of the Washington Monument this week to remember the lives lost during the coronavirus pandemic.
Organizers of the COVID Memorial Project coordinated the flag installation to occur as the U.S. reached another significant death toll since the virus arrived in the country. The 20,000 flags that were installed on the Washington Monument grounds were meant to honor the more than 200,000 lives lost in the U.S. so far, a death toll the country reached on Tuesday.
The organizers identified themselves as a group of friends located in Washington, D.C., on a GoFundMe page that they launched in late August. They were critical of President Donald Trump's handling of the pandemic in their GoFundMe description and said each flag would face the White House.
"This extreme loss of life is staggering—but was not inevitable: the President's poor handling of the virus response has led to tens of thousands of excess deaths," the organizers wrote.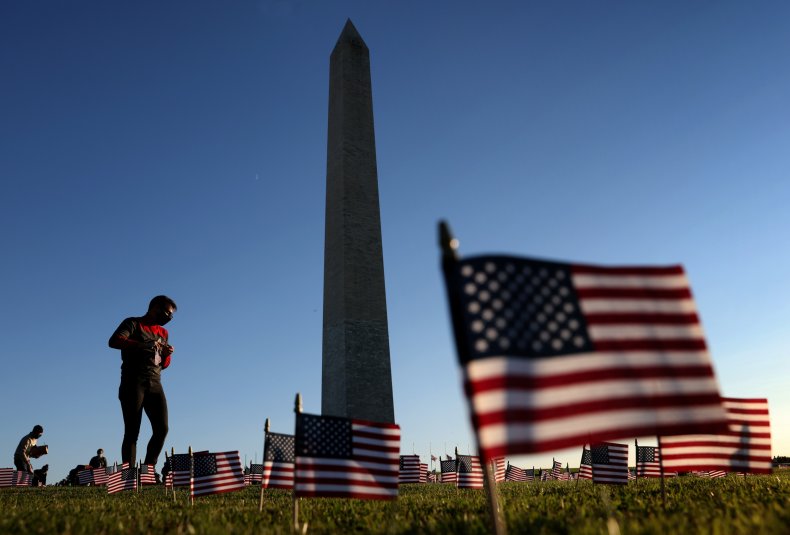 "This administration has done nothing to memorialize this stunning number of lives lost—instead choosing to downplay, minimize, and ignore whenever possible," the organizers added. "No flags lowered, no service held, no day of mourning declared—so the COVID Memorial Project seeks to simply say: these lives are more than a statistic—they were family, friends, neighbors."
More than $1,800 contributed by donors through the GoFundMe campaign helped fund the flag purchases, and volunteers helped install them on Monday. The flags will stay in place until sunset on Wednesday, organizers said, after which volunteers will help remove them.
According to a Johns Hopkins University tracker, the U.S. had more than 6.8 million COVID-19 cases by Tuesday. The U.S. has led the world as the country with the greatest number of COVID-19 cases since late March, about two weeks after the World Health Organization (WHO) officially declared COVID-19 a pandemic.
The U.S. also leads the world as the country with the greatest number of virus-related deaths, though it is still behind 10 other countries—including Mexico, Brazil and France—in terms of its ratio of deaths to infections. The U.S. has about a 2.9 percent fatality rate among confirmed cases, according to Johns Hopkins University researchers.
Trump has been widely criticized for his handling of the pandemic for months due in part to his administration's shifting messaging on quarantines, face coverings, risk assessments and more. As fall began and health officials grew increasingly concerned about a second wave of COVID-19 infections, more than half of the states in the U.S. were still reporting infection rates above the WHO's recommended 5 percent or lower testing positivity levels.
Newsweek reached out to the White House and the COVID Memorial Project organizers for comment but did not receive a response in time for publication.