20,000 Days, and One Intimate New York Evening, with Nick Cave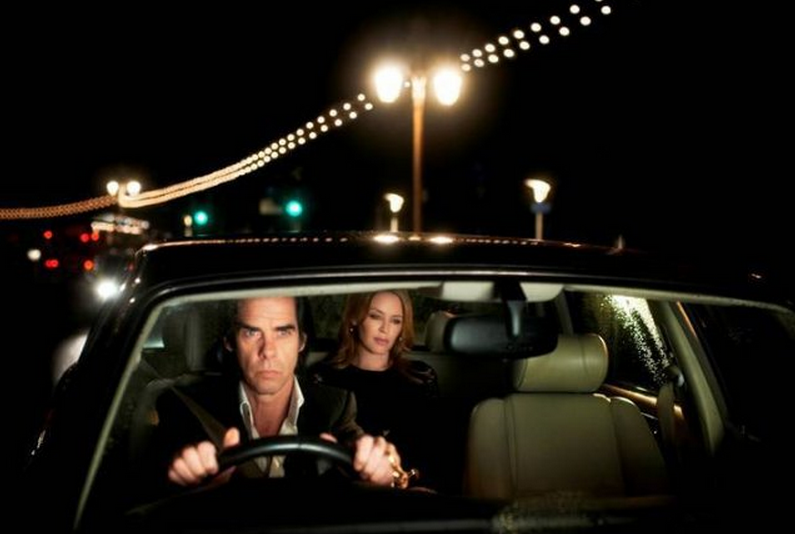 Few things in New York are worth the trek to Times Square on a weekend evening, though an appearance by Nick Cave—on screen or in person—stands among them. At a Saturday night Town Hall premiere of the documentary 20,000 Days on Earth, the Bad Seeds frontman appeared in both forms: moping and reflecting on an extraordinary post-punk trajectory in this cinematic rumination, then dryly taking questions and crooning on command in an intimate solo performance.
The film, by artists and first-time feature filmmakers Iain Forsyth and Jane Pollard, is a little like its subject: a thing of rare, studied intensity and grace that eschews conventional categories as it blurs boundaries between rockumentary and fictitious film. The movie purports to depict Nick Cave's 20,000th day on Earth (the performer turned 57 on Monday), though its dreamlike thrall incorporates reflective encounters with Cave co-conspirators past and present. In one surreal driving scene, it is unclear whether the artist is reminiscing with once-collaborator Kylie Minogue or his conscience itself. In another, we are privy to childhood memories involving Cave's late father, who read his son Lolita the way others do Dr. Seuss. There, perhaps, the elder Cave set his son toward a lifetime obsession with the deadlier side of sex and the sexier side of death.
Is this a glimpse of the real Nick Cave? Well, maybe. With his suave black suits and fierce, morbid wit, he is as in character here as he ever is. In a Q&A after the film (which, ever grudgingly, Cave joined), Forsyth and Pollard said they had tried to poke fun at cinematic attempts to strip away the mask of celebrity. Sometimes, they argued, there isn't much of a line between what's genuine and what's constructed. "We wanted to completely revel in that," Forsyth said.
What 20,000 Days does offer is a genuinely intimate glimpse at the sessions behind Cave's latest triumph, Push the Sky Away. The slices range from funny (Cave struggling to direct a choir of French schoolchildren) to breathtaking (footage of the artist's vocal take for "Higgs Boson Blues" is wisely included in its entirety), though it's tough not to wish the film were more directly buttressed by this creative process. When the artist took to the piano after the screening, he eschewed his newer releases and revisited his piano balladeer phase, performing three selections from 2001's No More Shall We Part, two from 1990's The Good Son, and one from 1997's The Boatman's Call (the iconic "Into My Arms"), among several others.
As has become a familiar trope, Cave spoke of his songs as living, breathing creatures that exert stark control over him rather than vice-versa. The film finds him describing an in-progress composition as "wild and unbroken" yet soon to be domesticated. Afterwards, when questioned about the songs he chooses to perform or retire, he claimed, "They tend to have lives of their own and dictate the terms of their existence." With this, he led into a performance of "The Mercy Seat," a song that's dictated an especially blessed existence, having been covered by Johnny Cash and, Cave said, performed at every Bad Seeds gig since its appearance on 1988's Tender Prey.
Though Nick Cave is poised in20,000 Days as a formidable god, his appearance onstage permitted rare moments of vulnerability. Asked which song from the past 10 years he wishes he'd written, he ignored the decade parameters and launched into a piano interpretation of Leonard Cohen's "Avalanche." (A more sinister rendition appears on Cave's first release with the Bad Seeds in 1984.) "It changed my life," the artist said of discovering Cohen's Songs of Love and Hate as a teenager in Australia, because even Nick Cave has influences and idols.
He has procrastination problems, too. One fan dared ask what distracts the artist from writing. Cave, who has written two novels in addition to his music career, replied immediately, with a glimmer. "Internet not working, Internet working, pornography, lack of pornography," he listed. "Chaos. Madness. Suicide."
What troubles a 35-year songwriting career, it seems, is also what powers it.
Setlist:
The Weeping Song
The Mercy Seat
Love Letter
Babe, You Turn Me On
God Is in the House
Avalanche (Leonard Cohen cover)
The Ship Song
Into My Arms
No More Shall We Part