20,000 U.S. Military Now Have Contacted Coronavirus as Cases Are Spiking
Coronavirus has worked its way through United States military members the last week at an alarming rate, with more than a 20 percent increase. Now, more than 20,000 members have contracted the virus that once slowly worked its way through the ranks.
The Department of Defense credits the sudden spike in positive cases in states that have a large number of military bases—Arizona, California, Florida, Georgia and Texas—that have attributed to the rising number of cases on the bases.
"While we are seeing some upticks in the same places there are upticks in the civilian sector, again, that is not necessarily overly surprising, in that we have been doing more testing," assistant defense secretary for health affairs Tom McCaffery said in a Military Times report. "And we have been doing testing of those who are asymptomatic."
California and Florida still remain on the DoD's list of "non-essential" states to travel, but the other states have seen their own upticks.
Newsweek subscription offers >
The rate of military personnel testing positive for COVID-19 started slowly, then took off. The first soldier to test positive happened in South Korea during late February of this year, and then it took six weeks for the entire U.S. military to reach 10,000 cases. That has since doubled in half the time.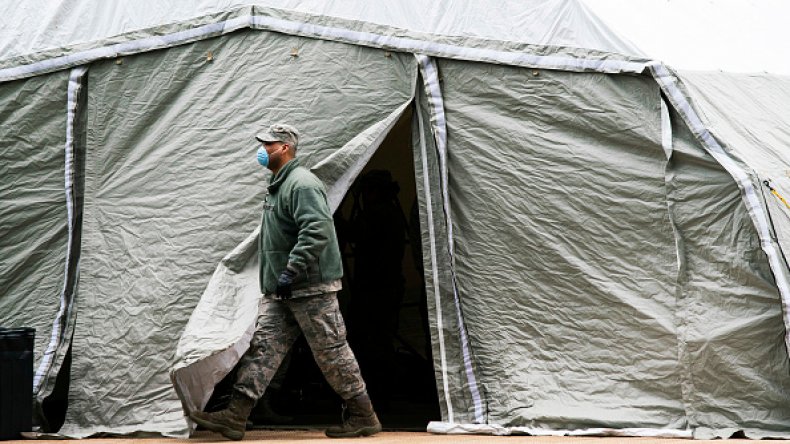 This has happened while the military has implemented strict guidelines for face coverings, social distancing and outlining local places troops can spend their free time. Those measures were put in for the servicemembers' safety.
"I fully believe that local commanders are going to make the right decision both for the health and wellness of their active duty, their civilian employees, the families of active duty – and to make sure that they can meet their mission," McCaffery said.
Newsweek subscription offers >
The military said the total number of personnel—from servicemembers to their dependents, and civilians and contractors—saw a 22 percent increase in COVID-19 cases this week, which brought the overall total to 29,047 total cases.
There were five new deaths last week, including one dependent, one contractor and three civilian employees.
Here's the breakdown of the four major branches of the military:
The Marine Corps had the largest increase at 30 percent last week, and now it has 2,298 cases
The Navy, which saw its peak early with outbreaks on two ships, has reported 5,280 overall cases
The Army still has the most cases with 6,599, and it includes the most overall and new cases
The Air Force had a drop in cases over the week, and has reported a total of 2.991 positive cases
20,000 U.S. Military Now Have Contacted Coronavirus as Cases Are Spiking | U.S.