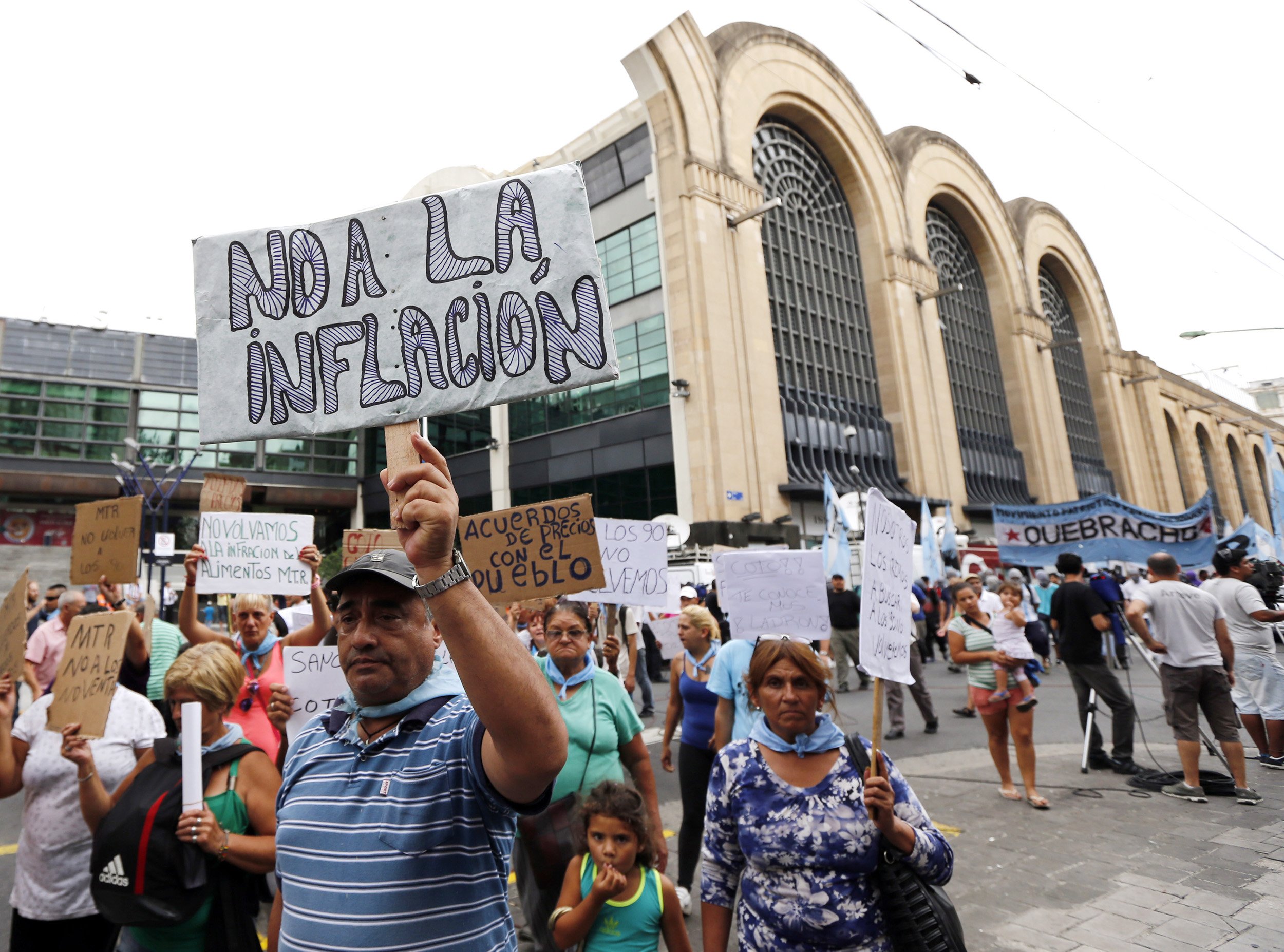 Minutes after the ferry leaves Buenos Aires' posh Puerto Madero port en route to Uruguay, Argentines start milling around the brightly lit, spacious, duty-free section of the boat. They linger the longest by the glass-encased Apple gadgets, which cost nearly twice as much back home. Prices are expected to only increase.
Argentina, which has been gripped by fear of a financial crisis in recent months, is expected to slip into a mild recession, with a 1.2 decline in gross domestic product this year and an inflation rate of nearly 40 percent, independent economists said Friday.
"We predict low evolution of the economy," said Juan Luis Bour, chief economist at the Foundation for Latin American Economic Investigations, or FIEL, a think tank in Argentina. Indeed, in recent months, London-based research firm Capital Economics said Argentina had been overtaken by Colombia as Latin America's third-largest economy.
But they also caution that there is no reason to panic. "You don't see in front of us a major crisis," said Daniel Artana, also of FIEL, during a conference on Argentina's economic outlook in New York City.
Argentines are intimately familiar with economic trouble. In 2001, the economy ground to a near halt, the government defaulted on billions of its sovereign debt—the largest default in history—and violent street protests followed. Then-president Fernando de la Rúa resigned as the country slid into chaos.
Then, Argentina began a slow recovery, growing steadily over the past decade. But for the past few years, the economy has been characterized by an explosive mix of interventionist policies, deceitful statistics and rapidly growing double-digit inflation.
In 2012, Argentina made it illegal to buy dollars for saving, inadvertently sending hordes of Argentines across the tempestuous Río de la Plata to Colonia del Sacramento, Uruguay. There, people would max out their cards at dollar-dispensing ATMs (Uruguay is unique in the region for providing ATMs with this option) and promptly return to Buenos Aires, where they would exchange their newly acquired greenbacks in the black market. For a time, a dollar at the official rate sold for around 6 pesos, while the black market dollar, called the blue dollar, climbed to 11.5.
The following year, with the cost of everything from home appliances to apartment rents creeping up beyond the reach of many, inflation stood at around 10 percent, Argentina's government said. Independent economists said it hovered at around 25 percent. The unreliability of the government's official economic data led the International Monetary Fund to censure Argentina.
"The uncertainty about Argentina is not only about the future but also about the past," said Bour, referring to statistical manipulation.
By January, despite the strict currency controls, Argentina's government admitted that the country's foreign reserves had dipped to their lowest level since 2006. And all the while, the poverty rate continued to grow. Currently at 27.5 percent, it increased by nearly 3 percent between 2011 and 2013, according to a report published by the Catholic University of Argentina last month.
Private consumption has fallen this year, and economists predict that imports will decline by 10 percent. Real wages are beginning to fall, and tariffs for gas and water in the coming months are expected to be high, said FIEL's economists on Friday.
Argentina fell behind, from 94 to 104, in the World Economic Forum's 2013-2014 Global Competitiveness Index, as compared with the previous year. It was slightly below Nicaragua and Bolivia and slightly better than the Dominican Republic and Honduras.
But the country's economy has its bright spots as well, in particular its large reserves of nonconventional gas and oil. Still, economists warn that the Argentine government must be careful not to increase the fiscal deficit next year, when a presidential election is set.
"The risks for 2015 are very important," said Bour. "We must be extremely cautious."