The 2008 Recession Hurt Public Schools—and Coronavirus Is Worse. Will We Let Kids Down Again? | Opinion
We see it in the lines at food banks—dozens of cars stretching farther than a camera can capture.
We see it in the numbers—unemployment at a Depression-level 14.7 percent, if not worse, and more than 38 million lost jobs.
Need that was unfathomable just three months ago has become our shocking daily reality in this country. Desperation once shielded from the public eye is intensifying on full display, leaving many unable to comprehend just what the coronavirus has wrought in our communities.
As we struggle to fathom the domino effect of these enormous setbacks, it's clear that our children are among those with the most to lose. Forced from their classrooms and routines, kids need immediate action to make sure their developmental and academic progress doesn't take a lasting hit.
It's impossible to overstate the stakes. The 2008 recession depressed student performance as education budgets waned. Boosting state test scores here in Los Angeles by just a couple percentage points in English and math has taken years and millions of dollars.
Over the past several years, more students in Los Angeles were graduating high school, fewer were missing school and more high school juniors were taking the SAT—a promising indicator that more students were moving toward higher education.
But with families thrown into turmoil and home life a deepening struggle, we can't hope to maintain that progress—here in Southern California or anywhere else—without real innovation, resolve and aid to meet this historic moment.
I understand the low-income families at highest risk because I grew up in one. We came to Los Angeles undocumented from Mexico when I was 4 years old, and I was the first in my family to attend high school and the first to graduate college.
We depended on multiple low-wage jobs just to make ends meet. All but two of my siblings dropped out before middle school so they could work and support the family. I was fortunate to get a good education—the best pathway to exit poverty—to work my way into teaching, including a job with benefits and protections.
For families in poverty, that pathway can remain open in these challenging times only if the system adapts meaningfully to the moment. Much as we want different circumstances, there's no chance we'll go back to putting 25 to 40 students in each classroom when children return to campus. The necessity of physical distancing just won't allow it. Whatever form our K-12 classes take this fall could well remain in effect for a year or two.
Without deliberate approaches to shore up the learning experience and learning loss in the meantime, students stand to face staggering shortfalls in their academic growth. That's why policymakers need to move now to begin assessing student performance and needs in our new environment.
Any pre-pandemic data on this front belong in a history book. We need fresh, immediate evaluations so schools can identify short- and medium-term mechanisms to reinforce distance learning with an eye toward helping the most vulnerable students. Those will include more equipment, better access to the internet and a more structured approach that helps parents become de facto teachers. But we won't know which strategy is the most useful until we take a deliberate look.
None of this will come cheap. That's precisely why we can't afford to repeat the mistakes of the 2008 recession. School districts in many states faced drop-offs in funding amid that downturn. In California, the latest budget proposes a $19 billion hit to public schools over the next two years, a reduction that educators say could affect schools' ability to reopen.
Drops in test scores and graduation rates followed funding declines in the last recession, according to an analysis conducted at Northwestern University. A separate study at the University of Pennsylvania linked the downturn to diminished test scores in reading and math.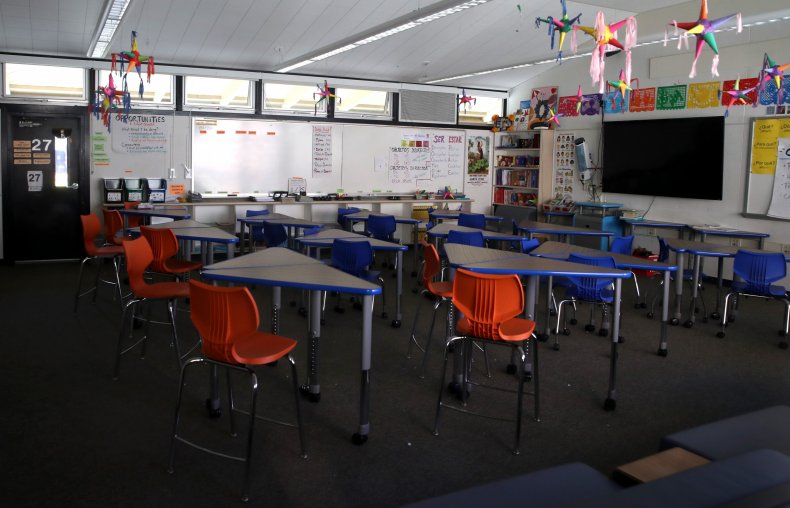 What's worse: While states like California have seen meaningful rebounds in funding, many others have not. As recently as the 2017 school year, state and local school funding in seven states lagged pre-recession levels by at least 10 percent, according to U.S. census data cited by the Center on Budget and Policy Priorities.
Twenty-two states still hadn't reached pre-recession funding levels, including Arizona, Florida and North Carolina, the center reported. Nationally, overall state funding per student in public elementary and secondary schools trailed 2008 levels by 1.7 percent even seven years after the recession, Pew Charitable Trusts found.
School districts in poorer communities—which tend to be especially reliant on state money—feel the pain acutely, often lacking local resources to supplement reinforce their budgets. Students in those schools bear the ultimate burden: the lifelong price of an inequitable and inadequate education.
We owe it to this generation not to backslide. We owe them a plan—now.
Ana Ponce is the executive director of Great Public Schools Now.
The views expressed in this article are the writer's own.