$200K Raised for Capitol Rioter Accused of Conspiring to Stop Election Certification
A fundraiser for Joshua James, an Alabama man facing a conspiracy charge in the Capitol riot, has raised more than $190,000, something prosecutors used to argue against changing the conditions of his home detention in a recent court filing.
James is accused of conspiring with members of the Oath Keeper militia to stop Congress from certifying President Joe Biden's election victory. He has pushed for a judge to allow him to leave his home during work hours, citing a need to provide financially for his family, but prosecutors argued the family is earning about $8,000 per week with the online fundraising effort.
James' wife, Audrey, started the online fundraiser after his arrest in March and explained to donors that he was the primary breadwinner for herself and their three children. While her husband has retirement benefits from his military service, for which he received a Purple Heart, she said he's facing "unexpected and unjust legal battles" and the fundraiser was intended to alleviate that burden. Funds would also be used for family expenses including bills, groceries and travel to Washington, D.C.
Those donating to the fund have called James a "political prisoner," and agreed with James' wife that the case against the veteran is wrong. Since the fundraiser began, it has raised $192,518 of its goal of $250,000.
"James's family appears to be supporting themselves without needing to let James out of home detention into a 60-mile radius for 50 hours a week," prosecutors argued in a court filing.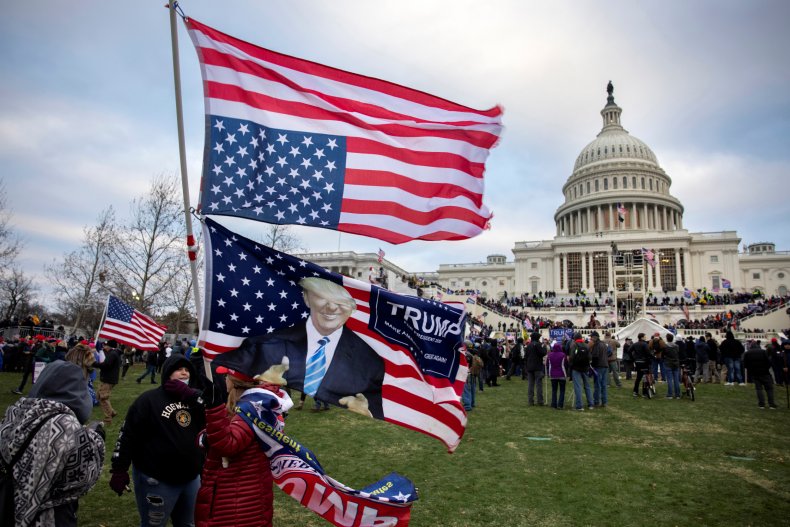 Newsweek reached out to Christopher Leibig, James' attorney, for comment but did not receive a response in time for publication.
A judge has yet to rule on James' request to modify the conditions of his release. Currently, he's unable to leave his home except to attend mental health appointments, but he hoped a judge would allow him to be outside his home during business hours for work purposes.
James is accused of conspiring with members of the Oath Keeper militia to stop Congress from certifying the election results as well as assaulting Capitol Police officers. Ahead of the Capitol riot, James allegedly asked if there was a "farm location for weapons," and then reportedly led a group of people into the Capitol, according to court documents.
Once inside, he allegedly grabbed multiple officers in an attempt to pull them toward the lobby and rioters and yelled at the officer, "Get out of my Capitol! Get out! Get out of my Capitol!"
"This is my f****** building! This is not yours! This is my Capitol!" James allegedly said, according to court documents.
Prosecutors argue that James didn't give up hope that former President Donald Trump would have a second term after the Capitol riot failed to permanently halt the certification of the election. He allegedly traveled to Texas in the days after the riot and discussed the Insurrection Act with other Capitol riot defendants.
U.S. attorneys are pushing for a judge to reject James' request for his conditions to be modified on the basis that his actions on January 6 and afterward make him a safety liability to his community.