2012's Best Colleges For You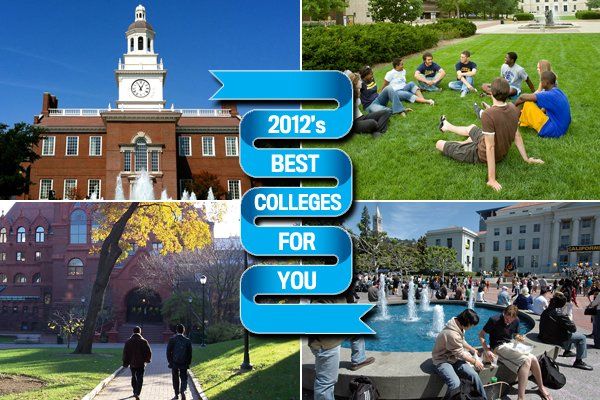 College comparisons have be-come a national obsession. However gloomy the job prospects for graduates in a stuttering economy, the truth is that high-school-age Americans who elect to go to college have never been more spoiled for choice. The postsecondary system has expanded with dizzying fervor—since 1970 the number of institutions of higher learning has soared by 78 percent, the number of bachelor's degrees awarded annually has doubled, and the cohort of full-time students enrolled in college has grown 120 percent. But the boom has, in truth, been something of a bust. College has never been more expensive, and a degree has never been less professionally valuable, which makes the choice of where to go and what to learn all the more critical.
With the proliferation of surveys and data, students now have all the information they need to find the perfect fit. And most do: if given the chance to do it all again, nearly three fourths of college undergrads would make the same school choice, according to a survey of students attending America's top 700 universities and colleges. Perhaps the grass isn't always greener at the U across the way. For its third annual college-rankings package, Newsweek assessed schools by specific factors, both practical and existential. Long-term affordability. Student happiness. Colleges for students with a politically liberal bent or a conservative philosophy. Schools that provide the highest levels of academic challenge, and those that create the most stressful environments.
To create our rankings, we tailored the sources and methodologies to fit the topic. For half of the lists, we partnered with College Prowler, one of the most comprehensive online resources for information on colleges and student life. College Prowler provided data on student contentment, politics, campus culture, and peer opinion. We also culled information from the National Center for Education Statistics, the Institute for College Access & Success, PayScale, CollegeView, and the College Board.
The lists we chose to focus on this year deal with the quality of life at American colleges and universities. And in addition to affordability and experience, for the first time we considered the Greek system. Frat houses and sororities suffered a steep decline in the Vietnam War era and recovered their popularity in the late 1980s; in the past few years there's been a slight uptick in Greek-social-club membership. Because sororities and fraternities are particularly private and guarded about their reputations, we analyzed public data on the more than 100 organizations that are members of the National Panhellenic Conference and North-American Interfraternity Conference.
Click here to see the full rankings and methodologies. Happy hunting.