Adam Driver doesn't look like a movie star. Below a jet-black mop of hair sits an array of incongruous features—squinty eyes, a long proboscis, prominent ears, and a wide mouth. His voice is guttural and prone to violent changes in pitch. When he moves his towering 6-foot-3 frame, he stalks like an explorer navigating treacherous terrain.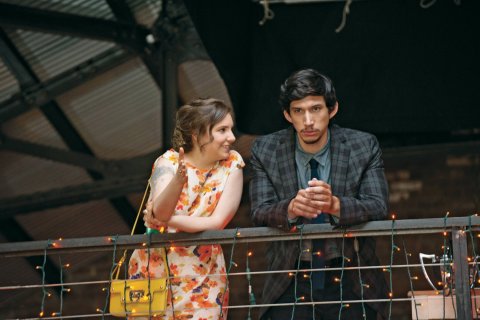 It's surprising, then, that his Girls character, Adam Sackler, the oft-shirtless, emotionally incontinent carpenter on HBO's zeitgeist-y series—and antihero love interest of Hannah Horvath, played by the show's creator-star, Lena Dunham—has become a sex symbol among millennials. Call him the hipster Don Draper.
"Without Driver in the role, Adam the character would never have become as central to the show as he is now," says Dunham.
"He's very sexy," says Greta Gerwig, his co-star in Frances Ha, opening this week. "I think every girl who's worked with him has this feeling after you meet him that the wind's gotten knocked out of you. It's the way he carries himself. He's very brooding in this way that anyone who saw My So-Called Life never got over; he's got some Jordan Catalano in him."
Girls hadn't yet aired when Driver auditioned for Frances Ha, what some might see as his opening salvo. The movie is a black-and-white drama directed by Noah Baumbach (Margot at the Wedding, The Squid and the Whale) and stars Gerwig as a directionless 27-year-old dancer struggling to stay afloat in Brooklyn. Driver plays Lev Shapiro, a 20-something lothario who briefly courts Frances, but eventually takes her in as a roommate.
The film was shot on a shoestring budget in Brooklyn—actors would sometimes resort to using their white T-shirts to help bounce the light—and the cast was never given the full script. They'd show up to the set and receive only the pages they'd be shooting that day. But Baumbach was dazzled by the ferocity with which Driver tackled the role.
"Adam has a way of doing everything that's totally unexpected, but once he does it, you think, Oh, of course the scene should be played that way," says Baumbach. "He's always doing something fresh. In Frances, he's asked, 'How's sculpture?' and he goes, 'Aaaah-mazing!' It's sung. It's beautiful what he did with that word."
After Frances, Driver will appear as a musician in the Coen brothers' Inside Llewyn Davis, which premieres at Cannes. He's wrapped filming John Curran's Tracks, where he stars alongside Mia Wasikowska. There's also The Coward, a comedy set in the 18th century featuring him and Chris O'Dowd. And Driver's planning to reunite with Baumbach for the film While We're Young.
When I meet Driver at a café in his neighborhood, Brooklyn Heights, where he shares an apartment with his girlfriend, he seems tired, but enthused. He's currently shooting the third season of Girls during the week and filming This Is Where I Leave You, an ensemble dramedy with Tina Fey, Jane Fonda, and Jason Bateman, on the weekends. He recently finished designing his apartment, peppering it with goods from the Brooklyn antique shop Holler & Squall. And like his Girls character, Driver also dabbles in carpentry—the latest addition to his home being a custom-built TV stand.
Of Girls' third season, Driver says his character and Hannah "try to make a go of it, but there will be conflict." He also says he hasn't spoken with Christopher Abbott, who played Charlie, since he abruptly left the show—reportedly over a row with Dunham.
Born in San Diego, Driver moved to Mishawaka, Indiana, when he was 7 and his parents divorced. His mother, a paralegal, soon got remarried to a Baptist minister. Driver had a religious upbringing and sang in the church choir. (He's reticent about his biological father, whom he sees about once a year and who lives in Arkansas.)
Mishawaka was a backdrop for a typical misspent youth.
"We climbed radio towers, lit some things on fire," Driver says with a chuckle. "We'd buy big gallon jugs of cheap wine that would give you red teeth and a headache." When Fight Club came out, Driver and his friends took a page from the movie script. "There was an event space in Mishawaka called Celebrations Unlimited, and there was a field behind it, and we would just go there and fight each other all the time."
In junior high, because of his height, Driver played basketball—only to find out he wasn't very good at it. He chalks that up to a lack of confidence. When his mother grounded him from the team for getting low marks in the eighth grade, it signaled the end of his would-be basketball career.
As a freshman, Driver fell into acting after receiving a one-line part in his high school's production of Oklahoma! Driver stayed up late every night practicing different ways to deliver the line: "Check his heart." He ended up loving the craft as well as the culture of the theater and performed in four more high school plays, including as the lead in a production of Arsenic and Old Lace.
Driver graduated from high school in 2001. He was just 17 at the time, since he enrolled in school early back in San Diego. While he had no plans for college, he decided to audition for Juilliard, which he knew didn't check grades.
But when the rejection letter came, Driver thought, Well, I guess I won't be an actor then.
Instead he sold Kirby vacuums door-to-door through his parents' church congregation, but "no one would buy that s--t," he says. Then it was on to working a pair of telemarketing jobs. Driver was miserable. He was living in the back of his parents' place for $200 a month and wasn't allowed to use the front of the house—a tough-love tactic they enforced to imbue him with some sense of independence. He even had to buy his own refrigerator.
After months of telemarketing, he decided to have another go at acting. He packed up all his possessions into a 1990 Lincoln Town Car—"the boat," he called it—and set off for California. He got all the way to Texas, where his car broke down outside Amarillo. He had to walk 10 miles to the city to get it fixed. When he finally arrived in Santa Monica, California, he could only afford to spend two days there before he ran out of cash. So he turned around and headed back to Mishawaka.
"You always read stories of people going out to California and making it as an actor with, like, two dollars, so I figured I'd try it," Driver explains.
When Driver got home, his stepfather shoved a Marine Corps brochure in his face. "Why don't you join the Marines?" "I'm not going to f--kin' ... well, maybe I will!" he screamed back.
Then 9/11 happened, and "I felt like I needed to do something and be involved," Driver says. "I didn't have anything going on, and I wanted to challenge myself."
Driver enlisted in the Marines in 2002 at age 18 and was stationed at Camp Pendleton, California. It was there where he underwent a transformation of sorts.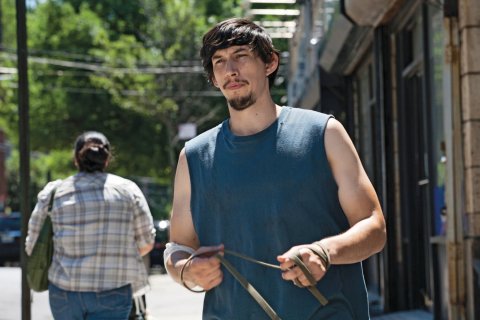 "I was really skinny," he recalls. "They said we were going to run three miles, and I thought, That's impossible." Of course, it wasn't, and Driver even became something of a fitness addict.
One day Driver and a friend made their way up the local mountain, dubbed Mount Motherf--ker, with mountain bikes. On the way down, Driver's brake broke, he hit a ditch, and his handlebars slammed into his chest, breaking his sternum—narrowly avoiding a fatal outcome.
"They said my sternum bounced off my heart sac, and if it had punctured it, I'd probably be dead," he says.
Driver was put on limited duty, but he continued to train, loading up on hydrocodone and lifting weights in the hopes of being deployed to the Middle East with his Marine pals. But his body gave out once more.
During a long hike with a 90-pound pack, "my chest started to separate," he says. "I was biting on this stick, and my staff sergeant saw me and made me see the doctor." He was again placed on limited duty and in 2004 was medically discharged from the Marine Corps.
"I was depressed for a long time after that," he says. "All the guys that I was in boot camp with were overseas doing their job, and I wasn't with them. It took a long time to get over the guilt. Then, I was going to acting school on top of it, so I felt really absurd. It was good in retrospect, though, because I had something to throw all my energy towards."
Driver returned to Indiana and made use of the GI bill at the University of Indianapolis. He acted in several plays at the university, including Pippin and Samuel Beckett's Endgame, building up the ammunition to have another go at Juilliard. At his audition in Chicago, he read the opening speech from Richard III and sang "Happy Birthday."
This time around, he got in. He packed up his things once more and moved to New York.
'Girls was the first sex scene I'd ever done, and I thought, this is weird! People are filming this, and usually I do this privately,' Driver said.
"You get out of the military, and you feel like you can take on anything that comes at you. So I wasn't coming to New York to be defeated," he says.
While enrolled at Juilliard, Driver took acting classes all year and acted in plays during the summer, with restaurant gigs on the side to pay the bills. During his fourth year, he earned acclaim for his role in Burn This, which landed him an agent. The first job he booked was a bit part on the short-lived TV show The Unusuals, starring Amber Tamblyn and Jeremy Renner. More small parts followed on Law & Order: Special Victims Unit; the stillborn HBO pilot The Wonderful Maladys, starring Sarah Michelle Gellar; Clint Eastwood's J. Edgar; and the Oscar-winning Lincoln.
Then came Girls. Unlike many of the eventual cast members, Driver hadn't met Dunham before. His audition scene was a dialogue-heavy sequence with Dunham set the morning after sex. He impressed Dunham and was cast in the role of Adam Sackler, a loose cannon with a penchant for BDSM.
The Girls pilot was shot on Driver's 27th birthday. He watched it with Dunham on her laptop six months before it aired, but found himself picking apart his performance and hasn't watched a single episode since.
"The [sex] definitely was tough to watch," he says. "Girls was the first sex scene I'd ever done, and I thought, this is weird! People are filming this, and usually I do this privately. But Lena is so comfortable in her body, and there's so much storytelling that's happening in the sex scenes.
"I love Adam," he adds. "There's something really exciting about playing someone where you're given license to be unpredictable."
It's Driver's penchant for idiosyncrasies that have garnered him adulation from his peers. There's a moment during the first season of Girls when his character is accused of having given Hannah an STD.
"Driver's way of expressing Adam's agitation was to lie down and pump his legs like a windmill," says Dunham. "It was so odd and special and remains one of my favorite moments of the series."
"You can almost see him, when he's shooting, hurl himself into everything," says Baumbach. "Adam seems to me like the best version of trained and instinct. He knows exactly what he's doing, but he also knows he doesn't always know what he's doing, and that's what makes a great actor."
Of course that combination of training and instinct, and confidence and doubt, is how Driver arrived at where he is today.
Four cups of coffee later, Driver's legs are shaking. He has to run to a meeting with his nonprofit organization, Arts in the Armed Forces, which gets military families involved with the arts—and is an extension of his gratitude. And after the rejections and false starts, he is grateful. "Any actor is happy to be involved with something that's challenging, controversial, and not easily palatable," he says. "Things that are too dumbed down or easy to swallow are uninteresting ... It's good when people have such a polarizing response."