London's growing cadre of young design talent has started to infiltrate fashion's big-business brands. The city's first blue-chip designer of the decade, Christopher Kane, recently abandoned his duties as the designer of Versus, Versace's contemporary line, after luxury conglomerate Kering (which owns such labels as Gucci and Balenciaga) acquired a majority stake in his eponymous brand. Now into the void comes J.W. Anderson, who has dazzled London's fashion cognoscenti with a meteoric rise and is debuting a special capsule collection for Versus in New York on Wednesday evening.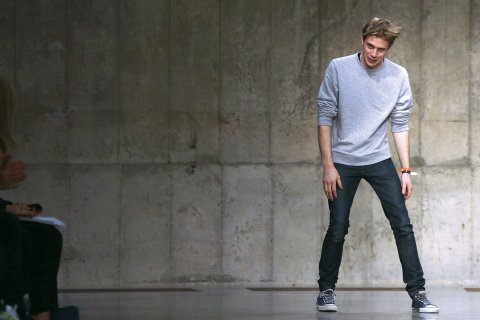 Anderson, who earned a menswear degree from the London College of Fashion in 2005, established his label as a strictly male affair in 2008. But as it turned out, female fans desired his look so much that a capsule range of womenswear launched for Spring 2011, followed by his breakout outing for Fall 2012. That collection—a mashup of nautical poplin seersucker fabrics, sutured at the sides with leather whip stitching—was a display of preppy perversion. The collection was so successful that Topshop enlisted Anderson to design a limited-edition collaboration soon thereafter.
While Anderson has widened his sources of inspiration in the past year—his current work epitomizes a contemporary take on what he calls "Sunday Clothes" (like girlish, flared ankle-length skirts constructed out of Pepto-Bismol pink neoprene)—he is still best known for his early aesthetic. It's one that took its cues from Anderson's grandmother, who had a habit of wearing tracksuits under her pinafores. Accordingly, Anderson's clothes can appear girlish, tailored, athletic, collegiate, and askew—all at once. While his designs may lack the polished finesse that Kane acquired over time, they represent where London (as a fashion capital) is headed. Along with fellow hometown upstart Thomas Tait, Anderson is bringing the city back to its signature sartorial roots—those of layered, avant-garde street clothes with massive intelligence behind them.
If his independent designs are any indication, Versace's vetting of Anderson is not only a smart move for the brand, but for the industry as a whole. Kane, hired by Donatella Versace only a few seasons into his career, is now poised to become an international commodity. Anderson, with his unique perspective, could easily follow suit.