Turkey's New President Was Elected on a Platform of Hatred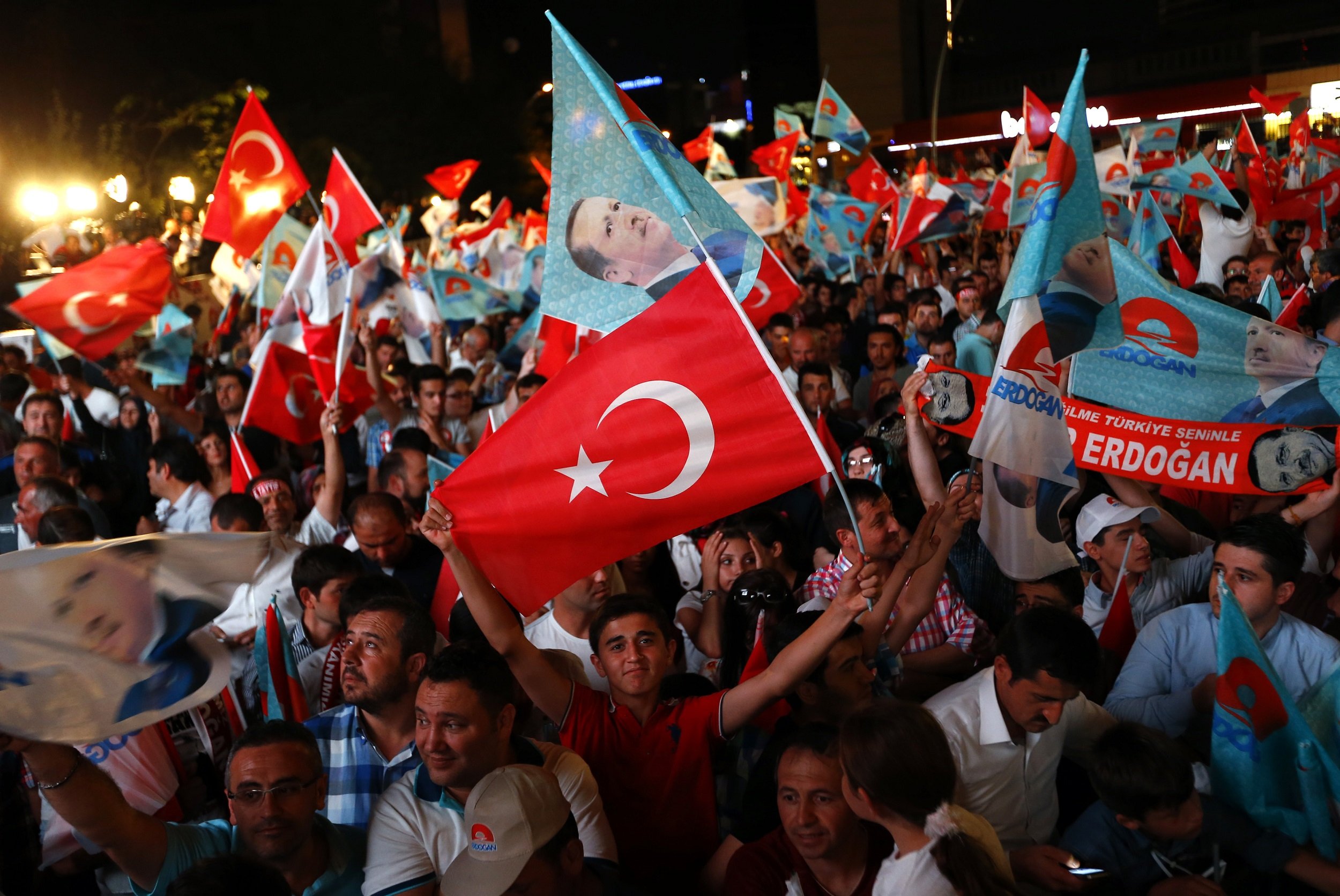 "This is like in any election, anywhere. Political candidates will say what they need say to win," a Turkish diplomat told me.
The diplomat, who spoke on condition of anonymity, was referring to one of Prime Minister Recep Tayyip Erdogan's latest remarks comparing Israel to Nazi Germany. This harsh comparison, as well as attacks on other "outsiders," became a staple of Erdogan's campaign rhetoric in the weeks before his convincing victory on August 3 in Turkey's first nationwide presidential election.
Comparing Israeli actions in Gaza to Hitler's war crimes was widely condemned in America and elsewhere, including in Congressional hearings. But Erdogan was unmoved. Earlier this month, when a leading Jewish organization in the U.S. asked him to return a prize it had awarded him in 2004 for his contribution to world peace, Erdogan wore it as a badge of honor and doubled down on attacks against Israel.
Erdogan was once considered President Barack Obama's most trusted ally in the Muslim world. But his increasingly offensive racial rhetoric—as well has his attacks on Turkish demonstrators, the press, the Turkish judiciary and police officials launching corruption investigation against him—has made him a pariah in some circles in Washington.
But the U.S. needs him right now. As the war in neighboring northern Iraq heats up, America must rely on the cooperation of Turkey, a military ally that boasts the most powerful army in NATO after the U.S. And Turkey increasingly means Erdogan, whose hold over the country is about to tighten after his outright win after an ugly and divisive campaign.
Erdogan's attacks against Israel, which according to Turks and outsiders have reawakened anti-Semitic feelings in the country, were par for the course. His campaign was marked by insults against religious minorities, disparaging remarks on Turks with foreign ancestry and comments degrading women.
After 12 years in power, Turks may have gotten used to Erdogan's forceful personality. He has lasted in office longer than any premier before him, and he has dominated every aspect of Turkish life more than anyone since the founder of modern Turkey, Kemal Ataturk.
He has achieved this by breaking all the rules. According to the bylaws of his own party, the Justice and Development Party, he could not serve a fourth term as prime minister. Having been elected three times, he was term-limited, but, like Vladimir Putin in Russia, this did not bar him from running for president. And by doing so he has completely changed the nature of the presidency. Until Erdogan, under the constitution the presidency in Turkey's parliamentary-based democracy was designated as a nonpolitical role and was meant to represent all Turks and unify the different factions in the country.
Erdogan is about to change all that. His victory in the presidential election is just the start, and he has made clear he plans to change the constitution so that he can more easily dominate every aspect of the country.
Far from fulfilling the promise of national unity, in the past few months, Erdogan has ridden his all-Turkish, Sunni credentials all the way to the presidency.
"Is there any ethnic group who could escape Erdogan's hate speech?" Melda Onur, a lawmaker from Turkey's largest opposition faction, the Republican People's Party, told a Turkish newspaper in early August, after watching a televised interview with the prime minister.
"They called me a Georgian," Erdogan said in an interview with Turkey's NTV. "Pardon me for saying this, but they said even uglier things—they called me an Armenian." Well, he added, "as far as I have learned from my father and grandfather, I am a Turk."
Earlier, Erdogan went after one of his two competitors for the presidency, Kemal Kilicdaroglu, who belongs to the minority Alevi sect, an offshoot of Shia Islam. "Kilicdaroglu, you can be an Alevi," Erdogan said in a political rally, before adding, "Don't be afraid to say it. I am Sunni and can say it without fear. There is no need to deceive people."
Another candidate for the presidency, Ekmeleddin Ihsanoglu, an academic and former head of the Organization of Islamic Cooperation, which unites the globe's Muslim states, had perfect Sunni credentials. But he was born in Egypt, so Erdogan consistently referred to him during the campaign as "the Egyptian."
Earlier this month, Erdogan added a misogynistic note to his utterances. "Know your place," he said in a comment widely believed to be directed at Amberin Zaman, a Turkish columnist and correspondent for the British-based magazine The Economist. Erdogan accused her of insulting "a society of 99 percent Muslims."
Erdogan uses "very unfortunate, offensive language," says Soner Cagaptay of the Washington Institute for Middle East Policy. While in the Turkish system, the president, unlike the prime minister, is meant to be nonpartisan, as rivals started to threaten his prospects for winning, Erdogan felt he needed to "retain his conservative Sunni base," Cagaptay explained.
Erdogan raised his verbal attacks on opponents up a notch. It was then that Jack Rosen, president of the American Jewish Congress, sent a letter to Erdogan's office, calling his comments on Israel "abhorrent" and anti-Semitic, and demanding he return the Profile of Courage award the organization honored him with in 2004.
"This is a very big story," a Turkish journalist told me. "Every time Erdogan opens his mouth against Israel, the opposition says, 'Yeah but you have accepted awards from a Jewish lobby,'" she explained.
Erdogan shot a letter back, denying any hint of anti-Semitism in his campaign, and adding that he has asked Turkey's Jewish leaders to join him in criticizing Israel. He highlighted the exchange of letters in his campaign, using it as proof that he carries no favors with Jewish Americans, who are increasingly portrayed as controlling America's foreign policy from behind the scenes.
An ally of Hamas, which has ruled Gaza since 2007, Erdogan repeatedly said Israeli leaders are "just like Hitler, who sought to establish a race free of faults." While Israelis always talk about the Holocaust, he said, their "barbarism has surpassed even Hitler's." And to his critics in the U.S., he asked, "What do Americans know about World War II?"
Since Erdogan's remarks, praising Hitler has spread across Turkey's social media, and disparaging Turkish Jews has become commonplace, the Turkish journalist noted. (Like many in her trade, she said criticizing Erdogan could cost her her job, and therefore spoke on condition of anonymity.) "Anti-Semitism was latent and mostly marginalized in Turkish politics. Erdogan has awakened this hidden hatred," she said.
Rosen said that back in 2004, when Erdogan first became prime minister, he was a very different man—"a moderate Muslim leader and a voice of reason." Rosen met him and awarded him the prize in a Midtown Manhattan ceremony. Now Erdogan has changed.
In history, Rosen said, "we see political leaders go too far and become dictators. Seems to me Erdogan is going down the path of [Supreme Leader Ayatollah] Khameni in Iran— take a moderate Muslim country and lead it down the path of a pariah state."
And since Rosen asked Erdogan to return the award, "I've never heard so many congressmen in Washington telling me we did the right thing," he said.
The Turkish diplomat who ascribed Erdogan's poisonous rhetoric to the heat of political campaigning indicated that now the election is over Turkey and Erdogan has won, Turkey will return to the centrist policies that have marked its path in the past and good relations with America will be restored. And indeed, declaring a "New Turkey" in his victory speech on Sunday, Erdogan vowed not to be the president of "only those who voted for me."
Yet even if Turkey decides to fully cooperate with Obama as the crisis in Norther Iraq intensifies, the damage from the campaign will need to be undone. In a late July letter to Erdogan, members of the House of Representatives caucus that promotes relations between the U.S. and Turkey wrote, "Your remarks, already reviled as 'offensive and wrong' by the U.S. State Department, make it increasingly difficult to communicate in a positive way about Turkey when interacting with our colleagues."
Follow Benny Avni on Twitter: @bennyavni