It always seemed a little improbable that Arab sheiks could save American journalism. But in a business as troubled as the vast wasteland of American television news, hope springs eternal, and the Al Jazeera network out of Qatar seemed to offer an opulent oasis. In January, with great fanfare, it acquired the floundering Current TV network from Al Gore and his partners for some $500 million. Then it announced it would replace Current with a new Al Jazeera America network (in addition to its global Al Jazeera Arabic and Al Jazeera English networks), and hire about 800 people in the States. More than 22,000 applied. Headhunting for top executives goes on.
But plans to launch Al Jazeera America this summer have stalled, and insiders suggest it will be lucky if it airs before the fall, or even by the end of the year. "I just don't know if we are ready," one said earlier this month. "It is such a big thing."
Then, over the weekend the old questions about Al Jazeera's supposed anti-Israel bias erupted with a vengeance, and a twist. Its English-language website published—then pulled down—an essay by controversial Columbia University history professor Joseph Massad asserting that Zionism and European anti-Semitism were essentially two sides of the same coin. It wasn't exactly a riveting read. But it thoroughly enraged, among others, The Atlantic's Jeffrey Goldberg, who called it "one of the most anti-Jewish screeds in recent memory." Meanwhile, the fact that Al Jazeera executives, who love to talk about speaking truth to power, kept mum as they ever-so-quietly took the essay off their site infuriated fans who look to the English-language network for wide-open debate as well as wide-ranging coverage.
Our challenge is to put America back in television: the America that's between New York and Los Angeles. Right now I don't see those Americans on television.
I've been following the ups and downs of Al Jazeera America all year, talking to staffers in the States, Europe, and the Middle East, and it's still a good guess its pockets are too deep for it to fail, at least in the short term—or at least not before it launches. It will go on the air sometime in the not-too-dim future. And it will bring a lot of fresh energy as well as controversy to the news scene in the world's most important television market. It could transform the way we see news and the way we think about it. But, then again, it could be a disaster in almost every sense of the word.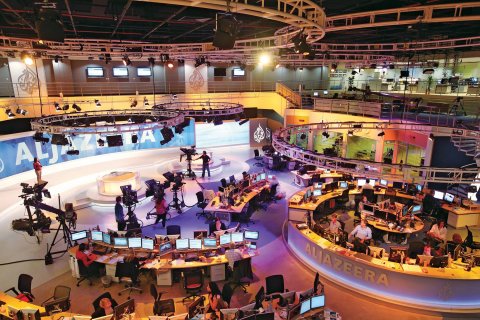 SOON AFTER the announcement of the Current TV deal in January, I talked to Marwan Bishara, host of a monthly television program on Al Jazeera English called Empire that covers the good, the bad, the ugly, and the paradoxical aspects of America's global dominance. He was frankly excited about the push into the United States. "I don't think any other society is capable of producing as much news and noise as America," he said. "Our challenge is to put America back in television: the America that's between New York and Los Angeles. Right now I don't see those Americans on television. I see elites. I see comedians. I see pundits. I see politicians."
Back then Al Jazeera was, among other things, a vehicle for members of al Qaeda to speak their version of truth to power.
Amjad Atallah, formerly of the left-leaning New America Foundation and now the network's bureau chief for the Americas, struck that same theme. "Our narrative has been to be the voice of the voiceless," he says. "That runs through all the channels we have. If all we do is cover the spin doctors and have them repeat their talking points each day ad nauseam we won't have done a service for anyone." To get real news out of the real Americas, north and south, Al Jazeera plans to open bureaus in Chicago, Detroit, and perhaps eight or 10 other cities.
Yes! Onward! All of this sounds highly laudable, badly needed, and a long way from the Al Jazeera that was dubbed "terrorist TV" during the George W. Bush administration. Back then Al Jazeera was, among other things, a vehicle for members of al Qaeda to speak their version of truth to power. But the change has been more evolutionary than revolutionary. And it's important to trace the family tree. Al Jazeera in Arabic, the original AJ, was once a mouthpiece for al Qaeda and has always been close to the Muslim Brotherhood. Al Jazeera English, which started broadcasting in 2006, now claims it reaches 260 million households in more than 130 countries. It has become the premier world news network actually covering the news of the world. And it has won all sorts of important journalism prizes in the United States for doing just that. It even garnered a much-quoted encomium from, of all people, then–secretary of State Hillary Clinton testifying on the Hill in 2011: "You may not agree with it," Clinton said, "but you feel like you're getting real news around the clock instead of a million commercials and, you know, arguments between talking heads and the kind of stuff that we do on our news, which ... is not particularly informative to us, let alone foreigners."
Six years ago, when Al Jazeera English sent correspondent Josh Rushing to report on small-town America, a federal agent followed in his footsteps as he traveled through North Dakota. Rushing is a former U.S. Marine lieutenant and military spokesman, but the agent interviewed everybody Rushing talked to, trying to find out if Rushing was really a terrorist scouting targets near the Canadian border. That sort of thing doesn't happen anymore.
When the Al Jazeera bureau in Washington set up its offices on K Street, the landlord wouldn't even allow it to put its name on the front door. By the beginning of this year 140 people work there, but, still, "you walk into this building and you have no idea where you are," says executive producer Bob Wheelock. That's about to change, too. Capacious quarters near Dupont Circle will proudly display the company's logo in D.C. And the signage for new offices in Manhattan is likely to be even more impressive.
Because of Al Jazeera's old infamy, and because world news is not exactly a hot draw for most American viewers, few cable providers had dared or cared to carry Al Jazeera English in the past. Typically, subscribers buy collections of channels, not just one at a time, and Current, even if it was largely unwatched, was well bundled. That positioning is basically what Al Jazeera paid for. "The acquisition of Current gives us a chance to be in more homes and will give people a chance, at least, to sample what we offer," says Wheelock.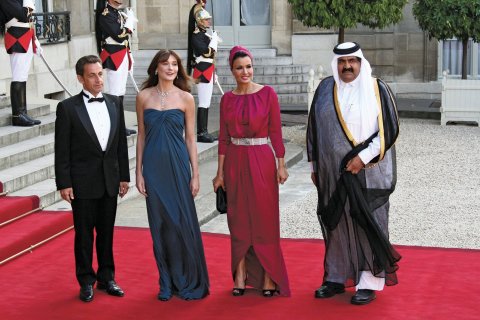 But Al Jazeera's surge into the United States certainly won't come cheap. Billions of dollars are at stake, and won't be earned back soon or ever. "So, what's in it for Qatar?" I asked Atallah and Wheelock. There was a sharp pause at the other end of the conference call. "That's above our pay grade," they said almost in unison.
Something much bigger is going on here, much more disruptive, if you will, than the expansion of an ambitious cable-news franchise. Qatar is famously rich. The wealth of its ruling family is almost unfathomable. Per capita income is more than $100,000 a year, the highest in the world. But perhaps because the money is recent and the country is just a hot, sandy peninsula that looks like a polyp on the gulf coast of Saudi Arabia, the world has been slow to recognize just how grand are the emirate's imperial designs.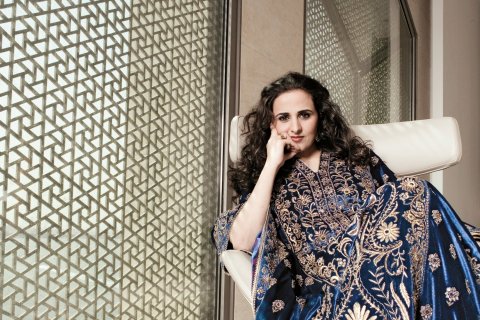 "The future of Qatar is soft power," says Mohamed Al Kuwari, its suave, highly experienced ambassador in Paris. And the leaders of the royal Al Thani family have figured out just what it takes to project themselves and their country onto the global stage in the 21st century. They may be members of the fundamentalist Wahhabi strain of Islam, like the Saudis, but they have a wide-open worldview. The key figures are the emir, Hamad Bin Khalifa; his favorite wife, the resplendent, redoubtable Sheikha Moza; their son, Crown Prince Tamim, and their daughter Mayassa ("arguably the most powerful woman in the art world," according to Forbes, as she runs the country's rich and ambitious museums).
Along with their cousin, the shrewd Hamad bin Jassim bin Jabr Al Thani, who is both foreign minister and prime minister (and would fit the mythical role of grand vizier), the emir's family has used the media, sports, culture, education, innovation, diplomacy, and covert action with stunning effect. This is a country that has commercial relations with Israel yet gives enthusiastic political support to Hamas: the emir himself paid a unprecedented official visit to Gaza last October. While Al Jazeera was broadcasting coverage critical of the Iraq invasion in 2003, Qatar was hosting the headquarters of the United States military's Central Command. And while Doha has worked for good relations with Iran, it has also let the Americans build enormous bases on its little peninsula.
In struggling Europe, Qatar has become a major presence everywhere from the bourses to the working-class suburbs. In Britain it bought Harrods department store, Sainsbury's, the Olympic village, and 15 percent of the London Stock Exchange; in Germany it's put major money into Volkswagen, Porsche, and other industrial giants.
In France, Qataris have bought and refurbished the legendary Royal Monceau Hotel in Paris and the Martinez in Cannes. They also have invested heavily in the French stock market, and theoretically they could turn the CAC 40 (the equivalent of the Dow Jones) on its head any time they might choose. Doha's influence has been apparent at the highest levels of government, as it worked with former president Nicolas Sarkozy to free Bulgarian nurses held in Libya in 2007, then supported his decision to go to war to bring down Muammar Gaddafi in 2011. Relations with President François Hollande are almost as close, and in line with the socialist president's political needs Qatar is funding a foundation to benefit small businesses in the ghettoized housing projects on the outskirts of French cities.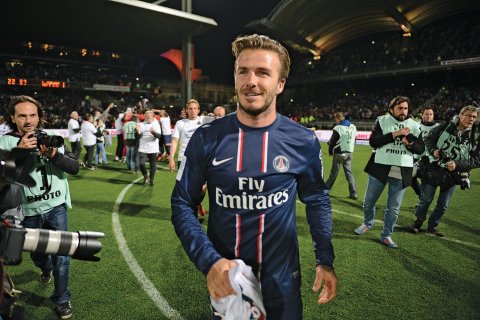 When British soccer superstar David Beckham recently decided to play part of a season for the Paris Saint-Germain club, he was moving to a Qatari-owned team. And when he sits in the stands to watch the 2022 World Cup, he'll be braving the heat in Doha, which beat out the United States, South Korea, and Australia to win that most-watched sporting event in the world.
But the biggest focus of Qatari largesse and intrigue has been in the Middle East since the upheaval known as the Arab Spring began in early 2011. "What Qatar would like to see is stability all around it," says Ambassador Al Kuwari, "to create an atmosphere of hope for everybody in the region."
On that front, however, the record so far has not been good. When dictators ruled across the region, Al Jazeera's coverage spoke for the masses who opposed them. But since the Arab Spring began, it has identified so closely with the Muslim Brotherhood bidding to take and hold power that many viewers came to see Al Jazeera as hopelessly biased—and so did several staffers in Europe and the Middle East who simply resigned. "It quickly became clear to employees: this is about politics, not about journalism," wrote Al Jazeera Berlin correspondent Aktham Suliman after he quit last year. "More precisely: about Qatari foreign policy, which had subtly started to employ Al Jazeera as a tool to praise friends and attack enemies."
If so, the course of events in the region has not been kind to Qatar's strategy. "Qatar's support for the Muslim Brotherhood has caused crowds in the Arab Spring states to burn the Qatari flag over the past few weeks," says Sultan al-Qassemi, a political commentator based in the United Arab Emirates.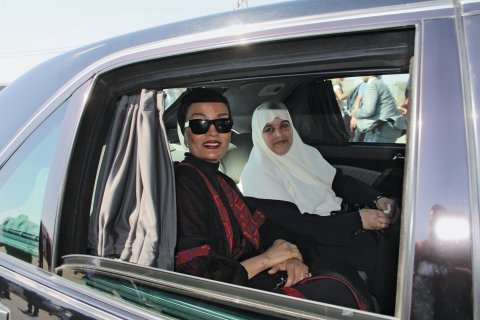 Doha's chosen favorites in Libya have little power or influence; the Tunisian Islamists are in charge of their government, but in deep trouble as it fails to deliver on the hopes of the population; the same is true in Egypt, which is on the verge of chaos under President Mohamed Morsi, despite billions of dollars in Qatari aid. And in Syria, the United States had to strong-arm Doha into stopping funds and weapons flowing to jihadists among the rebels. Qatar complied earlier this year, according to several sources, but it's anybody's guess for how long. And, meanwhile, the Assad regime Doha is committed to take out seems, instead, to be taking the initiative.