YAHOO, MEET Tumblr. Tumblr, meet Yahoo. Please don't mess with any of our favorite Tumblrs, like the beauties below.
BEST TUMBLR FOR BREAKING NEWS
SHORTFORMBLOG
What's black and white and red all over? ShortFormBlog, of course. The Tumblr delivers breaking news in bite-size form, complete with eye-catching breakouts and easily digestible numbers. The folks behind ShortFormBlog really understand how to adjust Tumblr's features to deliver the most visually engaging way to tell the day's big story.
MOST LOL-WORTHY ANIMAL TUMBLR
CATS THAT LOOK LIKE RON SWANSON
catsthatlooklikeronswanson.tumblr.com
Pawnee City Parks Director Ron Swanson of NBC's Parks and Recreation likes whiskey, woodworking, and red meat. His dislikes? Any form of leafy vegetable and organized government. No word on whether or not cats are included on that list, but we hope he's flattered by these furry feline lookalikes.
BEST CROWDSOURCED TECH TUMBLR
THE INTERNET WISHLIST
Do you wish Google Glass could scan someone's outfit and buy it? How about a Shazam app for people's faces? Or Siri for your house? Ideas like these are encouraged on the Internet Wishlist. This Tumblr took a year off, but seems to be back again, with enormous potential to influence inventors and developers. Simply use the hashtag #theiwl in a tweet to contribute to the site.
MOST CHARMING VINTAGE-Y TUMBLR
QUESTIONABLE ADVICE AND ADVERTISEMENTS
Sometimes the past is best left where we left it. Questionable Advice and Advertisements is a collection of, er, dubious quotes and ads from old lifestyle magazines and etiquette manuals. Apparently, those heathens back in the day needed a lot of guidance on how to behave in polite society. One morsel of advice: "Don't giggle. For the love of decency, never giggle."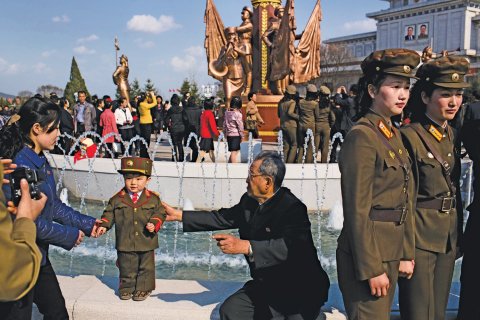 MOST STIMULATING ART-AND-DESIGN TUMBLR
HELLO YOU CREATIVES
Even the most creative minds need inspiration. Hello You Creatives features some of the coolest—and weirdest—work right now in graphic design, advertising, video, and illustration. The sheer amount of slick, refined creativity out there assures us that the marriage of technology and design truly is a beautiful thing.
MOST GORGEOUS PHOTOGRAPHY TUMBLR
FOTOJOURNALISMUS
The world comes together on Fotojournalismus. The blogger, who says she is just a college girl who loves photography, posts daily photos from all over the world and different photographers' collections on weekends. The Tumblr's powerful photos provide an addicting glimpse of daily life, triumphs, conflict, and love.
TRAVEL TUMBLR THAT'S ALMOST AS GOOD AS AN ACTUAL TRIP
THE TRAVEL NETWORK
The Travel Network is the Tumblrception of travel blogs. As a group of different travel Tumblrs within one Tumblr, it is the ultimate guide for tireless jet-setters and curious dreamers alike. The Travel Network lets you browse all the places that you'd rather be—without leaving your desk (unfortunately).
MOST POP-CULTURE-SAVVY FASHION TUMBLR
TEXTBOOK
If Holden Caulfield were alive today, he probably would be the same angsty teenager as he was in The Catcher in the Rye. He might even think Tumblr is full of "phonies." That didn't stop the creator of Textbook from envisioning Holden's present-day wardrobe—which is classically cool—plus the clothes and accessories of your other favorite characters from books and movies.
BEST BOYFRIEND TUMBLR
YOUR LL BEAN BOYFRIEND
yourllbeanboyfriend.tumblr.com
Who doesn't want to be swept away by a tall lumberjack named Thurston who "loves the smell of mulch," donning a 100 percent machine-washable cotton checkered shirt? Swoon. Your LL Bean Boyfriend culls the best male models from everyone's favorite mailbox catalog (that inexplicably shows up year after year) and gives them a smoldering personality. Sold!