Prepare to meet the new Marc Jacobs. Like the spring and fall shows that drive the fashion industry, the month of May plays host to a bevy of collections presented by renowned fashion-design programs across the U.S. It's there where bright young designers show off their talents to industry professionals and fellow students alike.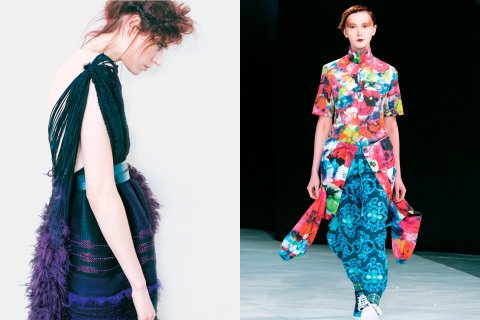 At New York City's Parsons The New School for Design, Fashion Institute of Technology (FIT), Pratt Institute, and Georgia's Savannah College of Art and Design (SCAD), students present senior-thesis collections that express their unique aesthetics. For many it will be the last opportunity to design with complete creative freedom before joining the industry's commercially driven ranks. While most students dream of establishing their own fashion labels, many will first wet their feet at jobs within larger design firms after graduation to learn the ropes at established brands.
Parsons, the last school to present its senior collections on Wednesday, is known as the breeding ground for fashion-design megawattage—counting Tom Ford and Marc Jacobs among its alums. In the running for the school's lauded Designer of the Year award for 2013—which will be announced at Wednesday evening's gala—are Maisie Schloss, whose mixed-media collection references the obsessive work of artists Louis Wain and Yayoi Kusama, and Jarvinia Jinying Li, who created a collection fabricated of handmade textiles woven from horsehair, waxed cotton, and mohair.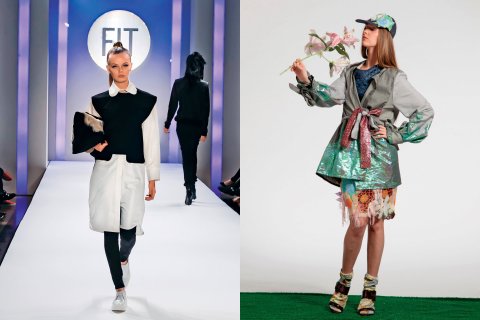 Earlier this month on the Pratt runway, senior Emma Hastil utilized explosively colored prints to create an athletic-streetwear effect. FIT's Cotton Inc. award winner, Emily Levine, played with a monochromatic scheme when devising her thoughtful outlook on salable cool. And SCAD's Michelle Leal presented an "emotional exploration of printing color," said Dean Michael Fink of her take on modern femininity.
Unlike during the regular fashion season, trends are hard to discern—the one exception being those modern silhouettes (long, loose tailored shirts worn over tight pants; voluminous evening wear) currently favored by the stylish students themselves. But in this case, distinctiveness is key, as the soon-to-be graduates now have an expansive industry in which to test their unique talents—a world where wackiness is highly valued.