THEY HAD heard the sirens before.
The sudden wail that silenced Moore, Oklahoma, at 2:40 p.m. local time on May 20, 2013, echoed the alarm that had rung out 14 years earlier, a few minutes before a historic tornado, formed of the fastest winds ever measured near the earth's surface, touched down in nearby Amber, whipped northwest along I-44, and leveled parts of Moore, killing 36 people, decimating 8,000 homes, and causing $1.1 billion in damage.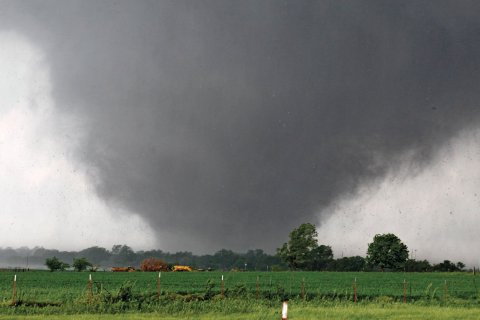 It wasn't the same sound, exactly: after the 1999 twister, Oklahoma City replaced its outdated Cold War–era warning system with a bigger, better network of 181 state-of-the-art sirens, including 36 in Moore alone.
But while the sirens sounded a little different this time around, the threat they warned of—the black vortex then spiraling down somewhere west of Newcastle and beginning to snake toward Moore—was nauseatingly familiar. Seventy percent of all tornadoes take shape in North America, and the vast majority of them sweep across Tornado Alley, which stretches from northern Texas to South Dakota, west of the Mississippi river and east of the Rockies. Moore, in other words, has the misfortune of being situated in the middle of the most tornadically volatile landscape on the planet.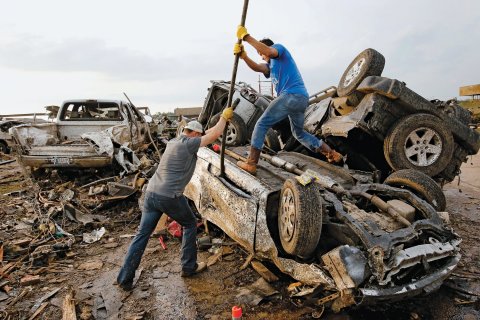 So when the sirens sounded on May 20, the people of Moore knew what was about to happen. They might not have known the meteorology behind the moment—that a mass of warm, moist air from the Gulf of Mexico had been scrunched between a wall of warm, dry continental wind and a colder Rocky Mountain front, spawning a dangerous supercell thunderstorm, with its strong, rotating updrafts and equally powerful downdrafts. They simply knew that it was time to turn on their radios and their television sets, and then, once apprised of the situation, to seek shelter from the looming twister. And they knew they had only 15 minutes, give or take a few, to do it.
The sky had clouded. The wind had picked up. Hail had begun to fall. At his one-story home next to the Moore multiplex, Mark Ellerd, 49, cradled his yowling cocker spaniel, Molly, on the floor of his bedroom closet. (Individual accounts are based on reporting by The New York Times, NBC News, and various local outlets.) At the Plaza Towers Elementary School on the western edge of town, frantic teachers hustled 75 third- and fourth-graders away from the windows and toward the center of the building, where they huddled together in a hallway, confused and crying. As her 4-year-old daughter, Shellbie, suffered an ill-timed asthma attack, Sarah Johnson rushed from the relative safety of home to the ER; once there, she wedged her child against a wall and covered her with a mattress. Farmer Lando Hite sprinted into his stables to face the storm alongside his prized horses. At the Agapeland day-care facility, staffers corralled 15 children into two bathrooms, singing songs to keep them calm.
And there they waited.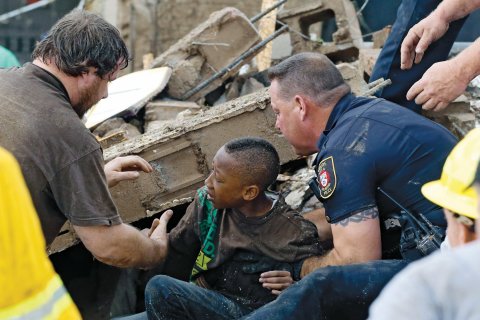 Sixteen minutes later, the tornado hit Moore. Its sinister racket was as familiar as the sirens'. "It sounded like a jet plane and a freight train roaring together," as one postal worker said.
By the time the May 20 twister ripped into town, wind and moisture had conspired to make it, in the words of the local KFOR meteorologist, "the worst tornado in the history of the world"—or at least a very close contender. It didn't, in fact, set records in any of the three categories that determine a tornado's impact: size, strength, or duration. But no previous tornado scored as high in all three categories at once.
The largest tornado on record struck Hallam, Nebraska, in 2004. It was two and a half miles wide—"probably close to the maximum size for tornadoes," according to the National Oceanographic and Atmospheric Administration (NOAA). Early reports say the May 20 tornado was nearly as large: about two miles from end to end.
Its winds weren't the fastest ever, either—that deadly distinction goes to the tornado that devastated Moore in 1999, which reached a top speed of 302 miles per hour—but they were swift enough, at roughly 200 miles per hour, to make the May 20 twister a five (out of five) on the scale that scientists use to measure tornado strength.
And while the longest tornado on record—the 1925 Tri-State Tornado—clung to the ground for an agonizing three and a half hours, the vast majority peter out after a few minutes. The May 20 twister lasted for 40 minutes—more than 10 times as long.
In Moore, those 40 minutes felt more like 400. As insulation rained down on Mark Ellerd and his spaniel, he could hear windows shattering, walls collapsing, and the roof peeling off his home. Nearby a mother held onto her daughter's hair as the wind tried to lift the child away. Another woman was on her way to work but decided to return home for her dog, Ginger; the two curled up in the bathtub as the storm blew them around the room. Elsewhere, Lando Hite clung to his stables, helpless, as the tornado carried off his beloved horses. "It was just like the movie Twister," he would recall. "There were horses and stuff flying around everywhere."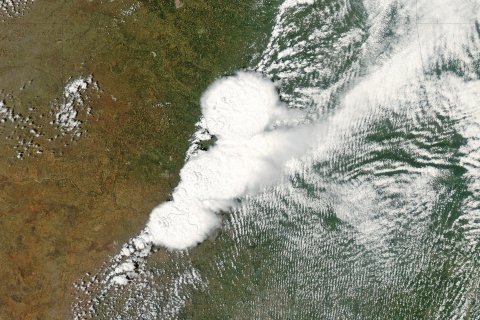 "We locked the cellar door once we saw it coming," a man named Ricky Stover would later say, his voice breaking as he choked back tears. "It got louder, and next thing you know, you see the latch coming undone. It ripped open the door. Glass and debris started slamming on us. We thought we were dead."
I love you, I love you, please don't die with me,' one boy kept saying.
As the wind tore the roof off the Agapeland day-care center and debris descended, children and staff joined together in chorus after chorus of "You Are My Sunshine"—barely audible above the howl of the tornado, but comforting all the same. Across town, in the Plaza Towers Elementary School, teacher Rhonda Crosswhite lay atop her students. It was the last measure of protection, however improbable, that she could offer them. "She was covering me and my friend Zachary," fourth-grader Damian Britton later said. "I told her that we were fine because we were holding onto something. And then she went over to my friend Antonio and covered him."
As Crosswhite draped herself over the children, she heard one boy cry out. "I love you, I love you, please don't die with me," he kept saying.
Crosswhite began to pray. "I never thought I was going to die," she recalled. "The whole time, I just kept screaming to them, 'Quit worrying, we're fine, we're fine, we're fine,' and I'm very loud. I just kept hoping they could hear me because I could hear them screaming."
"It was like a freight train," she added. "It felt like someone was beating me from behind."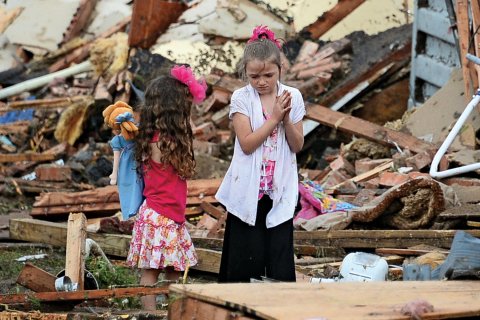 AT 3:36 P.M., the winds relented, the dirt and debris fell back to earth, and the town of Moore went quiet again.
The unfathomable tumult of the tornado rapidly gave way to the all-too-familiar aftermath. First responders pulling bodies—some still breathing, others already cold—from the gnarled wreckage of schools, homes, hospitals. One neighborhood flattened, with an adjacent one unscathed. The Healer in Chief on television, signing a disaster declaration and vowing to stand with the people of Oklahoma.
"There are empty spaces where there used to be living rooms, and bedrooms, and classrooms," said President Obama, "and, in time, we're going to need to refill those spaces with love and laughter and community."
Then came the usual questions, and the usual—unsatisfactory—answers. Did global warming play a part? (Can't say.) Are storms in general getting worse? (Not yet, but they probably will.) Would stricter building codes have saved lives? (Maybe.) How much will it cost? (Billions.)
For the shaken people of Moore, it was too soon for such talk. As of Tuesday evening, at least 24 people, including nine children, were confirmed dead. Another 240 had been injured. The power in some places was still out. Water was not yet running. The tornado had spared some and devastated others—with no real explanation, it seemed, other than the caprices of wind and weather.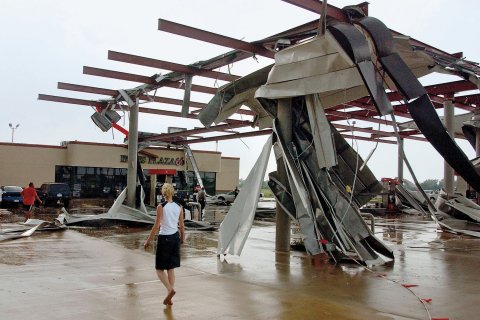 Mark Ellerd pitched a tent next to the remains of his home, fearing looters. Sarah Johnson and daughter Shellbie survived, too—but by Tuesday night, Sarah had yet to find her husband. Lando Hite was found shirtless and caked in dirt, stumbling around his dismantled farm; about 100 of his horses were dead. "I lost everything," he said. "We might have one horse left out of all of them." Although Agapeland was totaled, the children were unharmed.
The Plaza Towers Elementary School was not so lucky. As the parents of missing students gathered outside the building, which no longer had exterior walls, the medical examiner announced that the bodies of seven children had been found inside. They had been trapped in a pool of standing water, he said, and they had drowned. Power lines were loose on the lawn. Cars were strewn across the lot. The smell of gas lingered in the air.
And yet there were others, like Damian Britton, who made it out alive. Some would say that fate saved the boy, or just dumb luck. But Britton wasn't buying it.
"A teacher took cover of us—Miss Crosswhite," he said. "She saved our lives."