On a recent Thursday, a gaggle of teenagers wielding cameras and pens are huddled in front of the Trump SoHo hotel in downtown Manhattan. The target of their affection isn't some movie star, but a genial, follicly challenged 48-year-old wearing sneakers and baggy jeans.
After years as a cult-TV nerd-god, creating shows like Buffy the Vampire Slayer, Angel, and Firefly, Joss Whedon has become one of the most successful film directors in Hollywood, thanks to having helmed Marvel's The Avengers, a superhero extravaganza that took in $1.5 billion worldwide, making it the third-highest-grossing film of all time.
His latest film is a passion project. Much Ado About Nothing is a modern-day retelling of Shakespeare's classic play. The black-and-white movie was shot in just 12 days at Whedon's home in Santa Monica, California, with a cast of his best friends from past shows, including Angel's Amy Acker as Beatrice, Buffy's Alexis Denisof as Benedick, and Firefly's Nathan Fillion as Dogberry.
Your father used to write for The Golden Girls. Did you see the painting of Bea Arthur's boobs?
I didn't feel the need! I didn't watch a lot of American television growing up. I just liked to read a lot and watch movies—movies, movies, and more movies. My family used to make fun of me because I'd like every movie I saw.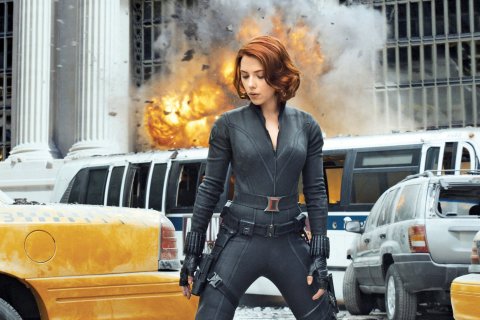 Was that a minor act of rebellion against your father, who wrote for American television?
My mom and dad were divorced and, although they got along very well, my mom thought American television was reprehensible, so I was raised on the BBC. I kind of agreed with her. We watched American news, though. The first autograph I ever got was John Chancellor's. We watched him every night.
What's so appealing about Shakespeare's Much Ado About Nothing?
It's probably the most crowd-pleasing play because it's so funny and so modern. It's a story that we keep retelling over and over: "They hate each other. No they love each other." I saw a production of Much Ado at the Open Air Theatre in Regent's Park [London] when I was in high school, and I couldn't tell you who was in it but it stunned me. It was so funny.
You have a reputation for strong female protagonists, and Beatrice in Much Ado is one of the greatest heroines in Shakespeare's canon.
Until I committed myself to filming it, I never focused on how ballsy and wonderful it was that Shakespeare felt the need to put this out there. I didn't go into it thinking Beatrice is a great feminist icon, just that she's a great character. It was only later that I realized how powerful and in my wheelhouse it was.
Where does your fondness for heroines come from?
I was raised by a hardcore feminist. I was also much smaller than my brothers and bullied a lot, so I identify with the feeling of helplessness.
Why do you think there's a lack of female superheroes in film?
Toymakers will tell you they won't sell enough, and movie people will point to the two terrible superheroine movies that were made and say, You see? It can't be done. It's stupid, and I'm hoping The Hunger Games will lead to a paradigm shift. It's frustrating to me that I don't see anybody developing one of these movies. It actually pisses me off. My daughter watched The Avengers and was like, "My favorite characters were the Black Widow and Maria Hill," and I thought, Yeah, of course they were. I read a beautiful thing Junot Diaz wrote: "If you want to make a human being into a monster, deny them, at the cultural level, any reflection of themselves."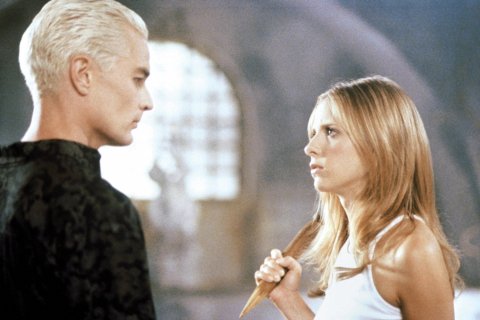 You jumped into Much Ado right after you finished principal photography and before going into postproduction on The Avengers. Was that difficult to juggle?
It was my 20th wedding anniversary and we were going to go to Venice, and my wife said to me, "You need to go make this movie instead." She had a crew in place and we had talked about filming something at the house since we moved in a few years ago. She surprised me and said, "You know, Venice isn't sinking that fast." She knew that it was my way to reconnect with the house, my family of friends and thespians, and to realize a dream I had for years.
The cast is composed of friends and former colleagues. How did you "get the band back together," so to speak?
The first thing I did was call Amy and Alexis and ask if they were available, because they were deal breakers. Then I threw a "welcome home" party because we shot The Avengers in Albuquerque and Cleveland, and I sidled up to people there and was all, So, whatcha doing? What dates? because I didn't want to offer three friends the same part. It took us just 12 days to shoot Much Ado. We were doing eight pages a day of Elizabethan dialogue with almost no stage directions.
Working with a group of your friends must be very different from working with the group of A-list actors on The Avengers whom you barely knew.
I loved working with The Avengers cast and we had a great time, but it was a job and they had other commitments during that job so they would go off and do other things. So it wasn't like you were in the trenches with all these people and came out loving or hating each other; we just had a temperate, nice time. But with Much Ado, it took so much out of all of us and fed us so much. Everyone was so happy to be flexing this Shakespearean muscle that we all have and don't get to flex very often.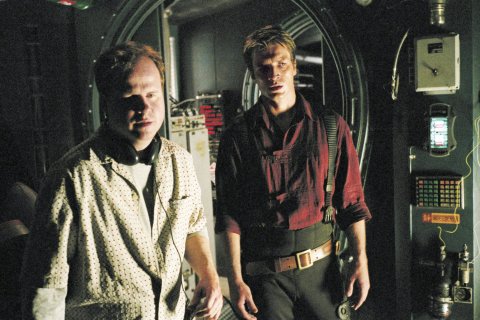 You took everyone on a bus from Los Angeles to SXSW, calling it "Bus Ado About Nothing."
We decided to have Lionsgate sponsor the bus, so we became our own DIY publicity troupe making Vines [short looping videos] and stuff while in very close company. We played running flip-cup charades, where you have two groups at the front and back of the bus. The person with the clues was in the middle, and each person would run to the middle, get the clue, and run back to their group.
You were the cult-TV guy for so long with Buffy, Angel, Firefly, etc. What does it feel like to finally be the "big man on campus?"
It's different in certain ways. I definitely feel like there's a little more trust in the industry than there was, and doors open that I probably don't even know about. But it doesn't affect my day-to-day life at all. I play with my kids and see my friends. I can say things like "I'll get a bus!" That's a bit different.
You did a bunch of script-rewrite work early on with Speed, X-Men, etc. Are there any films that fans would be surprised you had a hand in?
I did a little work on The Quick and the Dead for Sam Raimi just so I could meet Sam Raimi. I did a little work on the ending of Hulk just so I could meet Ang Lee. My very first job was writing additional dialogue for The Getaway, with Alec Baldwin. It was very instructive.
The Avengers 2 is on the horizon, and Robert Downey Jr. is technically not signed yet. How crucial is he to the franchise? His Tony Stark is almost Shakespearean.
He is Iron Man. He is Iron Man in the way that Sean Connery was James Bond. I have no intention of making Avengers 2 without him, nor do I think I'll be called upon to do that. I don't think it's in my interest, Marvel's interest, or his interest, and I think everything will be fine. But I know that this is Hollywood and you roll with things. You have to be ready for the unexpected. But I loved working with Robert, and everybody knows he embodied that role in a way no one else can. The day he was cast, I went up to [Marvel Studios president] Kevin Feige and said, "You brilliant son of a bitch."
How did you get to direct The Avengers?
I'd known Kevin for a while and was brought on just to read the script and advise the way I have with plenty of people. Eventually, I thought there was a story that I'd like to tell, and Kevin and I were on the same page about that. I took a big financial hit doing that movie. They know it's your [big] break. Plus, you don't do it for the money—even if there is the money—because people will know. They'll smell it. But I fell in love with the story and they liked my version of it.
What's next for you besides The Avengers 2?
I miss the blank page. I'd love to do a ballet, but I'm still thinking about how to stage it. And back to the female-hero thing, I'm not going to let nobody do it. It doesn't have to be me, but it could be.