ONE EDITOR, two books—one a novel about North Korea, the other an 800-page behemoth about the road to the Vietnam War—some 15 years of collective writing time between them, and then a pair of Pulitzer Prizes.
It's not a bad story amid the usual simmering glumness of American publishing. Sure, the book business is changing faster than most can keep up with, fan fiction continues to numb, and American readership levels remain dispiriting (only about 50 percent of respondents say they've read at least one book in the last year). Despite all that, great books—the kind of books that change readers' hearts and shift our view of history—still get published.
Exhibit A was a recent breakfast with Adam Johnson, winner of the Pulitzer in fiction for The Orphan Master's Son, a picaresque novel about an orphan's rise from the tunnels under the DMZ to a pseudo-general in North Korea, with cameos from Kim Jong-il thrown in; Fredrik Logevall, a Cornell professor who won the Pulitzer in history for Embers of War, his epic and wonderfully readable account of the fall of the French and the inexorable involvement of the U.S. in Vietnam; and their editor at Random House, David Ebershoff, a novelist himself—and now the holder of a new record in American literary history (the first time an editor has won two Pulitzers in the same year).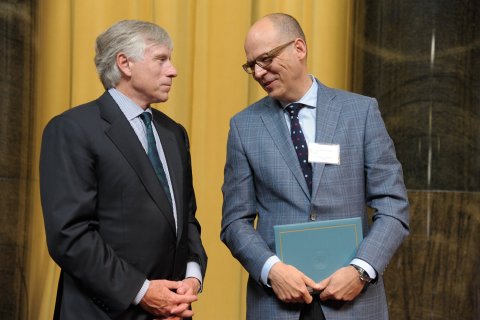 Johnson and Logevall started, of course, in rather different places but their stories are similar: ones of slow and exacting work in an ever-speeded-up world of quickly tossed-off words. For Logevall, it began with a letter back in 2000 from an editor at Random House asking if he was interested in writing a book on the lead-up to America's fight in Vietnam. He said yes, and was contracted to deliver the manuscript in December 2003, a deadline he missed by eight years or so. Thanks to his wife's steadying voice, the quiet reassurance of Ebershoff saying, "Look, we'll be patient," and Random House's experience with another Vietnam War book (Neil Sheehan's Pulitzer winner A Bright Shining Lie) that took a good 15 or 16 years, he persevered. He even managed several visits to Vietnam, which opened his eyes to the "conflicted view that many Vietnamese had about the French"—a place where North Vietnamese fighters would enter the jungle to fight their enemy with a book of French poetry in their pocket. Because of the time he took, of the extensive research, he was able to tell a story that "has never been told before."
For Johnson, it began back in 2003 or 2004 when he started researching a novel on the Iraq War ("Troilus and Cressida in the Green Zone"), which he felt was "omnipresent but not rightly seen." But soon, like so many writers, he found himself "cheating on [his] important book" with guilty reading about North Korea that led to flashes of "dialogue and descriptions and little vignettes." Eventually he abandoned Iraq and entered the even stranger fictional zone of the Hermit Kingdom. As a fan of the book from when I first read it, I'm still not sure how exactly he managed to pull this off—to so imaginatively and realistically inhabit the most closed-off country in the world, a place where the fictional is life. Like Logevall, his journey was equally nuanced and intense; when he finally visited North Korea he found "a people without curiosity" where he was "translucent" because he was foreign and dangerous. It was a trip that pulled him deeper because he "wanted to talk to every single person he met" and he thought "I would solve this thing"—his novel—over a cup of tea with those he saw on the street, but there was no one to talk to and so it was back to his head.
When he saw Johnson's manuscript, Ebershoff says he experienced a thrill that this book had been written for him; he had taken his own trip, as a college junior, to South Korea, traveling into the border tunnels to see an impassive North Korean soldier staring back at him. It was almost as if the seed of the story had germinated within him for decades—a feeling he had with Logevall's tome as well: Ebershoff had backpacked through Vietnam while reading all the great books on the war but was still left wondering what brought America there, and what connected the French and U.S. wars. Now they have all come full circle.
There was much more to our conversation, but the years-long labor struck me most. Writing is hard and publishing a fool's business, and neither is a profound point, I grant. But in the great rush we lose sight of those truths and the miracle that somehow two books (and others like them) have made their careful, winding way—heavy with effort, and supported by many loving hands—to publication. All of which is to say, go read them.