It's just before 7 o'clock on a sunny Thursday morning in New York City's SoHo neighborhood, and dozens of people—a few of them still in pajamas—have lined up outside a sun-drenched bakery. A reporter from a local radio news program roams up and down the line asking why, exactly, they are there.
Cronuts, they explain.
"You've got to be kidding me," he says with a chuckle. "What time did you get here?" he asks a man and woman at the front.
"5:30," they answer with a sigh.
They'll kill time for another hour, at least, until the bakery opens and the scent of sweet pastries wafts out into the street. Then the mad rush at the register is on until 9 a.m., when the bakery sells out of cronuts.
Part flaky croissant, part cream-filled doughnut, the cronut was introduced in mid-May. It's the brainchild of pastry chef Dominique Ansel, who worked for two months testing 10 different batches to get the consistency of the batter just right. The dough is kneaded, then flattened and folded over and over to achieve the flaky layers, then fried and injected with cream. It's a three-day process that is finalized just moments before the cronuts are devoured.
Ansel knew he had a hit when, on the second day, about 30 people queued up at his bakery to sample a taste of his hybrid invention. The line grows longer with each passing day, in inverse proportion to the bakery's per-person quota: down to two from the original six.
The shop, the one and only, makes a paltry 200 cronuts a day—quality control, says Ansel—meaning the laws of supply and demand are on display at Ansel's bakery, perfect for any economics professor looking for a field trip.
Ansel arrived at his bakery, and his now famous cronuts, via Daniel Boulud's Michelin-starred restaurant Daniel in New York City, where he was executive pastry chef. Before that he worked at the famous Paris-based gourmet-food company Fauchon, expanding its worldwide presence.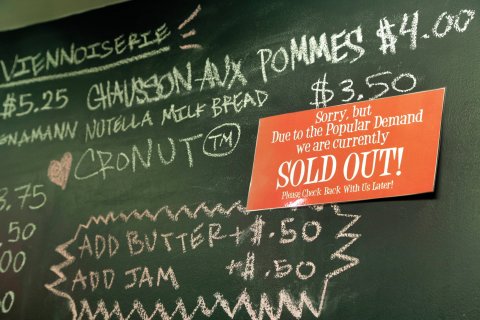 Ansel never imagined cronuts would take off the way they have. Who would? His explanation for their appeal is straightforward: it's the texture and the fun of having something that tastes like a croissant, is shaped like a doughnut, and is packed—this month (flavors change on a monthly basis)—with lemon-maple cream.
A cronut black market that inflates the $5 price tag eightfold has sprung up on Craigslist, and professional pastry chefs and amateur cooks alike are attempting to replicate the creation. Pillsbury even introduced a recipe for do-it-yourself cronuts for the at-home chef using its signature refrigerated crescent rolls, which was spotlighted on Good Morning America in a National Doughnut Day segment about cronut copycats.
Ansel says he's flattered by the imitations. "I think it's good to inspire people," he says. But his bakery will remain the one and only place you can get a true cronut. "We've trademarked the word."