First there were artists. Then there were ­patrons—rich people with enough good taste that they enabled artists to live and make their art. Eventually, patrons made room for speculators, fake collectors who reap great sums by tinkering with expensive artists' prices. But in the days of art as an asset (think luxury yachts, but also gold bullion and Apple Inc. stock) few collectors are as prized as a bona fide celebrity. Rare birds with pterodactyl-size tastes, their penchant for opulence, public display, and immediate gratification make them the ideal marks for today's wheeling-and-dealing art galleries and auction houses. And then, of course, there's also our 21st-century, celebrity-ravenous, hair-trigger media.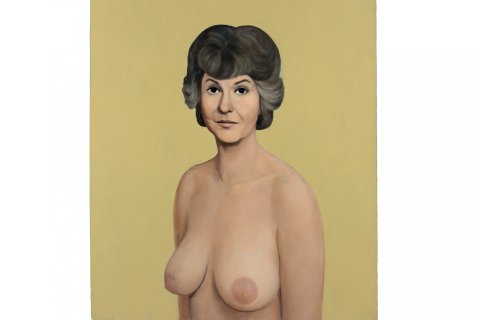 In late May that hunger had its True Blood incisors out at Christie's sale of a beloved if bizarre 20th-century American gem: Bea Arthur Nude, a topless 1991 portrait of the late Golden Girls actress fashioned by 51-year-old American painter John Currin. Sold for $1.9 million on the same bullish evening that saw the auction house rake in a record $495 million, it garnered far more Gawker and gossip traffic than the auction's $56.1 million Lichtenstein or $58.4 million Pollock canvases. The reason? In a phrase: the crack epidemic–like qualities of the global fame game. To paraphrase the tagline from the Twilight saga—when groupies live online forever, what do you really live for?
Driven not by the painting's quality, it's astronomical price, or the fact that Currin was a broke house painter when he brushed a starlet's boobs onto Arthur's body, the event nevertheless escalated from B-list celebrity Twitter twaddle into an international Internet sensation. It started when comedian Jeff Ross posted a photo of himself standing next to the Arthur painting (or a very good likeness of it) with the tweet "Biggest surprise of my life. Thank you @jimmykimmel—the most generous guy in the world!," Kimmel was subsequently thought to be unmasked as the painting's mystery spendthrift. That is until Kimmel himself chimed in to deny purchasing Currin's painting in the first place: "Contrary to 'news' reports, I didn't buy the Bea Arthur painting—not even for @realjeffreyross—but I did buy the Mona Lisa Lampanelli."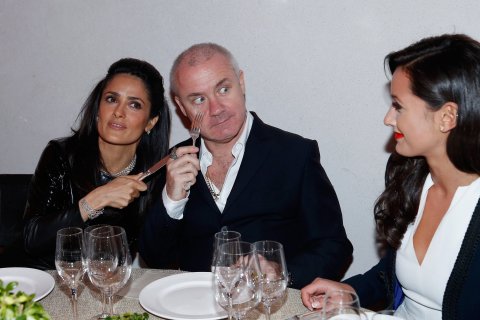 A massive media event that essentially turned out to be a PR hoax, Kimmel's fictional art purchase illustrates a growing popular desire to see fame and art go fang in neck. A kind of mass-cult blood thirst that would love to democratize art according to vampire-movie ­boilerplate—where plot is essentially reduced to celebrity and hackneyed film formula—the momentary craze over Currin's painting already appears to be gaining influence. As thoughtful news-gathering, Golden Girl–gate is a signal disgrace; but as a web-led media eruption, it demonstrates, above all, a remarkably demotic development: namely, that the world is itching for a topless art one-liner on Jimmy Kimmel Live. Provided you're into Currin's painting or any other important work for art's age-old subtleties, the idea proves a massive booby prize.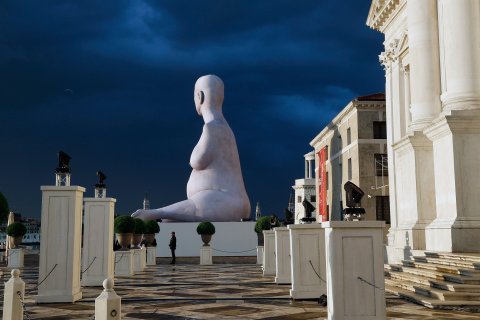 Whether Jimmy Kimmel did or did not spend nearly $2 million on Bea Arthur's portrait is, strictly speaking, largely immaterial. After all, celebrities and art-world stars today air-kiss like champagne is going out of style. They do so, in fact, in every ritzy capital of the Gated Planet 1%. Such soigné meetings occur seasonally in New York, Hong Kong, London, Dubai, Basel—even on waterlogged Italian ­piazzas in June. Witness the endless round robin of openings, lunches, dinners, cocktails, parties and late-night socializing that characterized the recent preview for the Venice Biennale—the Oscars of the art world. A biannual event that gathers plane and boatloads of artists, curators, and gallerists, as well as yacht-borne flotillas of celebrities, politicians and Fortune magazine boldface names, the 118-year-old art festival is a revolving door of powerhouse events that genuinely rivals the Academy Awards for unabashed glitz, glamour, and power tripping.
A group of especially impulsive uber-consumers with palaces and penthouses for homes, celebrities flock to art as investment.
Take this year's festival, the largest ever in the history of the biennale. It boasted, among many other private openings, hundreds of vernissages held for the 88 official national pavilions and the show's proliferating ancillary exhibitions; a fête galante at Ca' Corner, the 285-year-old palazzo purchased by fashion powerhouse Muccia Prada to house her expansive art foundation; a star-studded dinner at Francois Pinault's refurbished digs at Punta della Dogana, an old tax office the Gucci's and Christie's magnate converted into a contemporary art museum; and a gala supper on the island of San Lazzaro degli Armeni for U.S. conceptual artist Joseph Kosuth that was attended by actors Robert De Niro, Richard Gere, and Jeanne Moreau.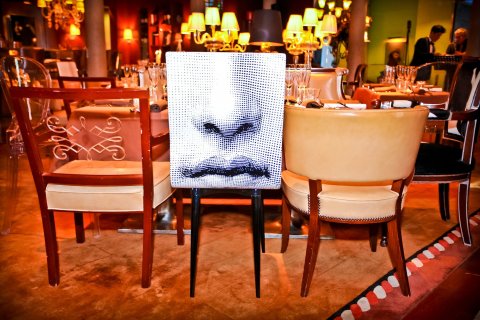 Celebrity sightings, as chronicled by dotcom oracles like ­LaineyGossip and Italia-online, continued unabated on a set of islands nearly sinking under the combined weight of art and money. These included ­Elton John, husband David Furnish, and their two children (seen, a catty barman told me, alternately bitching and making nice at the Gritti ­Palace Hotel); designers Karl Lagerfeld and Tom Ford (they strutted different ends of the Prada function); Milla Jovovich (she spent hours inside a plexiglass cube as a performance piece by model-artist Tara Subkoff); and Hillary Clinton (she was on hand, reportedly, to open a super-­exclusive restaurant). The takeaway from this Bikini Atoll–like explosion of peacock feathers? It's rather simple, really: despite the ongoing global recession, a tanking Italian economy, and significant cutbacks affecting myriad cultural institutions worldwide, relations between art's super-rich and the planet's super-famous have apparently never been cozier.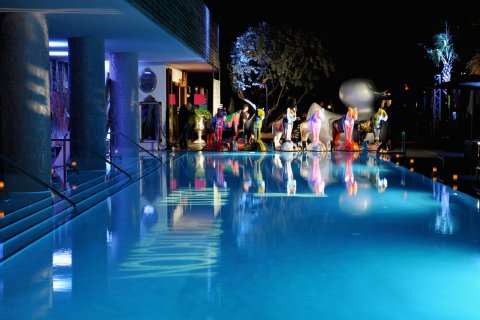 Later, as a blood-red moon rose over Venice's Campari-colored ­lagoon, many of these modern-day titans decamped to the ultimate batcave: ex-model Amy Sacco's pop-up version of Bungalow 8, her New York club, neatly sited for the occasion at the Palazzina Grassi, a deluxe hotel. According to Sacco (and as confirmed by a wallet-­pinching personal visit), the crowd was treacly with celebrities. Pinault and his raven-haired wife, the actress Salma Hayek, provided the inaugural toast. Leonardo DiCaprio joined them at their table. The billionaire, the actress, and the Great Gatsby star monster-mashed the night away, mingling with tabloid fodder like Peter and Harry Brant, Francesca Von Hapsburg and Lola Schnabel. In a phrase, the scene was Baz Luhrmann in arty frocks. Also there, night in and night out: the artists Damien Hirst, Jessica Craig Martin, and Mark Fletcher; the auctioneer Tobias Myer; and, of course, the painter Currin and his wife, the sculptor Rachel Feinstein.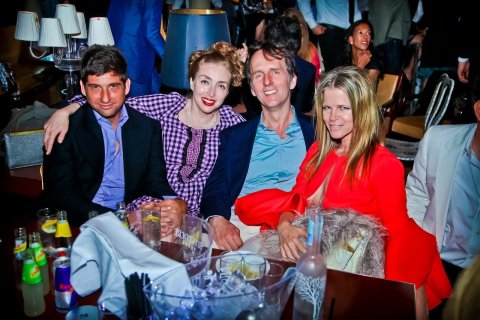 But if celebrities and art have made much stranger bedfellows in the past, what accounts for today's attraction bordering on infatuation? The answer, I'm afraid, is mostly money—much of it of the bad sort that's recklessly tossed in after good (Madonna's collection, for example, is reportedly mostly made up of material-girl kitsch: art-deco sculptures, Damien Hirst dot paintings, and pictures by Tamara de Lempicka, trash just one degree removed from poster art). A group of especially impulsive über-consumers with palaces and penthouses for homes, 21st-century celebrities increasingly flock to art as a financial investment. In this way, entertainment, sports, and political boldface names prove no different than other high-net-worth individuals new to the art game. Buyers rather than collectors of art, they are just as ­likely to sell, or flip, a great work rather than steward it into a mu­seum collection. Truth is, most celebrities buy art like stocks—as much to sell as to keep. Only difference being, when they do so, they're likely hiding behind a baseball cap, or a well-heeled adviser.
"There's a lot of froth in the art market currently, which brings out buyers like celebrities. But just because one celebrity or half a dozen exhibit less than stellar taste, that doesn't really affect the market." That's Thea Westreich, among the most well-heeled and experienced art advisers in the business. The high-flying head of Thea Westreich Art Advisory Services in New York, and recent author, with her husband Ethan Wagner, of the just released Collecting Art for Love, Money and More, Westreich is a professional who emphasizes the need for collectors to have a long-term relationship with art. A woman far too prudent to name famous names, she patiently explains that rather than being motivated by unique factors, celebrity collectors often act like arrogant newbies instead. "Virtually all of the celebrities we have dealt with come to the market thinking they know it all," she says. "But some are open to reliable, certifiable information about art, which they learn to value. On the other hand, others simply are not."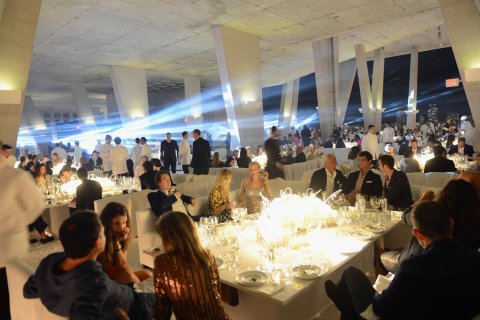 Still, to be a proper celebrity these days, it appears you need to acquire at least a few showy baubles. Word is that Brangelina are Banksy fans; di Caprio, Jane Fonda, and Hugh Grant all have a soft spot for Warhol; Jay-Z owns works by Ed Ruscha, David Hammons, Laurie Simmons; and Elton John has a solid collection of photography (including masterpieces by Henri Cartier-Bresson, Diane Arbus, and Helmut Newton). Even the Beckhams have a Hirst, one of the artist's heart-shaped canvases covered in dead butterflies. But of all the celebrity purchases, none has been more newsworthy than Eric Clapton's Gerhard Richter investment. The seller of the world's most expensive artwork made by a living artist, Clapton walked away last year from Sotheby's $34.2 million richer. A 965 percent return on investment, he remains the poster boy for celebrity collecting—just as his flush exception confirms the rule against these kinds of spectacular gains.
Which means, in a nutshell, that the world's best collectors, celebrities or not, still act like patrons—individuals who see themselves as supporters, guardians, and often protectors of artistic efforts that may well constitute the sort of patrimony one finds inside Venice's Santa Maria della Salute church. Bea Arthur Nude belongs there, sheltered from the impulse to reduce art to a sideshow for anyone: be it the monied, the famous, the connected, or the merely celebrity obsessed. All of us—Jimmy Kimmel and Jeff Ross included—deserve a good long look at her disapproving Maude frown and her ridiculous nubile breasts.
CHRISTIAN VIVEROS-FAUNE writes criticism for The Village Voice, commentary for Art Review magazine and news and analysis for The Art Newspaper.
Is Sheikha Mayassa the Art World's Most Powerful Woman?
Mayassa al-Thani may be a 'tomboy' princess. But she's also turning Qatar into a grand museum.
By Christopher Dickey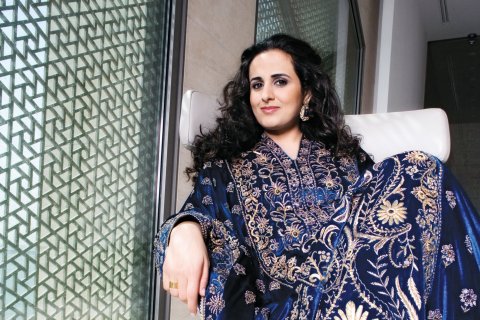 Maybe it was inevitable that as Mayassa al-Thani grew more powerful, she would grow more quiet, more distant from her old friends, and, yes, of course, more distant from the public. As a favored daughter of the emir of Qatar and the chair of its Museums Authority, when she wants to make statements, now she does so with her nation's (and her family's) checkbook. And even then, she rarely confirms the transactions in the press.
Last year the big buy—the very big buy—was a Cézanne for $250 million, the highest amount ever paid for a painting by anyone of anything anywhere. To edify her country, Mayassa has also called on the greatest architects and monumental artists in the world to create Qatar's citadels of culture. I.M. Pei designed the Museum of Islamic Art, which opened in 2008; Jean Nouvel's National Museum of Qatar is due to open next year. Sculptor Richard Serra reshaped the Doha waterfront to accommodate a towering mass of steel he calls 7.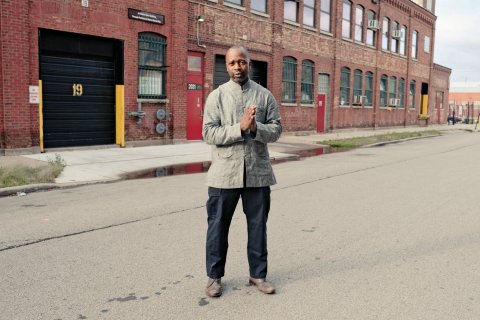 Sheikha Mayassa is today being labeled, at age 30, one of the most powerful people in the art world. But even if that's true, I find her regal image, protected by walls of protocol and swaddled in the formless cloth layers of her abaya, a little hard to square with the adventurous young woman her friends say she used to be. And clearly she does, too. "We're continuously trying to straddle different worlds, different cultures, and trying to meet the challenges of different expectations from ourselves and from others," Mayassa told the audience at a TEDxWomen talk, a spinoff of the famous lecture series organized for Doha and Washington, D.C., in 2010. Mayassa was a little shaky on stage, but her natural warmth showed through. "I'm a representation of that phenomenon," she said.
In the not-too-distant past, Mayassa and her younger sister Hind became the first women of the royal house of Qatar to be sent to school in the United States. "Mayassa was just this tomboy who would come to class in jeans, her hair all over the place," remembers one of her professors at Duke University. "She is extraordinarily quick about picking up on things," said another. "She sees something, she relates to it, and then she wants to photograph it." Wherever Mayassa went, he said, she was thinking about what she could use to make Qatar—so rich and such a tabula rasa—a better, more cosmopolitan place: one that could reach out and embrace the most wonderful things the wide world has to offer without losing a sense of self. "We believe," she would say later, "in the security of having a local identity."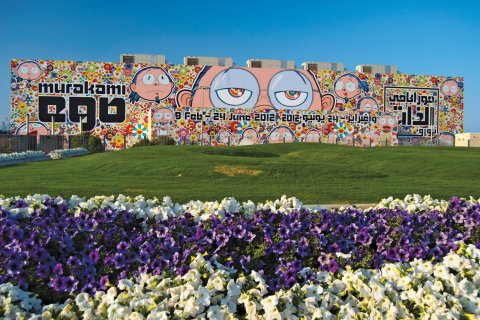 One of the books Mayassa had to read at Duke was Amin Maalouf's novel Leo Africanus, based on the life of a famous 16th-century Arab traveler who was "circumcised at the hand of a barber and baptized at the hand of a pope," as we learn on the first page. "I am now called the African, but I am not from Africa, nor from Europe, nor from Arabia," says the traveler. "I come from no country, from no city, no tribe. I am the son of the road, my country is the caravan, my life the most unexpected of voyages."
Mayassa loved it. And she had an idea. In 2004 she proposed to Profs. Bruce Lawrence, in Duke's religion department, and miriam cooke (who writes her name all lowercase), in the Middle East studies department, that they organize a trip following in Leo's footsteps, traveling to Granada, Fez, Cairo, and Rome.
We were in the strange position of teaching someone ... the history of her own culture.
Mayassa's parents, Sheik Hamad bin Khalifa al-Thani and his shrewd, powerful second wife, Sheikha Mozah, at first refused to let Mayassa go. They finally agreed only on the condition that she take her younger brother along, too. Because it was a trip for 18 students on a budget, they were booked into two-star hotels, two to a room, with no air conditioning. Mayassa didn't complain.
Then, on the third day in Granada, Mayassa told the professors, "Oh, Mom and Dad have arrived and would like to take everybody out to dinner." The royals were traveling low profile in European clothing, although that's not easy for a man as big as the emir or a woman as striking as Mozah, who, Western garb or not, almost always wears a turban of some sort. After a brief evening of opulence, Mayassa went back to the two-star.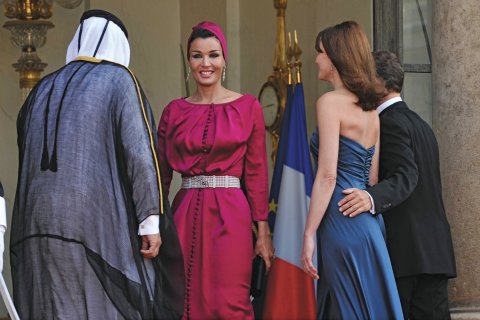 The moments of crisis on the trip were sometimes funny: Mayassa threw away a train ticket along with a food wrapper, and she was very upset. Of course she could have bought another, but that didn't seem, to her, the right thing to do. In the end, her brother dug through half the trash cans in the station until he found it. Sometimes they were more fraught: the group got lost riding in the Atlas Mountains and had to call in a helicopter.
But the trip went on, and the princess with it, through Cairo and Rome: an experience that would shape Mayassa's views and ambitions for years to come. "We were in the strange position of teaching someone from a very strict Muslim family, by her lineage, the history of her own culture," says Lawrence. Even a decade ago, Qatar was more sand than civilization. But amid the glories of the Alhambra, the dense beauties of Fez, and the crumbling magnificence of Cairo's ancient Islamic quarters, you could breathe the spirit of something vast and magnificent. Today, notwithstanding the spectacular purchases of Western art that catapulted Mayassa to the pinnacle of power in the Western-dominated art world, it's in the Arab world that she still hopes to find the greatest revelations. "In the years to come," she said in 2010, "we'll be learning a lot about our Picassos, our Légers, and our Cézannes."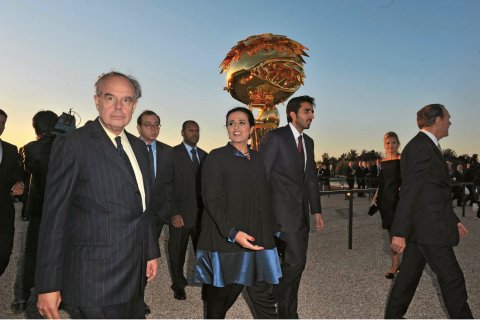 Although the young sheikha's power lies in the realm of museums, part of her heart is in Hollywood, and according to Lawrence and cooke, she wanted to make a movie out of Leo Africanus. Once she graduated from Duke in 2005, there were long talks with Robert De Niro and Martin Scorsese about directing it. But Tinseltown is always full of talk, and there has never been the least bit of buzz about this movie. What did get started was the Doha version of the Tribeca Film Festival, under Mayassa's wing and De Niro's, with Scorsese as one of the first guests of honor.
When I talked to Lawrence and cooke about all this on the phone, there was in their voices an unmistakable tone of regret about what has happened with Mayassa in the years since then. Of course people mature, they marry, they raise families and build careers, and they drift away from that old gang of theirs. But with Mayassa, there's a sense, almost a theatrical sense, of shedding youth and assuming responsibility. As the professors talked, I thought of Prince Hal becoming Henry V, or, maybe more appropriately, of Audrey Hepburn returning to her role as princess at the end of Roman Holiday. One woman who visited Mayassa in 2008 remembers her arriving at the appointment 30 minutes late, striding down a long hall in an abaya that actually had a train.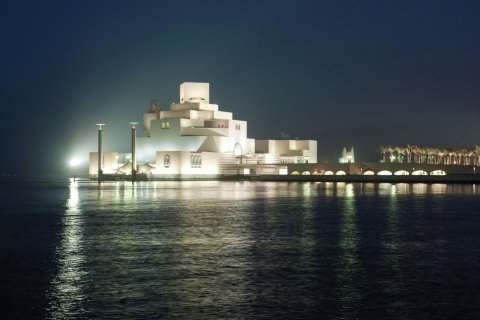 "Her mother, Sheikha Mozah, is very, very controlling," says cooke. Many of Mayassa's friends from Duke were invited to her wedding in 2006, and even then "her mother was trying to make it entirely clear to everyone that Mayassa was not the schoolmate that she used to be," cooke remembers. Lawrence and cooke went to Qatar in 2010 as scholars in residence at the Museum of Islamic Art and saw Mayassa a few times in the several months they spent in Doha, but they have lost touch since then. "She is totally uncontactable now," says cooke.
There is a grand design for Qatar somewhere: as a center of culture, as a paradigm of a new kind of cosmopolitan, global existence where identities mix, but don't necessarily blend. But as I think about Mayassa in the terms used by Forbes magazine to describe her, as "arguably the most powerful woman in the art world today," I am left wondering whether she will be the architect of that brave new world, or its victim.
CHRISTOPHER DICKEY is the Paris bureau chief and Middle East editor for Newsweek and The Daily Beast.
In a Dark, Dark Room
Leave the white gallery walls behind for an eerie trip back to the countercultural '60s. It's art—done differently.
By Isabel Wilkinson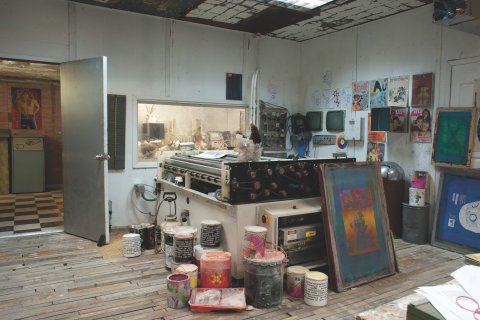 Walking between the sterile white booths at Art Basel, the four-day art fair that opened in Switzerland this week, you get used to looking at art in a certain way: pieces are planted on the floor or hung from white plasterboard walls. They're lit from above by spotlights. You stand in front of these pieces, walk around them, look into them.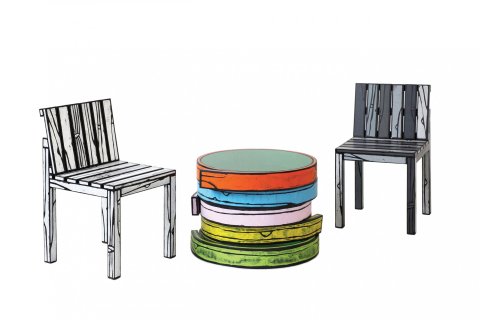 But inside Art Unlimited, one of Basel's satellite fairs, you first face an unassuming closet. The back wall of it has been blown out to reveal a jagged hole not wider than a human body. You crawl through. Then, following a long hallway, you're led into a grim, low-ceilinged waiting room, with linoleum floors and a window through which, if you look at a certain angle, you see a video of a clown sucking a rubber dildo. Things are getting weird.
Then you walk into another room—this one a print shop, with cans of chemicals stacked on paint-splattered wood floors. The walls are covered with '60s magazines with cover lines that read "Plants Invented Animals" and "Who Put the Yellow Pills in Gordon's Gin?" There's also the "brain room," where plants are intertwined with crystals and hooked up by wires to machines—a space meant to evoke that decade's fascination with the study of plant consciousness. You get the feeling that the person who owns this eerie place has just departed: that the printing press has just stopped whirring and the owner has left his paintbrushes in the sink. It's the kind of hair-raising, horror-film setup in which the good guy sneaks into the killer's house and sees the kettle boiling. Someone is lurking.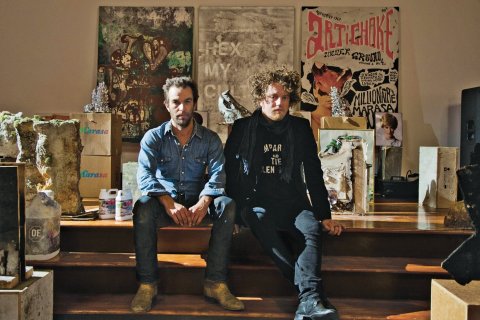 "Where the f--k are we?" one art collector in a suit asked his companion as he ducked out of the dark print shop.
"I think that's what we're supposed to be wondering," his friend replied.
This is Artichoke Underground, a 10-room installation by the artists Jonah Freeman and Justin Lowe—a dark and fascinating rabbit hole in the middle of a buzzing European art fair. It's more of an "experience" than an installation, with its own smells and sounds and feelings. In yet a different room, the artists have re-created their favorite Punjabi restaurant on 1st Street and Avenue A in New York—a little red room ringed with tattered Bollywood posters and filled with the thick aroma of curry. There's a walk-in freezer room, too, and a room whose walls are covered in sandy crystal growth.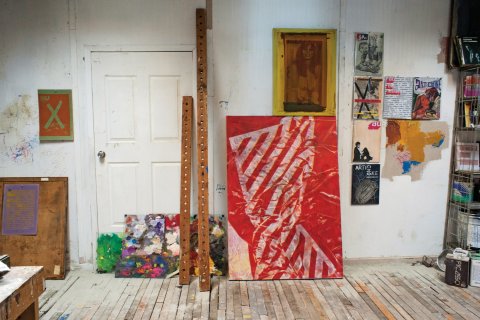 Freeman and Lowe crafted this environment around the idea of a fictionalized, 1960s counterculture magazine called the Artichoke Underground. Their protagonist is a Timothy Leary–like figure named Dr. Arthur Cook, a psychiatrist who, they imagined, experimented with group hallucinations and disseminated radical, leftist material. The artists say they were interested in the ways ideas spread at that time, and how people started harnessing experimental tools for communication. As Freeman explains it, they were exploring the "early ideas of the Internet," a time when "people started to take media into their own hands and create their own alternatives."
There is a cinematic quality to it; you feel the presence of fully formed characters lurking just off-screen.
Artichoke Underground is the latest in a string of similar pieces by the duo—each installation marked with the team's dark, now-signature trippiness. Their first piece, Hello Meth Lab in the Sun (which debuted at the Marfa Ballroom in Marfa, Texas, in 2008), sent viewers through a decrepit apartment that had been converted into a fully functional meth lab. It was eerie, frightening, and perfectly prescient to our cultural fascination with Breaking Bad. The piece was a hit and the art dealer Jeffrey Deitch asked the artists to create a version of it (which they called Black Acid Co-op) at his gallery in New York the next year.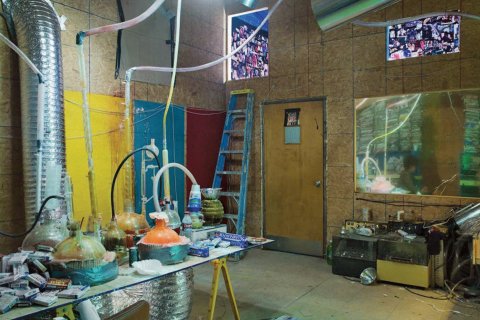 "I've always admired artists who don't just make a work to hang on the wall, but who create an immersive experience," Deitch, now the director of the Museum of Contemporary Art in Los Angeles, tells Newsweek. "You're inside their artistic world." He says he was drawn to the "great feeling [they have] for sculpture, architecture, painting, collage, theater, political engagement, and sociology. It's an amazing combination of insights and skills that is uniquely theirs."
In 2010, the artists staged Bright White Underground, a site-specific installation that transformed Hollywood's Modernist gem the Buck House (designed by R.M. Schindler) into a "happening": an invented group hallucination (and party) staged by Cook. The following year, they put on a performance-art/fashion-show hybrid at the Hollywood Masonic Lodge in a piece they called Shadow Pool: A Natural History of the San San International. "I think from even our earliest shows, which put a meth lab next to a hippie commune [and] an Upper East Side museum, we have been juxtaposing these kinds of environments and the kinds of groups that would inhabit these environments," says Freeman.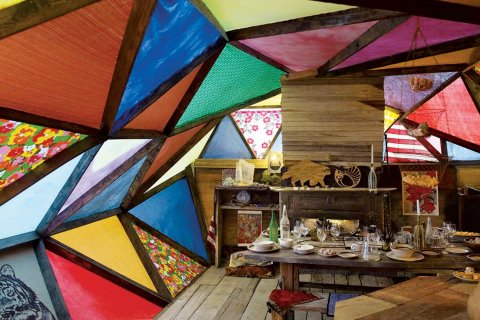 In a place like Art Basel—a fast-paced locus for big-chip collectors to pick up major contemporary art—a piece as labyrinthine and imaginative (and not to mention unruly) asArtichoke Underground seems somehow out of place. But the artists' gallery, Marlborough Gallery in New York, says that the installation is purchasable in full form, and that smaller objects (like those plant-crystals) from within it are also for sale.
Breaking up the piece, however, would almost certainly strip it of its power. The excitement of experiencing this work comes from entering into a narrative. There is a cinematic quality to it, and you feel the presence of fully formed characters lurking just off-screen. Says Deitch of Artichoke Underground: "There is a great depth, like you have in a novel or a very good film—it's not just a one-liner ... You can get in and read the story."
ISABEL WILKINSON is the editor of Fashion Beast and its chief fashion correspondent. She covers fashion, style, art, and culture. Wilkinson holds a bachelor's degree from Princeton University and a master's degree in journalism from Columbia University. She resides primarily in New York.