IT TOOK a while for Dong-Ping Wong, a New York City architect—whose firm has designed buildings, a Dallas housing block, and a pedestrian bridge in Slovenia—to see New York City's East River as more than just a border that snakes between the boroughs of Manhattan and Brooklyn.
It's water.
But once you make that realization, explains Wong, who grew up on the beach in San Diego, it's really just a short leap to wonder, "Why can't we swim in it?"
The answer, he's since learned, is poop. Lots of it.
It gets worse after storms, when the city's sewage system overflows into combined sewage outfalls that are dotted around its shores, flooding the waterways with fecal coliform. This creates the aquatic equivalent of a no-fly zone, where only the bravest of the brave might dip in a body of water once famously described as "the most heavily trafficked, overly contaminated waterway on the Eastern Seaboard" in an episode of Seinfeld.
It's a basic problem, really. All that's needed is a simple way to solve it.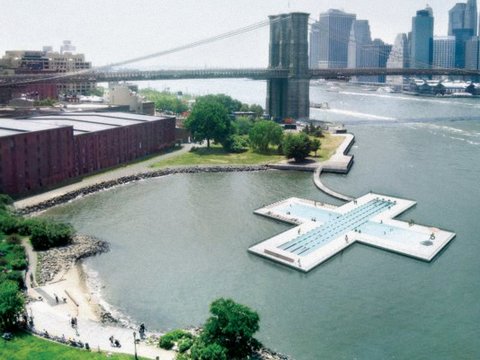 Enter + POOL (pronounced "plus pool"): a giant floating fish-tank-type body of clean water that Wong and co-founders Archie Lee Coates IV and Jeffrey Franklin hope will bring summer fun to the East River in the safe confines of a plus-sign-shaped swimming pool.
"+ POOL … [will make] it possible for New Yorkers to swim in clean river water for the first time in 100 years," the founders say on their Kickstarter listing, where they had raised more than $100,000 in just five days toward the construction of a floating test lab to be anchored off the shore of Brooklyn Bridge Park. There they will begin to test a filtration system that "incrementally removes bacteria and contaminants," the founders explain, "to ensure nothing but clean, swimmable water that meets both city and state standards."
"No chemicals, no additives, just natural river water."
Until July 12, when Kickstarter awards them the funds—assuming they reach their goal of $250,000 to build a floating test lab—all they can do is wait.
"It's sort of the calm after the storm," Wong, the architect, says of + POOL's out-of-the-gate Kickstarter success in a call from his company's "incredibly mellow" headquarters. But mellow or not, Wong admits part of him wishes they could "just end this Kickstarter already so we can get working!"