Imagine if some of the most iconic moments in sports history never came to be: members of the USA soccer team ripping off their jerseys in pure joy after winning the 1999 Women's World Cup, the Williams sisters dominating the U.S. Open in 2001, the University of Connecticut women's basketball team winning an unprecedented 90 consecutive games—the longest streak in both men's and women's NCAA basketball.
These big points in sports owe thanks to a 37-word amendment, Title IX, which celebrated its 40th anniversary last year. While ESPN commemorated that anniversary with wall-to-wall coverage on its website of the gains women have made, it also realized the need to keep the conversation going.
"It shouldn't only be anniversaries," says Libby Geist, associate director of development at ESPN Films. "We should always be highlighting women."
"The result of that yearlong reflection is ESPNw and ESPN Films's Nine for IX docuseries, which airs July 2 and continues throughout the summer. The nine episodes, all directed by women, feature some instantly recognizable names: Venus Williams, Pat Summitt, and Mia Hamm. Others are harder to place, like sports journalist Lisa Olson, who fought sexual harassment by New England Patriots' football players; late scuba diver Audrey Mestre, whose push to complete the deepest dive ever led to her death; and runner Mary Decker, whose promising Olympic dreams were nixed because of a collision with another racer.
Athletics was the last thing on Bayh's mind when he introduced the amendment.
One of the most painful memories in recent women's sports history is highlighted in Coach, a short documentary available on ESPN's Nine for IX website. The short documentary revisits when radio shock-jock Don Imus described the Rutgers women's basketball team as "nappy-headed hos" and "rough girls" after they competed in the 2007 NCAA Women's Basketball Championship game. The comments, for which Imus was eventually fired, still sting for head coach C. Vivian Stringer.
"It wasn't about the Rutgers women's basketball team. It was about women," she says. "It struck a nerve and caused the nation to begin to talk and ask those tough questions … Long after that game had been played, a more powerful something was done for the benefit of society in general."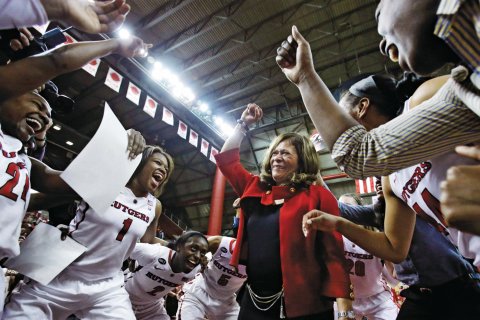 In 1972, when the Equal Rights Amendment failed ratification by Congress, Indiana Sen. Birch Bayh moved the equal-education amendment into the Higher Education Act of 1965, which was being reauthorized. At the time, it was hard to grasp the far-reaching effects Title IX would have on the role of women in education and sports. Simply stated, it reads: "No person in the United States shall, on the basis of sex, be excluded from participation in, be denied the benefits of, or be subjected to discrimination under any education program or activity receiving Federal financial assistance."
Even though Bayh says he had athletic directors ranting that Title IX would destroy their football programs, athletics was the last thing on his mind when he introduced the amendment. He simply wanted women to have the same educational opportunities as men—and not be subject to a rejection similar to what his first wife encountered when her application to the University of Virginia was returned, stating "Women need not apply."
The need for an ongoing conversation was evident this year when administrators at Towson University in Maryland cited Title IX as one of the reasons they were forced to cut men's baseball and soccer.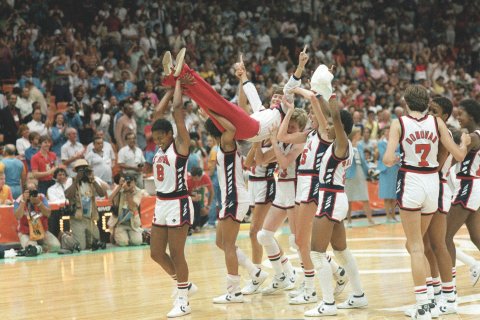 Just last year, a former high school girls' basketball coach won a suit against her Indiana county school for scheduling her games on weeknights, whereas the boys' teams played during primetime on Friday and Saturday nights. She argued that the girls were made to feel like "second-class athletes, and they suffered academic strain and low crowd turnout."
And in 2005, during the George W. Bush administration, officials "tried to cut the legs off of Title IX," Bayh says, by implementing a survey system that gauged female students' interest in sports. Critics took it to task as a loophole for schools to evade Title IX requirements. The Obama administration eventually overturned the survey system in 2010.
Even Bayh, considered the "father of Title IX," concedes, "I'm not sure it's fully implemented now."
But for the first generation of women to come of age under Title IX, its advances can't be overlooked. WNBA president Laurel Richie credits it for the existence of the WNBA. She has also witnessed how far the athletics available to her nieces—tennis, basketball, soccer, and martial arts—have come from the days of cheerleading and synchronized swimming when she was growing up in the '70s.
"There's a group of young women that need to take over now," Stringer, the Rutgers coach, says. "I think they can only do that when they understand, 'You can't know where you're going unless you understand where you come from.' "
Nine for IX airs on ESPN July 2–August 27.