To play the Glastonbury Festival is to participate in a piece of musical history that has been going on since 1970, just a year after Woodstock set the worldwide stage for popular music. The annual event is still largely considered hallowed ground, not just for British music but for musicians and fans worldwide: a 2003 performance helped the Flaming Lips, who had been plugging away for 20 years, achieve global recognition; after rumors of sluggish ticket sales and trash talk from Noel Gallagher of Oasis, Jay-Z opened his 2008 set, guitar in hand, playing a version of Oasis's "Wonderwall"—and subsequently became the first hip-hop artist to perform on the festival's signature Pyramid Stage. Although it was canceled in 2012 due mostly to a shortage of portable toilets, which were needed for the London Olympics, at least 135,000 people are expected to flock to the concert this year, and gate-crashers have in the past bumped up attendance. Set on more than 900 acres of rolling hills at Worthy Farm in South West England's rural Somerset county, Glastonbury has expanded to showcase comedy, theater, dance, and other arts and activism. For £205 plus a booking fee, fans can listen to nearly 200 acts that range from household names like the Rolling Stones to new acts such as Jake Bugg and Rita Ora. All 250 hours of the festival, which runs from June 26 through 30, will be streamed live online and broadcast on TV by the BBC for those who can't be there for what is expected to be a particularly wet and muddy year.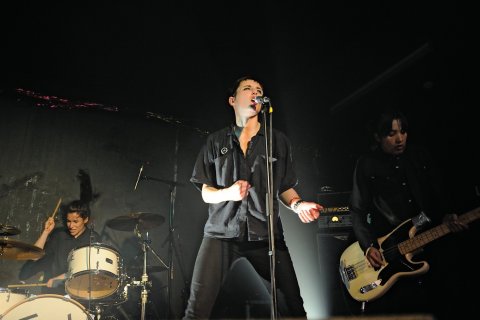 LAURA MVULA: PYRAMID STAGE, SATURDAY | LA PUSSY PARLURE NOUVEAU STAGE, SATURDAY | PARK STAGE, SUNDAY
Laura Mvula's restrained-yet-sublime voice sounds like something from another time and place; her music is soulful and full, but still completely comfortable being restrained to quiet volumes and slow tempos. Songs from her debut album, Sing to the Moon, charm with their ability to avoid pop-music clichés, but remain entirely accessible via Mvula's beautiful melodies, and original form and song structure. Her exquisite rendition of Michael Jackson's "Human Nature," from the album Thriller, has the power to silence and captivate a room.
THE STRYPES: JOHN PEEL STAGE, SATURDAY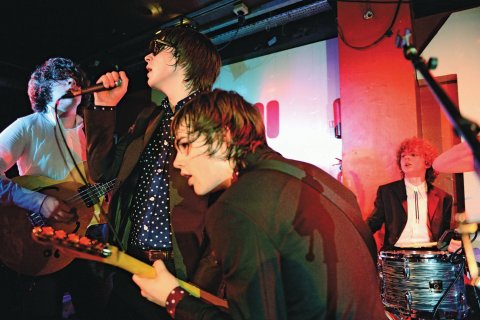 The Irish rhythm-and-blues band, whose members are still in their teens, will take the stage on Saturday just a few hours before the Rolling Stones headline the Pyramid Stage. And when they do, they will remind people in the crowd that the blues-influenced rock bands we celebrate as royalty today all started out humbly: with a few guitars, an ample supply of youthful fearlessness, and an urgent need to move crowds. Do the Strypes sound like other blues-based bands you've heard before? Yes. Could they open for Jack White? Yes. Will it be a raw performance worth standing in the front row for? Yes.
SAVAGES: JOHN PEEL STAGE, SATURDAY
At first listen, the London band could sound like a mere homage to fellow British bands like Siouxsie and the Banshees or Joy Division, the latter having already inspired countless indie bands in just the past decade. But that type of knee-jerk response is a mistake. The four female members of Savages take that genre of music and make it sound new with emotionally direct lyrics, propulsive guitar noise, melodic bass lines, and heavy-yet-uncluttered drumming. Their music is minimal, in that they allow enough space so that when a rhythmic pattern emerges on a cymbal or a melodic one on the guitar, we take notice; they know how to build palpable tension.
TYLER, THE CREATOR WITH EARL SWEATSHIRT: JOHN PEEL STAGE, SUNDAY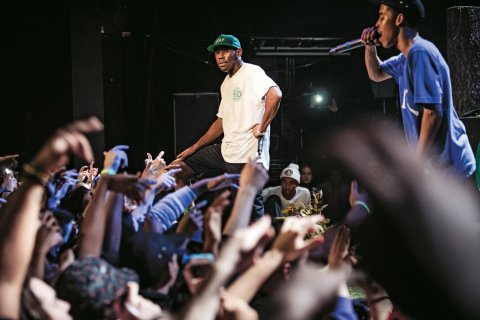 Many critics say we're experiencing a new renaissance for hip-hop, that it's a time for artists like Kendrick Lamar, whose 2012 debut good kid, m.A.A.d city brought a fresh, authentic, young, and gritty-but-honest voice back to the genre. These two members of the Los Angeles collective Odd Future are no exception. Tyler, the Creator takes a bombastic, aggressive tone set to menacing melodies and heavy beats. Earl Sweatshirt is not dissimilar, but tracks like "Chum," which talks earnestly about family and identity, are a reminder that while hip-hop takes many forms, it's always been a sort of musical newspaper: not afraid to discuss the reality of daily life via observed reportage and commentary.
ONDATRÓPICA: WEST HOLTS STAGE, SUNDAY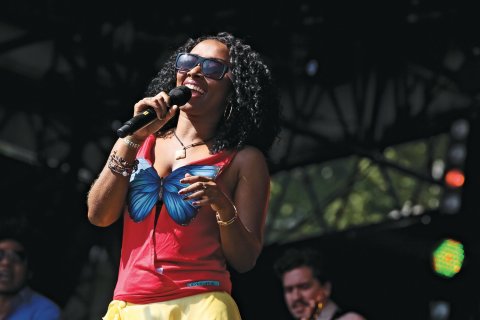 What do you get when Quantic, an English producer and musician with a background in hip-hop, electronic dance music, soul, funk, and dub reggae, moves to Cali, Colombia, and teams up with seasoned local musicians, members of Bogotá's alternative music scene, and Chilean MC Ana Tijoux? A new take on the tropical music of Colombia that mixes elements of cumbia, salsa, banda, chirimia, and porro, traditional music styles that Quantic and crew aim to revive and modernize for a new generation. Mumford & Sons and Arcade Fire made the mandolin cool again; Ondatrópica is doing the same for the accordion.