Lauren Mayberry, the radiant lead singer of the electropop trio Chvrches, isn't after your sympathy.
When strident synthesizers threaten to overpower the 25-year-old's soft voice, it shifts into Mach 5, soaring high above the commotion below. "Hide, hide, I have burned your bridges / Now I'll be a gun / And it's you I'll come for," she sings on the group's single "Gun." "It's about self-respect and integrity," says Mayberry, "and it is definitely not about some breakup."
Chvrches is made up of the spritelike Mayberry, synth and guitar man Iain Cook, and synth player Martin Doherty, who all hail from Glasgow, Scotland. Each has, at some point or another, played in other groups, from Aereogramme to the Twilight Sad. But it wasn't until banding together in late 2011 that they struck a major chord with their unique brand of addictive synth-pop anthems. On the rise, Chvrches has been featured on MTV, which played the music video for their song "Recover," and the BBC's Sound of 2013 list, which described them as "electro-pop that shimmers only when the tears are washed from its speaker cones." Most recently they made their live-TV debut on Late Night With Jimmy Fallon. This month they'll open for Depeche Mode to arena-size crowds across Europe before headlining their first world tour. It all leads up to the release of their debut album, The Bones of What You Believe, on September 23. Mayberry speaks with Newsweek about the group's meteoric ascent.
You were a professional journalist before you became a professional musician, correct?
After I finished high school I did a four-year law degree and then a masters in journalism. I'd been working as a freelance journalist for three years until last month. It was getting to be too much to juggle the commitments. I mainly wrote for a magazine called The List, which is like a Scottish version of Time Out. I was a section editor there for a thing called "Around Town," and the LGBT section as well. And I worked for The Big Issue and did internships at The Independent and some local papers in Scotland. I was always interested in feature writing and arts and culture.
So where did music—and singing—fit in?
From age 15 until about 22, I played drums in various bands. I didn't like singing in high school because it was that thing where I got forced to do it. I was in a band called Boyfriend/Girlfriend for a long time, but we never made it out of Glasgow. And in my other band, Blue Sky Archives, I do keyboard, percussion, and singing. So Chvrches is the first band where I'm the "lead singer," per se. And I never thought I could be in a place where music was my job, so it's pretty amazing.
How did Chvrches form?
Iain and Martin went to university together so they've known each other for quite a long time. They had always said they wanted to do a project together. Iain was producing an EP for Blue Sky Archives on a long weekend in September 2011. He was starting a new project with a friend and asked if I'd come down and help write some stuff, and we ended up writing together for seven or eight months in this basement studio in Glasgow. Then we figured we'd perform together as a band, so we put an early demo out with Neon Gold and "shit went cray," as they say.
The group's synth-pop sound feels familiar, yet unique.
Our sound is really inspired by the equipment that we use. Iain is a bit of a gear nerd in the best possible way, and he had been collecting vintage synths for a while, so we started writing on keyboards rather than on guitars. When we're writing songs we usually start by playing around with plug-ins, samples, or beats, then we'll get a rough structure, and then we'll put a nonsense vocal over it, and then I'll write the lyrics fast, and—poof!—there's a tune.
What are Chvrches's musical influences?
We're all massive fans of Kate Bush, Cocteau Twins, and great '80s pop like Cyndi Lauper and Whitney Houston. It's a combination of a love of pop—in a totally nonironic way—with our different musical backgrounds.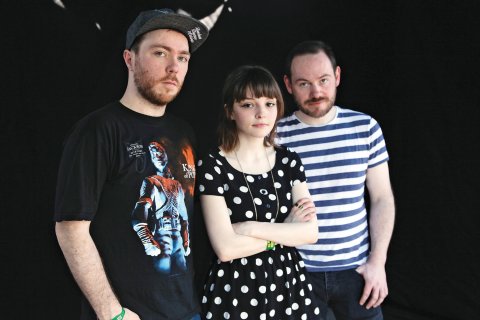 Why the name Chvrches?
We had to find a name before we could put music online! There was no conscious choice to have something with religious connotations, because that's not the way any of us are leaning, but just to have a strong vibe that could be interpreted in many different ways. And the "V" is there just so people could find us on search engines, as well as a strong visual thing. I didn't think it would be so confusing for people to pronounce it.
I read that your dissertation at school was on "Women in the Media." What are your thoughts on a woman's role as lead singer of a band?
When we were first coming out as a band we were very keen to have us portrayed as a band. It's a three-way creative process and three-way writing split, so it's very important for it to be portrayed that way. Having studied the media to an extent, I terrify myself in advance and think, Ah, I see where you're going with that. People may think I'm being overcautious, but it's important for me to be aware of these things and just try to do things my own way.
Will your debut album match the synth-pop sound of your singles?
Our live show is a good indication of what our record will be like. It's not all high-octane pop stuff. It has an ebb and flow, and there's more dynamics to it than just 10 two-minute pop songs. We engineered and produced the album ourselves, so it was very nice for us to have that creative freedom. I don't necessarily know that a lot of bands get afforded that. Hopefully, people will like it. And if they don't, it's too late, because we've already made the record!