At the end of his workday in steamy midtown Manhattan, Joel Terry craves relaxing outdoors. But these days, instead of starting his hourlong commute home to the mellow shore town of Long Branch, New Jersey, Terry stops at an unlikely source of nature: downtown Manhattan.
There, he boards a sailboat and is soon jibing and tacking against the whipping winds of New York Harbor. Terry, 37, who works in retail finance, is a newly minted member of the Manhattan Sailing Club, one of an increasing number of community sailing clubs across the country. Dozens of its sailboats sit in the North Cove marina, bobbing among mega-yachts near the World Financial Center. But sailing these days doesn't have to mean blue blazers, clubhouse dining rooms, and strict rules of etiquette. Next to multimillion-dollar yachts with names like Imagine and Endless Summer, and in the shadow of shiny towers housing financial behemoths Goldman Sachs and American Express, members, or "dock rats," socialize on plastic lawn chairs while drinking beers. (Full disclosure: the writer is a member.)
Sailing these days doesn't have to mean blue blazers and clubhouse dining rooms.
"Sailing has had the reputation of being an expensive, elitist sport, but it really isn't," says Jack Gierhart, executive director of U.S. Sailing, the governing body for the sport. "Community sailing programs have been around for quite a while, but they've become more relevant and active in sailing recently, even in this economy."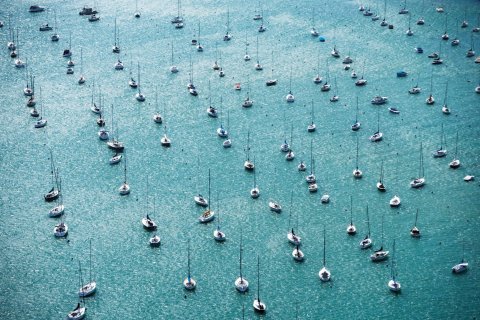 With more than 550 community sailing programs across the United States, these open-to-the-public and mostly nonprofit clubs account for the recent resurgence of a pastime whose popularity has waned since its heyday in the 1970s and '80s, when sailing was a chic alternative to motorized boats during the energy crisis. The number of these organizations has risen 10 percent over the past three years, according to Gierhart.
For $1,500 a year, some 900 Manhattan Sailing Club members get access to the club's 38 boats, the option to compete in racing leagues, and a "fleet captain" mentoring program in which they go out on the water with experienced skippers who remind them of the difference between clove and cleat hitches. Membership at the volunteer-run Fairwind Yacht Club in Marina del Rey in Southern California costs just $400 a year and offers access to its modest fleet of 20 boats.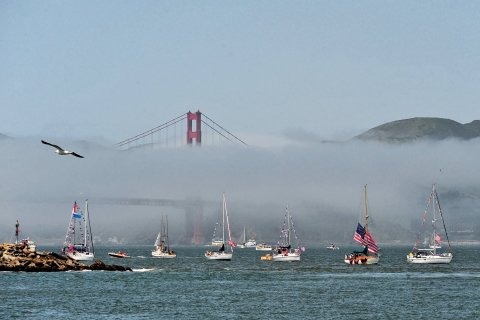 These price tags are a far cry from those of the nation's more than 1,100 private yacht clubs, with initiation fees often in the tens of thousands and yearly dues that run several thousand more. That can be in addition to requirements that members purchase hundreds of dollars of food and drink every month. Often, entry into these clubs is by recommendation only. Such rules have been blamed for sailing's stagnation over the past couple of decades.
The pastime has also suffered what could be described as a branding problem. "Sailing has traditionally been portrayed as being just for rich white people, and yachting has such a snooty reputation," says Charlie Nobles, executive director of the American Sailing Association, which certifies instructors and students. "The average age of yacht-club members 10 years ago was 50. Now it's 60. They're not getting replacement members. The challenge we have today is how to get youth interested."
To that point, a less formal atmosphere and social camaraderie are big selling points for these sailing clubs, especially in young professional Manhattan. The Manhattan Sailing Club hosts "full moon" parties on the floating bar it runs next to the Statue of Liberty, where members have a view of the new One World Trade Center on one side and New Jersey sunsets on the other. In the winter, it organizes annual trips where members can island-hop in the Caribbean; there are rotating parties every night among as many as 12 boats, complete with pitchers of Dark and Stormies. "The social aspect is as important as the sport, because it gives people a sense of community and helps them make lifelong friends who then become their sailing buddies," explains Commodore Michael Fortenbaugh, who started the club 25 years ago and is credited with introducing recreational sailing to New York Harbor. He isn't shy about reminding members how many marriages and romances got their start in the club.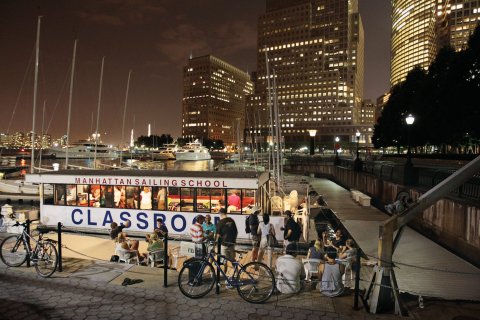 It's a formula that works for paralegal Celia Montgomery, 41, who joined three years ago and has traveled with the club to the British Virgin Islands and the Grenadines. "Being a single woman in Manhattan, it fills a need, because you don't have to find other single people to travel with or pay that awful single supplement. You're not awkward and alone. Plus, sailing attracts adventurous, smart people," says Montgomery, adding that she's made new friends in the club. "I expected this club to be snootier. I thought I would have to wear preppier clothes, but you can just wear jeans. It's not pretentious at all."
While promoting the social side of sailing may be the key to attracting people to the sport, the appeal of speeding along the open water tugs at something more primal. "It's an amazing feeling, using the wind and tide to propel your boat forward," says Terry. "It clears your mind, and you're just in that moment."