When the Spring/Summer 2013 collections debuted on runways last fall, it sent a collective shiver through the fashion world: by summer, fashionable women everywhere were going to have to have really, really flat abs.
Could women stomach midriff mania? The answer, apparently, is yes. As summer swelters on, the belly-baring trend has popped up on red carpets, on the streets, at pool parties, and even in offices—to relieve those for whom a swath of fabric across the stomach is just too much to bear.
Crop tops are nothing new, though their skimpiness has always attracted attention. Ginger Rogers played tennis in one in 1950. Ann-Margret paired one with a whip in 1964. A ponytailed Barbara Eden wore one in every episode of I Dream of Jeannie. Madonna spawned a fashion craze in 1983 after she wore a mesh version in the music video for "Lucky Star." And Jennifers Grey and Beals turned them into dance and workout staples in Dirty Dancing and Flashdance, respectively.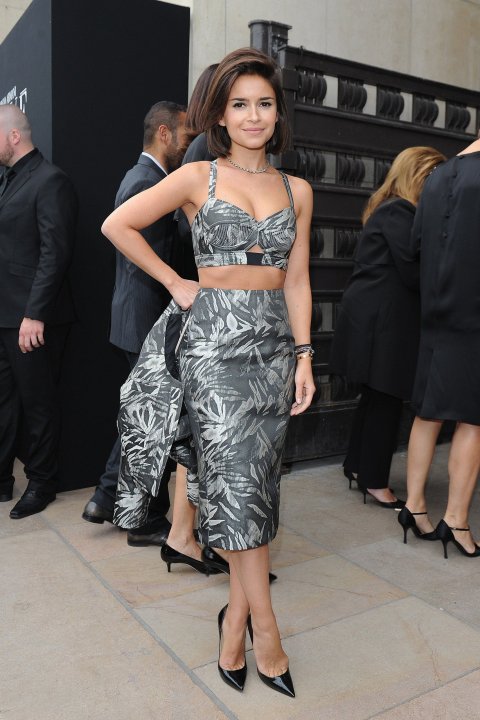 The current crop-top trend has been swept in with the tide of '90s revival everywhere in fashion, from platform shoes to ripped jeans to backpacks. Think Britney Spears, who took the belly tee to eye-popping extremes in the coy form of a tied blouse (...Baby One More Time), midriff-revealing turtlenecks (Sometimes), and finally a plain old bra (I'm A Slave 4 U). Christina Aguilera answered with an even skimpier version in her raunchy Dirrty video. The Spice Girls, too, were crop-top enthusiasts, prancing around in belly-button-exposing costumes while ruling the charts.
But this season's crop top isn't something you sweat in. And it doesn't want to shock. It's cooler and fresher than ever before, without the titillation of the Britney era. When paired with high-waisted pants or skirts, it's ladylike and refined. Michael Kors's striped versions are vibrant and sophisticated, and Alexander Wang's assortment of minimal, monochromatic cropped tanks and bra tops are the go-to summer shirts for the style set.
At the Dior Haute Couture show in early July, Jennifer Lawrence paired a pink crop top by the designer with loosely fitting pants. Beyoncé recently wore a striped skirt and matching crop top from Topshop, and Kim Kardashian shimmied herself into a tightly fitting black one before announcing her pregnancy.
Despite the current season's midriff evolution (or revolution?), the question for the uninitiated remains: who dares to bare? From Barbara Eden to Miley Cyrus, take a page from crop-top history.