Orange Is the New Black, Netflix's original series that debuted on July 11, is no prison TV show by way of Victoria's Secret. Created by Jenji Kohan (the mind behind Weeds), the dramedy portrays with nuance its diverse cast of characters—prisoners, lesbians of color, poor people, and even WASPs. And, most shockingly, a transgender woman of color—played by a transgender woman of color.
For the first time in TV history, a transgender character is at the forefront of a show and being portrayed by a black transgender woman. (Transgender is an umbrella term that also includes transsexuals.) Laverne Cox plays Sophia Burset, a former firefighter sent to prison for using credit cards stolen from the wreckage of fires she helped put out. In prison, she acts as a hairdresser, friend, and political conscience for the other prisoners, while also trying to ensure access to her female hormones and repairing her relationship with her wife and son. There has only ever been one other recurring, substantive transgender TV role held by a transgender actor: Dirty Sexy Money's Carmelita, played by Candis Cayne, who is a staple in small transgender roles, including turns on Nip/Tuck, Drop Dead Diva, Necessary Roughness, and CSI: NY.
"Sophia's the role I've dreamed about, prepared for, trained for," says Cox, who has been acting for more than a decade in shows like Law & Order and Bored to Death and in independent films like The Exhibitionists. Born in Alabama, Cox made her way to Marymount Manhattan College in New York City in the late '90s (she demurs on her age), where she would come out as transgender and begin her transition. Almost immediately, she began being cast in shows in the theater department, even though she was a dance major. Despite her talent and interest, acting never seemed a viable career path. "I just didn't think I could have a career as an actor because I'm trans," Cox says.
Audiences generally encounter trans people not as actors, but via some form of reality programming.
Indeed on television, audiences generally encounter trans people not as actors but via some form of reality programming. All too often in the past, the forum was exploitative daytime talk, such as The Jerry Springer Show's 1997 episode "My Boyfriend Is a Girl" (the show aired numerous iterations of this episode over the years). Recently, however, modern reality competitions have begun to depict trans people in a more nuanced light. The most obvious example is RuPaul's Drag Race, but trans contestants have also appeared on America's Next Top Model (Isis King) and Dancing With the Stars (Chaz Bono). Cox herself had her breakout moment as a contestant on the first season of VH1's I Want to Work for Diddy in 2008. She parlayed that experience into her own VH1 show, 2010's TRANSform Me, a touching reality series in which Cox and two other transgender women gave physical and emotional makeovers to cisgendered (someone who identifies with the gender that they're born as) women.
Still, scripted roles for transgender actors are few and far between. More often than not they are limited to bit parts where they deliver a single sassy line, solicit someone for sex in a sordid alley, or die brutally during the opening credits of a police procedural. Cox is all too familiar with these roles, having played them before, as deeply and richly as their problematic scripts would allow.
"As an actor, it's not my job to judge characters," she says, "but to infuse them with as much multidimensionality as I can. I've known trans women who've been in the sex industry, and their stories deserve to be told in a human way. I would rather see a trans person playing that character than a cisgendered male actor in a wig."
Knowing what Cox would face as an actress, her first acting teacher, Actor's Studio life member Susan Batson, told her that "it would be my job to bring truth and rawness" to these stereotypical, two-dimensional roles, Cox recalls. In other words, to act—something that network executives and casting directors all too often believe trans people are incapable of doing.
"The wisdom has been that trans actors can't or won't go deep," says Cox, "because—and a lot of this is because of how we've been represented—people think that our identities are not real. We are fake women." At the GLAAD awards one year, a well-known director told Cox that "all she could do was glamour."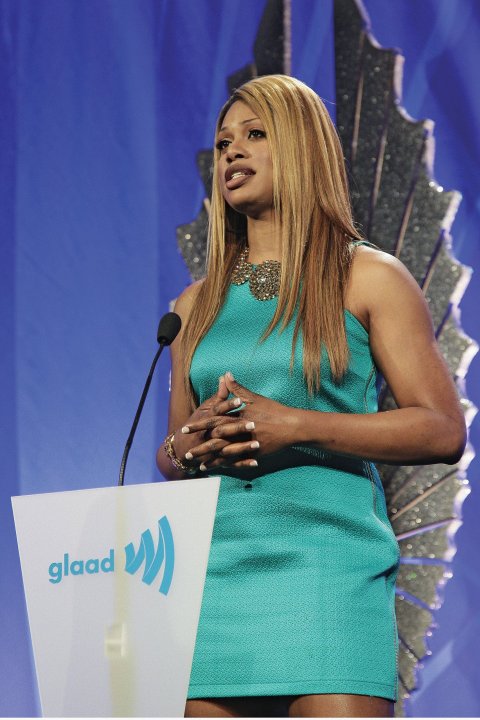 This same logic keeps transgender actors from being put forward for non-trans-specific roles. In her talks with casting executives and agents, Cox has been told routinely that this idea is a nonstarter. (Cox has gotten roles that weren't specifically written for trans people, such as her turn as Blithe Stargazer in 2012's The Exhibitionists, but only when the director has specifically requested her.) Yet the reverse is commonplace. When substantive transgender characters are written (which happens more in film than in television), cisgendered actors are typically cast—even when it's a queer film made by a queer director. From Hilary Swank's Oscar-winning performance in 1999's Boys Don't Cry, directed and co-written by Kimberly Peirce, to Felicity Huffman as the transgendered woman lead in 2005's Transamerica, written and directed by Duncan Tucker, well-meaning LGB people often write trans narratives without employing actual trans people. In the current TV landscape, there's one recurring trans character on network television (Glee's Unique) and one on cable (Degrassi: The Next Generation's Adam Torres), according to a GLAAD report; both are played by actors who identify as cisgendered.
Moreover, complex trans characters are almost always written as white. "Black families like the Bursets, going through a transition, with a wife, with a child? I don't think I've ever seen that on TV," says Cox. "Ever."
It helps, of course, that Orange Is the New Black is a Netflix original, and thus able to circumvent the scrutiny of advertisers on network and cable television. And Kohan has often shown herself to be more than willing to buck received wisdom and make complex choices.
But there are also signs that the industry as a whole is evolving. Transgender actress Harmony Santana was nominated for an Independent Spirit Award for Best Supporting Actress for her role in the 2011 festival-circuit movie Gun Hill Road, making her the first transgender actor to be acknowledged by a major acting award in the United States. Last November, the Sundance Channel greenlit a TV series, T, which the network described as a "deeply personal look at Terrence, a transgender male who has recently undergone gender reassignment surgery and is beginning to live life as a man." Casting for Terrence has yet to be announced, but here's hoping a trans person will get the role.
Still, casting choices won't matter until there's good material to be cast in and great actors to cast. And that takes vision and time, says Cox, who is ultimately optimistic.
"I believe in the creatives. When the creatives begin to do it, the casting directors will come along."