"HERE'S A fascinating story," the longtime host of NBC's Tonight Show With Jay Leno told his audience last week, mentioning a recent Iowa Supreme Court ruling "that a dentist could legally fire his female assistant because he found her too sexy, too attractive, and a threat to his marriage. She didn't do anything. She's just good-looking." The payoff: "Hey, I'll bet that's what happened to me here at NBC!"
It's the sort of joke that is rapidly becoming a staple of Leno's monologue. (On Monday's show, riffing on the royal baby, he confided that he was "a little bummed out, because I was the one who was supposed to deliver the baby announcement this afternoon at the hospital, and they replaced me at the last minute"—as a video clip showed Jimmy Fallon striding past a London bobby.)
The 63-year-old Leno was famously eased out four years ago by the network suits in favor of the younger Conan O'Brien. The switch turned into a legendary debacle that former NBC executive Don Ohlmeyer calls "the dumbest thing in the history of television." After a messy nine-month interregnum in which Leno was dispatched to 10 p.m. and both his and O'Brien's ratings tanked, he was restored to his Tonight Show perch amid a firestorm of negative publicity.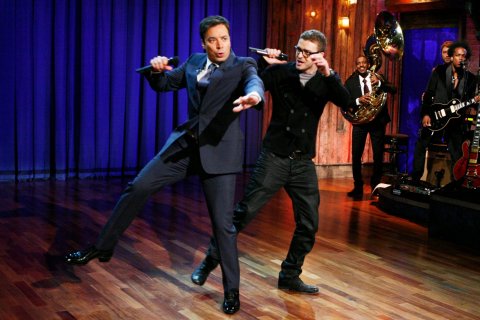 Now, once again, he has been asked to abdicate, this time so that the much younger Fallon—who literally was in diapers when Leno first performed his stand-up routine on The Tonight Show Starring Johnny Carson in March 1977—can take over at 11:35 p.m. The plan, which NBC announced in April, is for the former Saturday Night Live star to leave his 12:37 a.m. program, Late Night With Jimmy Fallon, and take possession of the Tonight Show franchise in February with the strong promotional lead-in of NBC's Olympics coverage.
The Nielsen ratings for the second week in July have Leno beating CBS's David Letterman by a 43 percent margin.
The irony—and it's a rich one—is that Leno has never been more dominant: the Nielsen ratings for the second week in July have him beating CBS's David Letterman by a 43 percent margin in the all-important "viewers 18 to 49" category (on which advertising rates are set) and swamping ABC's Jimmy Kimmel by a crushing 75 percent. The "total viewers" number is a similar story, with Leno delivering 3.3 million compared with Letterman's 2.6 million and Kimmel's 2 million. Not counting a two-year rough patch after Letterman was enthroned at CBS in 1993, that makes 17 seasons in which Leno has won his time period since he started hosting the iconic show on May 25, 1992.
So why sack him now? "I don't get it," says Ohlmeyer, who as president of NBC's West Coast operations in the mid-1990s helped guide Leno to victory over Letterman. "It's like nobody understands history. Here they take him off the air four years ago, and naturally he loses his impetus, and now he's come back, and he's kicking ass again—so let's take him off."
NBC Broadcasting chairman Ted Harbert airily dismisses Ohlmeyer's concerns, telling Newsweek that "in making these transitions, as we have before, you want to do it when the show is still No. 1 in the time period ... Johnny Carson saw a similar kind of bump in his final year on the air, as did Jay Leno when he left the late-night time period once before in 2009."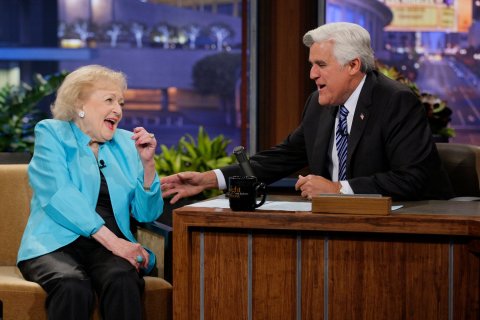 Leno, who has publicly voiced support for Fallon's ascension, much as he did for O'Brien's, declined to comment for this story. But a television executive who has spoken with Leno claims that this time, unlike last time, the happy talk is genuine and "he's much more at peace with moving on." The reason? "Jay has no relationship with anybody at Comcast or NBC. He truly is an island." Plus, "he's vanquished Dave for good. He's vanquished Jimmy Kimmel. He goes out on top even if the critics will never give him his due. He's truly ready, come next February, to move on to his garage"—a reference to Leno's love of tinkering on his nearly 200 vintage automobiles.
To which Ohlmeyer retorts: "Oh, bullshit. I'm sure Jay says that to everybody who asks him, but for the Jay that I know, his heart has to be breaking about this. All he wanted to do in his life was The Tonight Show. And instead of going out the way Johnny Carson went out, he's going out having to make self-deprecating jokes about being fired. I will not be surprised if he pops up in some way in late-night television"—possibly on Fox.