'I will be frank," Maggie Carey warns, "because the movie is." The writer-director is talking about the life-changing experience that inspired her first feature film: the raunchy indie comedy The To Do List, which opens July 26. "The first hand job I gave had more of an impact on me than the first time I had sex," she says.
If you think that's an overshare, then you haven't met Carey.
"There's something inherently funny about it that stayed with me," Carey, now 38, says about, um, grabbing hold of her sexual journey that first time. "It's a classic coming-of-age story: You're a teenage girl and desperately want to know about things that you can't possibly understand until you've done them."
The To Do List is a deceptively unique—and frank—addition to the coming-of-age movie canon. It is, as countless other movies before it have been, about the teenage quest to lose one's virginity. However, unlike any of those movies, it's the rare film about one such crusade of a teenage girl. Parks and Recreation star Aubrey Plaza, a longtime friend of Carey's, plays Brandy Clark, the Type A valedictorian of the class of 1993 at her high school. She has conquered everything she set out to do in her four years of high school—ace every class, head every club, get into a good college—but has let that one big thing slip past her unnoticed.
What teen hasn't been desperately confused about sex while also desperate to have it?
Advised by two best-friend sexual spirit guides (Arrested Development's Alia Shawkat and Spanglish's Sarah Steele), Brandy fumbles through a new to-do list, one that forgoes "ace high school" and "pack for college" for crude sexual exploits like "tea bagging" ("must be British") and "get a pearl necklace" ("sounds classy"). Of course, there's also "give a hand job" and, the big one, "have sex with Rusty Waters," the gasp-inducing, washboard-ab-having object of Brandy's lust. If it sounds misguided, well, that's because it is, as Brandy begins recklessly dating well-meaning men in order to tick those sexual favors off her list. But what teen hasn't been desperately confused about sex while also desperate to have it? The result is a bit of a watershed moment. If Superbad proved that we like our coming-of-age movies crass, and Bridesmaids proved that we like our women that way too, then The To Do List may be the first example of both.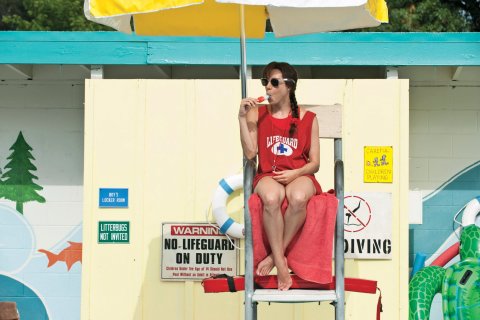 Carey's first foray into filmmaking at age 14 was also something of a celebration of misguided adolescent hijinks. Out of sheer boredom, she recorded her guy friends competing over how far they could spit their chaw. The amateur movie's very blunt title: Boys Are Idiots. The To Do List is also true to Carey's life—save for the laundry-list format of sexual exploits. Raised in Boise, Idaho, Carey was your typical overachieving suburban teen. She took every AP class, sat in the front row with her hand perpetually raised, played multiple sports, and ironed her shirts for soccer practice.
However, unlike Brandy, who is raised by a sexually liberal mother played by Connie Britton (Brandy's mom gifts her daughter with lube and the advice to chug a beer before her first time), Carey's parents were of the more traditional ilk. A scene, in which Brandy asks her mom when she lost her virginity and her father, played by Clark Gregg, immediately cuts her off by saying, "on her wedding night," was lifted straight from Carey's teenage years. "It's the only conversation I've ever had with my parents about sex, so I knew I had to put it in the movie," she says. "I feel like a lot of people probably relate to that."
After grad school, Carey performed with both the Upright Citizens Brigade Theatre in New York and Improv Olympics West in Los Angeles. She eventually turned to writing, usually about the things that made her laugh growing up. In 2007, for example, she co-created the popular Web series The Jeannie Tate Show, inspired by her own minivan excursions growing up; the show's format is a mock talk show in which a soccer mom interviews celebrities while carting her kids to practices. There's also the sketch "Lady Refs," which she co-wrote and directed for HBO's Funny or Die Presents, about the ridiculous world of lady referees working youth soccer games, based on her own time playing college soccer.
Between The Jeannie Tate Show and The To Do List, Carey wrote for the short-lived sitcom In the Motherhood, about a group of girlfriends entering the baby-having phases of their lives. But when that got canceled in 2009, Carey took it as an opportunity to churn out most of The To Do List. ("Being unemployed is incredible motivation when you're working on a screenplay," she says.) The script, originally called "The Hand Job," was rejected by major studios but landed on that year's Black List of Hollywood's best unproduced scripts. That led to a panel at the Austin Film Festival in 2010, for which Plaza and Saturday Night Live's Bill Hader, to whom Carey is married, did a reading. Film bloggers in attendance were ecstatic about the reading, and the movie was financed shortly thereafter (albeit with a more marketable title).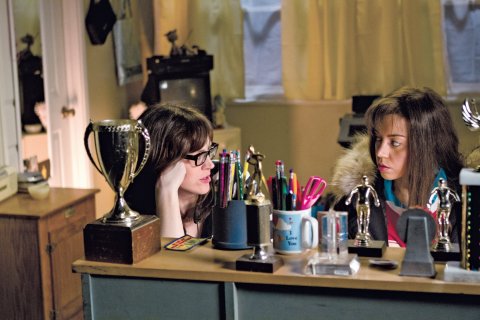 Viewing the movie is like taking a time machine back to Carey's own high school years. Everything from the set decoration to the costuming was lifted, quite literally, from memories of her teenage years; old yearbooks and boxes of photographs found in her basement served as look books for the film's designers. Even the props in Brandy's bedroom belonged to Carey or her girlfriends and date back to their high school years, right down to the ticket stub from the early '90s for an MC Hammer–Vanilla Ice concert at the Boise State Pavilion. The cumulative effect of all this serves as a window into what Carey was like in 1993: an average, normal, totally relatable teenage girl.
The connections between Carey and Brandy proved particularly helpful to Plaza, especially once Carey handed over her high school diaries for extra character insight. "There was a really overly confident attitude that came across, and it reminded me of how teenagers think they really know everything, but they don't really know anything," Plaza says. Luckily, things have changed. Though she was unable to attend, Carey's graduating class—from the same Boise high school that the one in The To Do List is based on—just had its 20-year reunion. Two decades later, not only does Carey know more this time around, she also has the added distinction of a feature-film debut—and being happily married, to boot.
In The To Do List, Hader plays Brandy's boss at her summer lifeguarding job. As a generous thank-you for starring in the film, Carey scripted him a sex scene with Rachel Bilson, who plays Brandy's older sister. "I think I'm a pretty cool wife for writing that," she says. And if any of the parties involved felt the least bit squeamish about the whole wife-directing-her-husband-in-a-sex-scene situation, Carey took care of that pretty quickly. "At one point she ran in and said, 'Guys, the f--king really isn't reading,'" Hader remembers. "'You really need to f--k. Come on. Let's go.'" A long way from her awkward first hand job.