The art exhibition as spectacle is nothing new, but art that inspires people to wait in line—for hours—is emerging as a new art form, or spectacle, unto itself. Most recently, there was Alexander McQueen's 2011 retrospective at the Metropolitan Museum of Art, which broke the Costume Institute's previous attendance record, held by the 2008 show Superheroes: Fashion and Fantasy. The screening of Christian Marclay's 24-hour film, The Clock, at London's Hayward Gallery in 2011 had people waiting nearly as long as the length of the film. And Marina Abramović's celebrated performance-art survey at the Museum of Modern Art in 2010 played a big part in its record-breaking year of 3.1 million visitors.
Two current art and design extravaganzas in New York, Rain Room at MoMA and James Turrell at the Guggenheim Museum, are putting this cultural phenomenon on display, literally, with lines snaking for blocks and waits stretching absurdly into near double-digit hours—in a heat wave, no less. Rain Room presents a staged downpour that allows visitors to stop the rain around them as they move through the space, while the Turrell survey turns the Guggenheim's spiraling rotunda into a dynamic light installation that transitions through a full spectrum of colors. The physical manifestation of these photogenic experiences is documented and then cast about social networks like Instagram and Facebook, serving as some kind of modern-day self-propagating marketing strategy.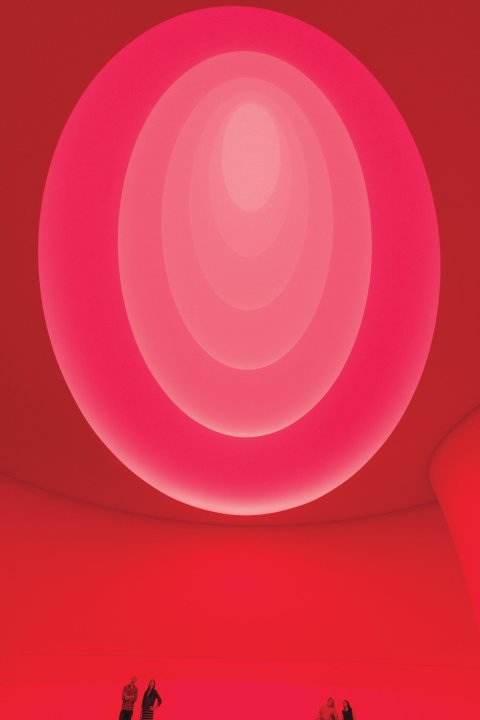 These popular, and populist, exhibits raise the question: is it art, artifice, or art diluted? New York Times critic Ken Johnson proclaims that "Rain Room, for all its entertaining ingenuity, seems little more than a gimmicky diversion," while The Daily Beast's Blake Gopnik asks, "Has the sage Turrell sold out?" Gopnik adds, "His illuminated spaces used to stand for transcendence, but the new Guggenheim project evokes klieg lights and red carpets." Then again, modern (with a lowercase "m") museums have an obligation to promote their shows, and maybe social-media savvy and buzz are as good as—or better than—a solid critical review. Is all fair in art and marketing?
Created by the London-based design collective Random International, Rain Room doesn't declare itself a rarified art experience. Rather its intention is to probe ecological issues in the wake of Hurricane Sandy. According to the press release, the exhibit "invites visitors to explore the roles that science, technology, and human ingenuity can play in stabilizing our environment." Best known for its 2011 light installation Swarm Study/III, which is illuminated by the movement of people tracked by a camera, Random International comprises "a growing team of diverse talent," according to its website.
By contrast, the 70-year-old Turrell is a leading member of the light and space art movement, a form of minimalism and installation art that originated in Southern California in the 1960s. He was raised a Quaker, studied perceptual psychology and mathematics at Pomona College, and is widely known for his masterpiece in progress, Roden Crater, an extinct volcanic crater in Arizona that will eventually have 20 different spaces to view events in the sky. The Guggenheim exhibition is part of a national, three-museum retrospective that presents 23 of Turrell's light installations (along with works on paper and ephemera) at the Los Angeles County Museum of Art, which has the most comprehensive overview of the artist's oeuvre; the Museum of Fine Arts in Houston, which is showing works from its collection (the largest repository of Turrell's art in a museum); and the Guggenheim, which focuses on his site-specific installations.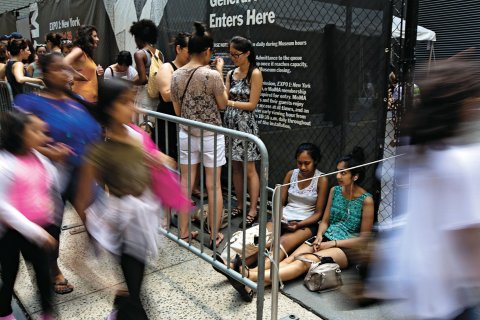 Compared with the young tech designers at Random International, Turrell is a sage. But what difference does that make? A handful of Rain Room's more than 60,000 viewers have waited up to nine hours to test the waters of the interactive shower for approximately 10 minutes, though the queue was only five hours when I visited. "Visually, it was very cool," said a woman, who had traveled for an hour from Rockland County, New York, with her teenage daughter to finally gain entrance on their third try. But the majority of visitors that passed through the project on a separate line for observers (a 10–15 minute queue) were glad they didn't wait—although the multiple rainbows, when looking at the single spotlight simulating the sun, and the stroboscopic suspension of raindrops, when gazing away from the glow, do indeed dazzle.
Meanwhile, uptown at the Guggenheim, visitors jockey for a spot on sloping benches or the museum floor to look upward at Aten Reign (named after the Egyptian sun god), Turrell's site-specific project for the museum's ocular skylight and rotunda. It's the largest installation that both the artist and the museum have ever produced. White fabric scrims, inserted into five levels of the rotunda's cylindrical space, create a colorful 60-minute show mixing natural with artificial light. The aperture at each level is elliptical in shape and gets gradually smaller as the installation ascends, constructing a form unlike any other artwork to have graced Frank Lloyd Wright's iconic building. The shifting colors create an illusion of rising and falling concentric ellipses, and a contemplative environment—save for the noise of the rambling visitors and the occasional flash of a camera, a disturbance shared at Rain Room.
But it's the uniqueness of Aten Reign that drives the dialogue. Unlike Rain Room, which moves from one city to the next without physically changing, Turrell's soaring site-specific installation could never be re-created in the same way; it truly is your once-in-a-lifetime work of art. Nearly everyone I spoke to after viewing it praised the perceptual experience, calling it serene and Zen-like. "It's a transporting experience," said Katherine Jackson, an artist from Brooklyn. "It comes alive with huge bulging ovoids. It's very dynamic, in a slow, peaceful way."
But whether critics or the public perceive these ambitious, large-scale shows as art or must-see wonders of the moment doesn't really matter. Whether they're any good doesn't seem to either. The bottom line is that the museums and artists benefit from, well, the bottom line. And what better way to gauge an art exhibit's worth than by how long people will wait in line to see it?