"I want to make bags that are conversation pieces," says Hillary Taymour. The 20-something designer behind the Collina Strada label is sitting in her Williamsburg, Brooklyn, apartment, flipping through her look book of handbags. They bear one-of-a-kind patterns on canvas, offset by leather accents, and are unconventionally shaped—hexagons, triangles, and trapezoids. Most luxury handbags, Taymour says, "all look alike. And they all have these little [label] tags on them so you can see who made them." A Collina Strada, meanwhile, is made expressly to look uncommon—and comes tag-free.
Taymour has recognized the value in making a product that stands out, and tempering the size of her business to stoke demand. She has skillfully straddled both ends of the retail spectrum, only in reverse order, winning the attention of bigger-name shops such as Target and Urban Outfitters to court boutiques "with more street cred," such as Need Supply and New York City's influential OAK. To stir up buzz, she frequently creates limited editions for her retailers, which typically sell out.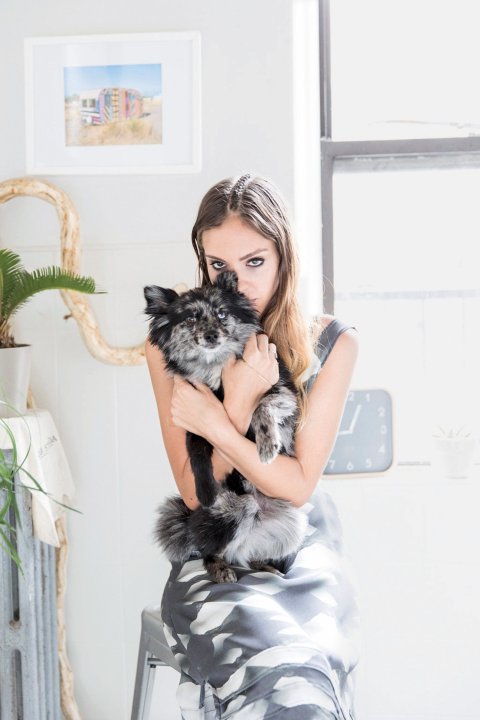 It's a strategy that's paying off. Collina Strada has garnered a following among tastemakers such as actress Chloë Sevigny, supermodel Shalom Harlow, and even America's Next Top Model den mother Tyra Banks. "I feel like my line is a bit exclusive," Taymour says. Her trick: creating her own textile designs, which start out as images she Photoshops—of flowers, parking lots, and statues—until they're artfully distorted.
A graduate of the Fashion Institute of Design & Merchandising (with a degree in product development and business management), Taymour started making bags for herself in 2008 while working in men's product development at Guess Jeans in Los Angeles. Her oversize and exaggerated take on the hobo bag was such a hit that she made some for friends at their request. With interest growing among her friends in fashion, Taymour anointed her line Collina Strada, the Italian words for "hill" and "road," simply because those words sounded nice together, she says. Then, at the behest of a fellow designer, she took a few samples to Project, a fashion-trade event in Las Vegas. Anthropologie promptly placed an order.
Shortly thereafter, before even developing a full line, Target came calling—a game-changer for Taymour. "I hadn't even shipped a season yet and I had an order with Target," she marvels. "Ever since then, each season something big like that would happen, where I could just keep going." With business growing, she left her job in 2009 and moved to New York City.
Taymour's inspirations are diverse and serendipitous. The idea behind a leather harness, for instance, came while watching an action movie. "I wanted to make a fake gun holster but cooler—like a handbag." And her bags' trademark geometric, layered-leather design is lifted from patterned doors she saw while traveling in Casablanca and Marrakesh. Often her designs end up being ahead of the curve. Her chic, leather-accented backpacks are edgier counterparts to rucksacks from Madewell and Marc Jacobs. Her satchels, designed to fit snugly on a set of bicycle handlebars, speak to the hipster bike boom. And her playful leather harnesses, with pouches to hold money and lipstick, predated Lady Gaga and Rihanna wearing similar accessories on stage.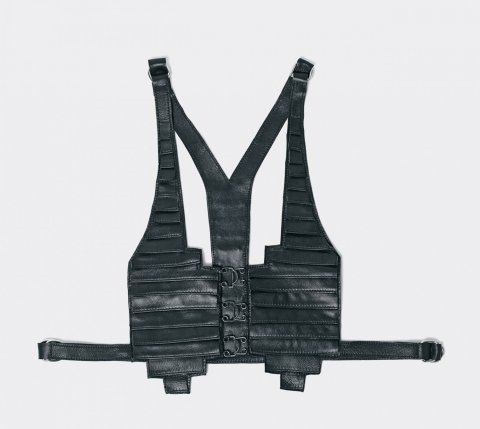 Taymour's next challenge: maintaining the cachet of exclusivity while growing her brand. A little over a year ago, Collina Strada launched a clothing line and will debut its Spring 2014 collection in August. The line includes loose jumpsuits, leather sweatshirts, and silky, feather-light pants—many boasting her wistful kaleidoscope-meets-tie-dye prints. "I just want to make easy pieces that anyone can wear," Taymour says. "I don't want it to be throwaway fashion."
She's plotting an avant-garde shoe line now, too, and taking meetings with high-end department stores—which she's tight-lipped about. "It's one of those things like, 'We'll see you again,'" the designer says, shrugging. "Stores that I've been trying to get into for years are now selling out of my purses. So, it'll happen. I'm not worried."