A cool August evening, the final weekend of Ramadan, and I was planted on a comfortable sofa on the rooftop patio of a three-story stone house in an olive grove near the Palestinian village of Sawahre. The surrounding Judaean Mountains, known to Palestinians as Jabal al-Khalil, appeared as huge, dark, breaching whales against the stars, and, to the west, the sky was glowing yellow from the obscured lights of Jerusalem. There were others with me: the three grown children of the Halaseh family, with whom I was staying, seated in chairs. The two eldest, Rana and Reham, are beautiful, sassy, and highly educated (both hold Ph.D.s); Tamer, the "baby" brother at 36, doesn't have a Ph.D., but what he lacks in official credentials is more than made up for by his intimate knowledge of just about every square inch of his troubled country. Satiated from iftar, we had formed a circle around a three-foot-tall hookah filled with smoldering apple shisha and were taking turns puffing on the snakelike pipe and drinking from a bottle of high-octane arak. Chocolate candies were passed around. It was peaceful here, and that wasn't only because of the shared indulgences. I was experiencing a side of Palestine most outsiders don't know exists, unless you spend time with a Palestinian family. Of course, in Palestine, peace isn't a permanent fixture. Over the next three weeks, I would see for myself the tragedy that is Palestine, as well as its tremendous natural beauty.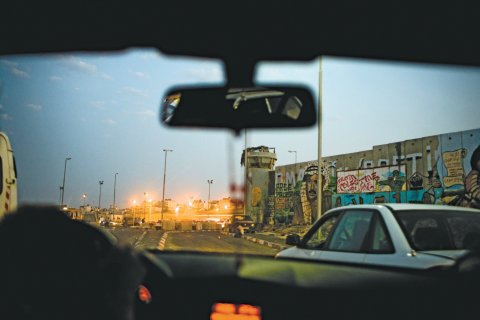 There is a tourism industry in Palestine, but it mostly centers around the religious sites in Bethlehem, which sees busloads of Christian pilgrims coming to visit the Church of the Nativity, a stark fourth-century basilica built supposedly over the cave where Jesus was born. Some pilgrims venture an hour farther to be baptized in the sleepy reed-filled Jordan River. And, for its part, Ramallah, the buzzing capital, sees a lot of government and NGO types allegedly working to make the situation better. I'm told there is even fabulous hiking and mountain biking there, though I didn't get to sample it because it was 120 degrees at the time I visited. But fewer tourists venture into the heart of Palestine, to the strife-worn cities of Hebron and Nablus, or to the refugee camps of Dheisheh and Jenin, the places where tragic Palestine can be found. Last August, while visiting Israel, I decided to explore these places, to see for myself both the turmoil and beauty that characterize this remarkable yet deeply troubled place.
First, the facts: Previously part of the Arab nation called Transjordan, and before that the infamous British Mandate, the West Bank is a backward-C-shaped swath of land (Jerusalem at the C's center) between Jordan and Israel. Since the Six-Day War of 1967, it has been occupied by Israel. The Judaean Mountains lie along the western border. Steep and brown, they look like they've been scraped with sandpaper. The Jordan River forms the eastern border. Where the Jordan River meets the Dead Sea, temperatures can be 20 degrees warmer than in the mountains. Olive trees and the occasional rustic Bedouin camp dot the hilly, bucolic landscape, and every Palestinian village has at least one mosque with tall minarets pointing toward the heavens. If you include Arab East Jerusalem, which most Palestinians do, about 3.2 million people live in the West Bank. Ninety percent of them are Palestinian Arabs living in the cities of Ramallah, Bethlehem, Hebron, Nablus, Jericho, and Jenin. The rest of the population is made up largely of Israeli Jews living in some 10 dozen settlements (the U.N. considers them illegal) that have been formed since Israel took military control of the area. Most of the settlers believe the West Bank comprises the biblical lands of Samaria and Judaea. To Muslims and to some Christians, this land is equally significant.
I planned my trip to the West Bank with a friend's warning lodged in my mind: "Don't get kidnapped or killed!" But Tamer Halaseh, an intense, dry-witted Palestinian gentleman I'd met during a previous short visit, assured me via Skype that I would be OK. "Wait till you get here," he said. "You will see how normal it is."
When I arrived at Ben Gurion Airport outside Tel Aviv, Tamer had a car and a driver waiting for me. The driver, Khalid, tossed my bags in the trunk of his black sedan, and we were off. As we headed east, the swaying palm trees and sand around Tel Aviv gave way to terraced, olive-tree-strewn hills and then to the steeper Judaean Mountains. The road climbed, then dropped suddenly into a deep desert valley, or wadi. After half an hour of roller-coastering like this, we spotted the separation barrier, a soon-to-be 430-mile-long concrete wall that Israel began building in 2003, and it now forms the border between Israel and the West Bank. Like a snake, it wraps around mountains, cutting olive orchards in half and preventing Palestinians from visiting Jerusalem and that city's Muslim holy sites.
As we approached the checkpoint, several olive-clad Israeli soldiers came into view. Khalid noticed I was a bit apprehensive. "Relax," he said, struggling to find the right English words. "There is no problem entering Palestine. Coming out is another story."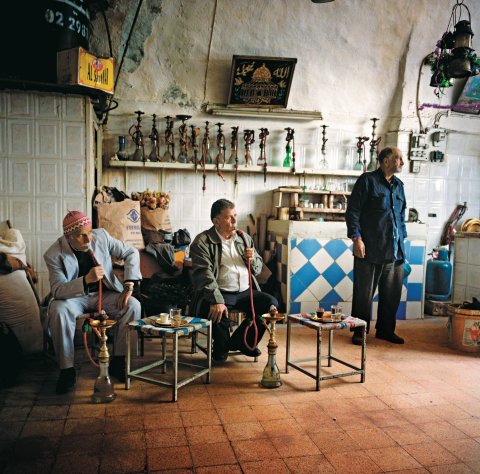 Twenty minutes later, we climbed another steep hill until we came to a village where children in the streets aimed plastic guns at our car and feral dogs conferred at the outskirts. This was Sawahre. At a concrete wall marked with a blue graffiti star, we turned left. Khalid honked the horn, and a long steel door began to slide open. Tamer waved us into the compound. And there I was, in the beautiful olive orchard I mentioned earlier: my home for the week. (I learned later that Sawahre is only five miles from Jerusalem, but because of the wall, it takes a Palestinian over an hour to get there traveling a lengthy detour with multiple checkpoints.)
Of course, not every visitor to Palestine gets picked up at the airport in a private car or stays in a private home. Palestinian buses run daily from Damascus Gate in Jerusalem, and one can find a decent hotel here and there, a few of which, such as the Mövenpick Ramallah, even qualify as luxury.
Drinking tea and noshing on date cookies, I'd hardly gotten comfortable on the sofa in the Halasehs' living room when I noticed a nervous look on Tamer's goateed face. He was sending and receiving flurries of texts on his iPhone.
"We must rent a car. Yes, a car will be cheaper than taking taxis or public transportation. With a car, I can show you much more of Palestine."
A few minutes later, I was showing my New Mexico driver's license and handing over several-hundred-shekel bills to a lanky young man who claimed to be a rental-car agent—if he was, he was also a mechanic, because he was lying on his back on the ground with his head under the chassis when we arrived—in a cramped, wood-paneled, smoke-filled office. The agent produced a rental agreement written in Arabic, a language I neither read nor speak. Stuffing the bills into his left pocket, he reached out with his right hand and gave me the keys. I tried to pass them hot potato–like to Tamer, but he stood there, hands buried deep in his pockets.
"What are you doing?" Tamer asked, sounding almost angry. "My friend, you will be doing all the driving."
I should have seen it coming. I'd experienced the steeply twisting, heavily potholed roads on the way in. If I were Tamer, I would have made me drive too.
"Tamer," I pleaded, "this is your country. What if I make a wrong turn into a Jewish settlement?" (Jewish settlements and cars marked with Palestinian license plates tend not to mix well.) "And what about the checkpoints?" Though the checkpoint at the entrance to the West Bank had been uneventful, I knew that wasn't always the case. The Israeli soldiers are known to be edgy and, at their discretion, can stop and interrogate you for hours, even taking you into custody for days without notifying your family. "What do I say at the checkpoints? Shouldn't you talk to the soldiers? Tamer?"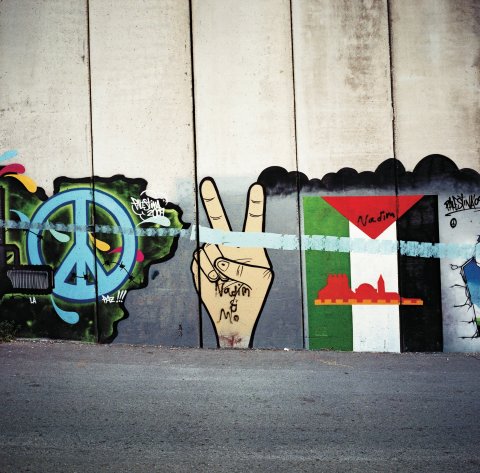 Tamer smiled. "Why would I want to talk to the assholes? I'm the Palestinian. You're the American. Don't the Israelis love Americans, and vice versa? You, my friend, are the driver." He trilled both r's, turning it into a four-syllable word. "I am the guide. Just do as I say and everything will be fine."
At first, everything was fine. But then it wasn't. Though it was getting dark, Tamer wanted to drive to Ramallah for a nightcap at a chic café called Jasmine. Since it was a high holy day, tens of thousands of people were amassed at the infamous Kalandia checkpoint, hoping against hope to cross over to Jerusalem and pray at Al Aqsa Mosque, Islam's third-holiest site. Yes, Tamer led me straight into, well ... it had all the qualities of a riot. Thankfully, because of the holiday, most of the frustrated rioters were also in a celebratory mood. They pounded on our hood and threw bottled water through the window. When we reached Ramallah—a hilltop city that is home to the headquarters of the Palestinian Authority, chaotic markets, beautiful parks, and the nearly sacred tomb of Palestinian leader Yasir Arafat—my hand was sore from high-fiving Palestinians. At Jasmine, an elegant room filled with men in dark suits and women in smart dresses and colorful hijabs—yuppies galore—we smoked shisha and drank the local beer, Taybeh, but only one, because I still had to negotiate the riot and the roller-coaster roads home. I suggested we splurge for rooms at the Mövenpick, but Tamer would have none of it. "I must feed the chickens back in Sawahre." By the time we got back to Tamer's house, it was nearly 3 o'clock in the morning. The chickens were clucking.
The rooster woke me before dawn. At 8 o'clock, Tamer, looking like he hadn't slept, finally appeared at my bedroom door. He had bad news about our planned trip to Hebron that day. I was about to experience one of the frustrations of traveling in the West Bank. Violence can break out anywhere at any time, and it's best to keep abreast of the news so you don't wind up in the wrong place at the wrong time. "No good," he said. "There are clashes today throughout the West Bank. It's too dangerous to travel to Hebron."
Tamer had read a news report on his iPhone that Jewish settlers had firebombed a taxi full of Palestinians outside Hebron, sending five passengers to the hospital with severe burns. "Maybe later in the week Hebron will be safe," Tamer told me. "So, today, we go to Jericho. Jericho is always safe. But first, you need a haircut, and I need a shave."
After a breakfast of vegetables, hummus, flat bread, and a sliceable-thick yogurt called labneh, we drove a few minutes to a spotless barbershop in the neighboring city of Bethany, the traditional location of the tomb where Jesus raised Lazarus from the dead. There, Mohammed, a dapper young barber with spiked, gelled hair, gave me a trim, shaved my face, shaped my eyebrows using sewing thread, and burned my ear hairs with a cigarette lighter, all the while watching on a flat-screen TV live coverage from Mecca of Muslim pilgrims circling the Kaaba. All cleaned up and at peace with Allah, we headed east to Jericho, a city of 19,000 situated in a lush green oasis near the Jordan River, about 853 feet below sea level. While I rode a creaky cable car to the top of a sheer red mountain called the Mount of Temptation, supposedly the location where, in the New Testament, Satan tempted Jesus, Tamer stayed at its base, hanging out with a camel for hire and drinking lemonade. The temperature in Jericho was 120 degrees.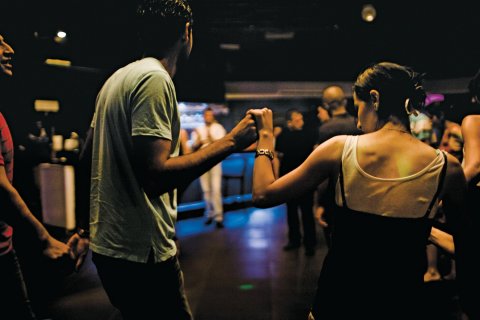 Dinner that night was a feast at the Tent, in Beit Sahour, near the Shepherd's Fields, the traditional site where, in the Christmas story, the shepherds saw the star of Bethlehem. We dined on mansaf, a traditional dish of Bedouin lamb in yogurt sauce, as well as a mixed-grill platter of succulent slow-cooked lamb, chicken, and kebab, and Manakeesh zaatar, a flat bread with a baked-on layer of sesame seeds, olive oil, thyme, and sumac. When we got back to the Halasehs', of course, we climbed three flights of stairs to the roof and, under the stars, smoked apple shisha from a hookah. I was feeling good. Tomorrow, we were going to Nablus, a city that has seen much violence in the past decade. But the next morning Tamer's iPhone vibrated. "Unfortunately, there are clashes between settlers and Palestinians near Nablus," Tamer reported after his call ended. "I think today we'll go to Bethlehem. It will be safer there.
In Bethlehem, about 45 minutes from Sawahre, we fought 1,000 or so Christian pilgrims inside the Church of the Nativity to see the supposed exact spot, marked by a star on the ground, where Jesus was born. Then we ate falafel with two Palestinian friends of Tamer's—one of them a bearish, thick-bearded graffiti artist with many colorful abstract works on the infamous wall of separation, the other an aspiring hip-hop artist with a ponytail and an attitude. He'd just been detained at a checkpoint for 12 hours, he said, for "no reason except being a Palestinian."
After lunch, Tamer directed me to drive. The man was a human GPS. "Go right, then left. Now right. Through the checkpoint, and around the roundabout, then left again." Minutes later, he said, "Here. Park it."
"Here?" I asked. "Next to the wall?"
He nodded.
We were parked next to the separation barrier itself. At a height of 25 feet, dressed in barbed wire, with snipers hiding out in its ominous-looking gun towers, the wall was built to keep Palestinian suicide bombers out of Israel. I could feel the chilling effect, too. The concrete wall blocked out the sun, making the temperature near the wall feel 10 degrees cooler. It was covered with colorful and poignant graffiti, including a portrait of Leila Khaled, "the first female hijacker," now considered a national living treasure to many Palestinians. My eyes drifted toward some words painted in large black letters. They read, "Now that you have seen, you are responsible." I lingered there for a few minutes, contemplating the quote. No matter what your politics may be, the wall is heartbreaking, a sad symbol of the violence humans are capable of. Eventually, the violence died down enough for us to visit Hebron and Nablus.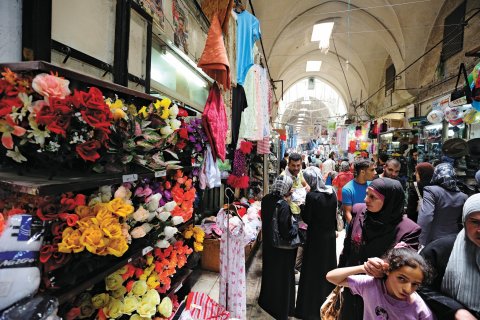 Tamer seemed nervous the day we drove south from Bethlehem toward Hebron. Thankfully, the ride proved to be uneventful, and with relief we pulled into the hivelike city center and parked the car next to the Old City marketplace. Hebron has a population of 250,000 Palestinian Arabs. There have always been a scant number of Jews in Hebron, but in recent decades, hundreds of Israeli Jews, many of them from the United States, have moved into the city center, creating a settlement of about 700. More than 3,000 Israeli soldiers moved in with them as protection, setting up checkpoints and cordoning off whole sections of the city. As you can imagine, this causes problems, especially near the 2,000-year-old stone palace built by King Herod the Great over a cave thought to be the burial place of Abraham, who is revered by both religions, and his family. I parked the car near the Old City souk, and we ventured down a shady, narrow street. The souk was crowded with vendors hawking everything from fruit juice to underwear to Q-tips. However, I noticed that the shoppers were missing. Tamer advised me to look up. Wire mesh, filled with debris and trash, covered the long, narrow market. "The Palestinians put the mesh there to block the trash that the Jews throw down from the apartments above," he told me.
Eventually the souk narrows, and the traffic funnels to an Israeli checkpoint. I walked up to it tentatively. The soldier, a young redhead with freckles, probably no more than 19 years old, and probably bored out of his mind from standing there doing something he'd rather not be doing, stared me down coldly: "What is your religion?" he asked.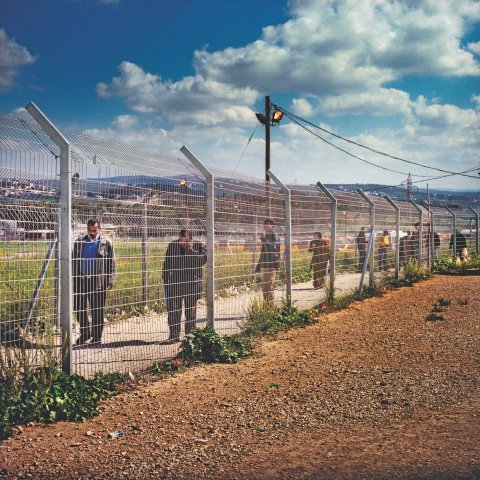 At first, I thought that was an odd question to ask before entering a major historical landmark. But not in Israel and Palestine, where religious conflict reigns. It happens that I'm an agnostic, but Tamer told me to say otherwise. "Tell them you're Christian, Catholic." I did, and I was ordered to enter. Tamer later explained that if the soldiers had thought I was Jewish, I wouldn't have been allowed to visit the Muslims-only side of the building. The soldier nodded and waved me through the metal detector. I took out my wallet, took off my watch, and let them rummage through my bag. Inside is a typical mosque with intricate carpets, an elaborate wood minbar, or pulpit, and large stone cenotaphs to Isaac, Rebecca, Sarah, and Abraham. Security is tight at the Cave of the Patriarchs—and with good reason. The Jewish settlers in Hebron wanted to visit the structure as well, because Abraham is a patriarch of Judaism and Islam. In 1994 a Jewish settler—a doctor—entered the mosque with an IMI Galil assault rifle and fired 111 shots on the Palestinians praying there before being killed himself. Twenty-nine of them died that day; 125 were wounded. In response, the Israeli government built a wall inside the mosque, creating a Jewish side called the Synagogue of the Tomb of the Patriarchs and a Muslim side called the Ibrahimi Mosque. Half of Abraham's cenotaph lies in the mosque, and the other half in the synagogue.
After leaving the mosque, I put my shoes back on, and Tamer walked me to another checkpoint. He could go no farther. Again, a soldier searched my bags. He directed me toward the Jewish entrance to the building. At the top, I emptied my pockets and handed over my bag. The guard inspected it and patted me down. I walked through the metal detector, and suddenly I was in a beautiful synagogue filled with praying Haredim and alight with candles.
On my final day in Palestine, we drove north to Nablus, a city of 126,000 located between two approximately 3,000-foot mountains sacred to both Muslims and Jews, Mount Ebal and Mount Gerizim. Controlled at various times by Romans, Crusaders, Mamluks, and Hashemite Jordanians, Nablus was famous as a cultural center, although lately it's known more for strife and war.
Like other Palestinian urban centers, the city is busy, and traffic is heavy and chaotic. The skyline, made up mostly of three-story buildings with a few taller buildings, is dotted with black water towers that supply water to the Nablus residents when Israel chooses to turn it off. But here in this city of war and strife, the air smells sweet. Nablus is known for its kunafeh, a pastry made of shredded wheat, cheese, and syrup.
During the second intifada, which began in 2000, the city was a major flash point of violence, since much of the resistance to the Israeli occupation was centered in Nablus. It is the home of the infamous Al Aqsa Martyrs Brigade, the militant wing of the Fatah Party, from which many suicide bombers were dispatched. I knew from my research that I was about to enter a tense place famous for producing rockets to be aimed at Israel and getting the crap bombed out of it by the occupiers' planes and helicopters.
Today, the Old City of Nablus is a depressing place, with bombed-out buildings and memorials to Palestinian "martyrs" painted on the outside of buildings.
Upon arriving, we stopped off at Al Yasmeen, an elegant hotel, and dined on Arab salad and hummus with flat bread and drank a mint-flavored lemonade. Then we were met by a man named Mohammed, who gave us a tour of the Old City. As we were about to leave Nablus, Tamer looked worried again. Jewish settlers had attacked a village outside town, beating residents and setting fire to olive groves. Sure enough, on the way out of town, a half dozen speeding ambulances passed us on their way into the city. Thinking quickly, Tamer decided that we should return home through Jericho. He assured me again: "Jericho is always safe."
When we arrived at the separation wall, where I was to cross over to Israel, even he looked pale and exhausted from the palpable tension in Nablus. "I think now is a good time to drink some Taybeh and smoke the hubbly-bubbly," he said.
For the record, if you go to Palestine and see Tamer, buy him a lemonade with mint and a hookah full of shisha. He will be your friend forever.
If You Go:
It's possible to explore the West Bank on your own, but because of changing conditions on the ground, it's wiser to see it with someone who knows what they're doing. My guide, Tamer Halaseh, is trying to start a guide service. He can help you create a "personalized experience," ranging from a single day to several weeks. The email for TamerTours is info@tamertours.com. There are several organizations that offer one-day tours of various cities in the West Bank. One of the better ones is the "dual narrative" tour of Hebron offered by the Abraham Hostel in Jerusalem. A Jewish guide accompanies you on the first half of your day; a Palestinian guide takes over for the second. Email them at tours@abrahamhostels.com.