"Are you ready for the hug?" asks a PR flack for the coming-of-age drama The Spectacular Now, out August 2. "She even hugged the driver, this Russian guy, who was totally surprised by it."
"She" is Shailene Woodley, the 21-year-old actress on the cusp of global stardom, whom I'm waiting to interview at the Bowery Hotel in downtown Manhattan. Two years ago she more than held her own opposite George Clooney in Alexander Payne's The Descendants. Prior to that, she starred in the ABC Family series The Secret Life of the American Teenager—a show about a teen who becomes an outcast after getting knocked up, which received negative reviews for its heavy-handed take on teen sex. Her latest coup is landing the coveted role of Beatrice Prior in the film adaptation of Veronica Roth's dystopian sci-fi novel Divergent. Many are calling it the next Hunger Games.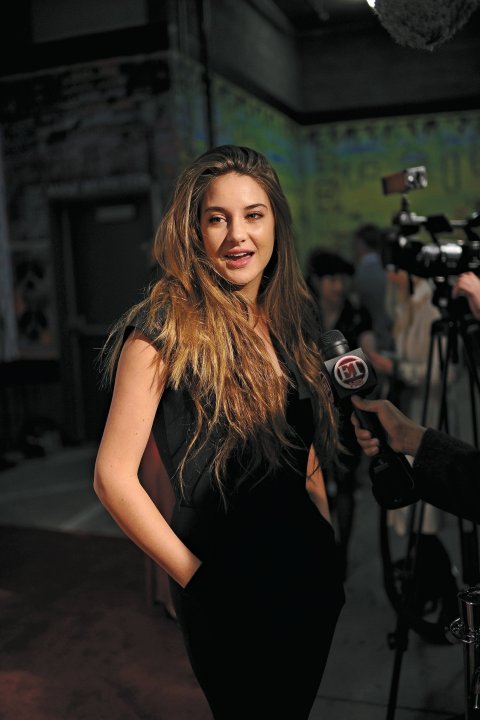 Her latest film, directed by James Ponsoldt, is an adaptation of Tim Tharp's young-adult novel about a popular high-schooler with a drinking problem, Sutter Keeley (Miles Teller), who falls for class geek Aimee Finicky (Woodley). It's a tender tale of first love.
Clenching a cup of green tea, Woodley approaches me. Then, the hug.
(This interview has been edited and condensed.)
The question everyone in the movie world is asking is, what have you been up to since The Descendants?
Nothing! I didn't do a movie for two years until this one. I was working on Secret Life, so I was working, but I didn't do a film because I hadn't read anything I connected with. I never want to do something I'm not passionate about. After The Descendants, everybody was like, "You're on a wave and you've got to ride it! That's the way this industry works!" and I thought that metaphor was so last century.
Did you want off The Secret Life?
I wasn't trying to get off it because of The Descendants. The thing with The Secret Life is, I'm so grateful for it, but towards the end it started straying from my own integrity, promoting things to teenagers that I didn't believe in.
The Secret Life and The Spectacular Now seem to have very different views on teenage sex. It's demonized on the show, but in the film sex is natural. There's a very tender sex scene.
Isn't it the most beautiful sex scene in the world? It's my favorite scene in the whole movie. And yes, total opposites.
Sutter and Aimee's relationship in The Spectacular Now is a first love. What was your first serious relationship?
I was 17 when we started dating, and I lost a large part of myself in the relationship. I moved here to New York City with him, but when we broke up he moved back to California and I stayed here by myself. I was 18 and on my own for the first time, figuring out who I was and what I wanted. The journey that I went on to find myself and to recognize what I love and who I am was so profound and really stamped who I am today. I think love is something that transcends time, so even if you're not with a person you can still love him, and I never had that with him. It was more lust and infatuation.
You said you really lost sight of yourself.
I was in high school when we started dating and he was a little older. A lot of my friends didn't like him. Instead of looking at that, which I'd do now, I let them go and clung to him. I lost a lot of friends because of it. Also, that people-pleaser part of me—I understand it now and I'm able to function with it. But at the time I didn't know how to control it. So, with losing my own friends and going out of my way to make sure he was happy, I realized that I was not happy.
What was it like living on your own?
There's something profound about being lonely. I worked at American Apparel full-time—the one on Orchard and Houston on the Lower East Side, and I lived on the LES as well. I was so young and in this dark phase of my life, so I just cooked at home and never went out. I lived in a place that wasn't the safest apartment. I didn't have curtains up the whole time, and the windows weren't locked. It was freeing.
Aimee is a bit of a geek. What were you like in high school?
I was in all the AP classes and really strived for good grades. I had extracurricular choir at 6:30 a.m., which brought my GPA down because I was late for school too often. I threw pep rallies and was in leadership. I never thought I was geeky, but I think the cool kids thought I was really geeky.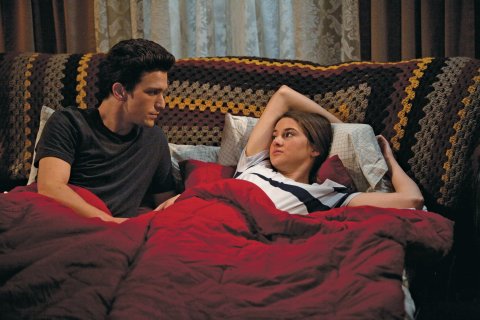 And you also have scoliosis, which must have been tough to deal with during your formative years.
I had to wear a brace for 18 hours a day my sophomore year of high school and part of my junior year. My friends would do pull-ups on it and draw on it. We named it "Casey." It's not something that's necessarily optimal, but I'm not going to bitch about it. It was just something I had to embrace.
Aimee experiences a lot of firsts in The Spectacular Now, including drinking. Do you remember the first time you got drunk?
The funny thing about being drunk is that when we were in high school we'd all be at a party and the cops would show up, and then you'd instantly sober up; it was something you could control, in a way. But my first time was with an extended family member, we were at home, and she was like, "I'm going to get you drunk." She was the cool 18-year-old and I was the naughty 14-year-old. It was raspberry vodka, which was disgusting. I remember taking two or three shots and going, "I don't feel drunk." I was paranoid all night long.
Drinking—and alcoholism—is a huge theme of the film. What's your attitude toward drinking?
I think alcohol is a very—I'm going to get shit for this—but a very important part of health. Obviously, when you have an addictive personality it could be a dangerous tool. But I don't think it's bad. Everything in moderation.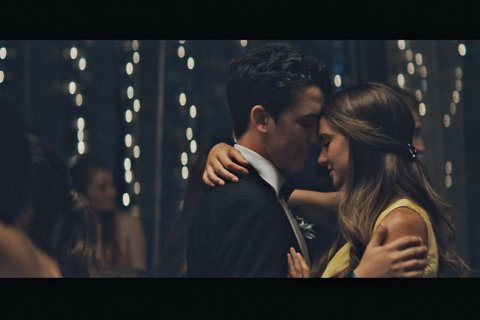 Your scenes were cut from The Amazing Spider-Man 2. Are you going to appear in the third film?
I don't know. First off, they don't even have a script for the third one yet. Second, they haven't decided if the movie they're making right now is going to be one movie or if they're going to split it in two. It's all up in the air.
Are you worried about how your life will change post Divergent, and did you seek any guidance from Jennifer Lawrence?
I don't think anything is really going to change. I still haven't met Jen, but before I officially took on Divergent I emailed her and was like, "Hi, stranger who doesn't know me. I have an opportunity to do a film like The Hunger Games. How has it changed your life, and what advice would you give me? Should I do it or not?" And she was like, "Absolutely. Fuck yes. Do it. It will change your life in all the best ways. But don't do a sex tape, don't do drugs, don't be stupid, and don't go to Whole Foods when the movie opens." Her advice, coupled with a few other friends' advice, made me agree to do the film.