In 1949 W. Clinton Backus and his wife hired a 43-year-old designer named Greta Magnusson Grossman to build a house in the hills of Bel Air. The Los Angeles community was well-to-do even then, but it wasn't particularly ostentatious. Grossman, a Swedish émigré, had achieved some renown as a purveyor of modern design; her furniture was often mentioned in the same breath and sold at the same stores as Charles Eames's, George Nelson's, and Eero Saarinen's—a rare distinction, at the time, for a woman.
For the Backuses, Grossman designed an understated two-story modernist home perched on a secluded slope, with sharp lines, walls of glass, and panoramic views. It was 3 bedrooms, 3 bathrooms, and 1,800 square feet—500 square feet smaller than today's average American home—and it fit right in.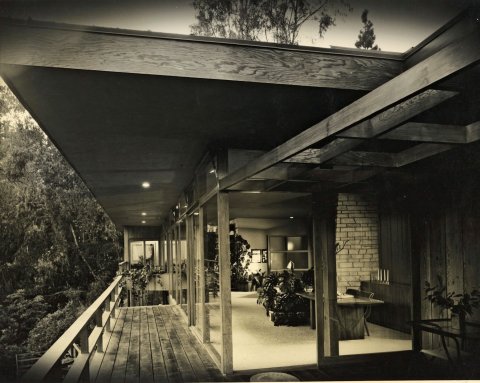 Not anymore. The Backus House still hovers on the same Bel Air hillside where Grossman built it. But because of the sprawling megamansions that have sprung up around the property, and because of the increasingly overheated state of the Southern California real estate market, Grossman's elegant modernist creation—one of the few surviving examples of residential architecture by a groundbreaking woman now ranked among the finest designers of her era—may not survive much longer.
There's an irony here. Starting in the 1920s, the combination of climate, terrain, and a young, progressive community of (largely European) architects and clients triggered an efflorescence of modern residential design in Los Angeles that culminated in the famous Case Study House Program (1945–66)—a series of experimental model homes sponsored by the local magazine Arts & Architecture and designed by some of the period's greatest architects. The modern single-family dwelling may have been invented in Europe, at the Bauhaus and elsewhere, but many believe it was perfected in Southern California.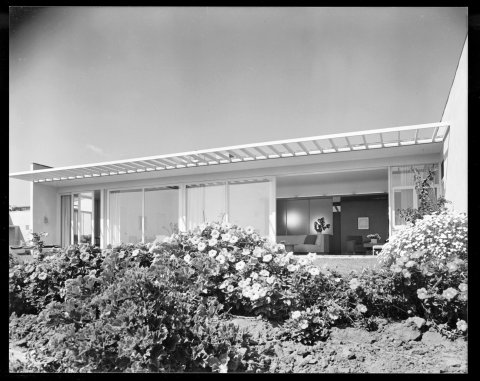 Now, decades later, modernist architecture has never been more popular. Dwell magazine is a monthly love letter to the style, and homes designed by any of the region's numerous architectural giants—Richard Neutra, R.M. Schindler, John Lautner—tend to command hefty premiums whenever they materialize on the market.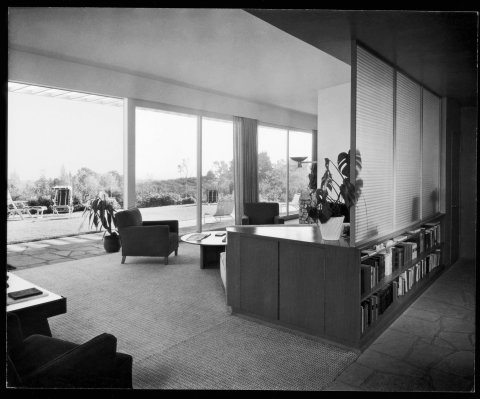 But a certain kind of modernist property—namely, a lesser-known house situated on a prime lot in an expensive neighborhood—is still at risk, and may be especially imperiled in Los Angeles's current residential market, which has posted the nation's largest increase in average sale price (20.7 percent) over the last year. "An economic downturn is always a good thing for preservation," says Regina O'Brien, chairperson of the Modern Committee of the Los Angeles Conservancy. "A lot fewer developers are making a lot less money, and therefore they have a lot less motivation to pursue these profit-oriented flips. But the problem is that the opposite is true when the market picks back up."
As aging owners realize their aging homes can now fetch top dollar, the buyers most inclined to preserve these modernist gems are outbid by those most inclined to replace them with gaudy Mediterranean super-villas. (Beverly Hills didn't have any preservation laws on the books until last year; other upscale municipalities still don't.)
"Most modernist homes are considered very modest by the standards of these neighborhoods, where people want far more house than they need," says Nate Cole of Unique California Property, a Long Beach brokerage specializing in modernist architecture. "Buyers see anything that they deem a compromise, and out come the bulldozers."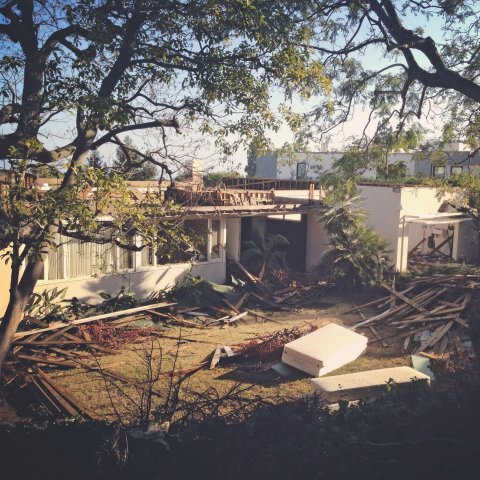 A drive by the Backus House tells the story. After rolling through the regal gates of Bel Air, you wind your way north past abundant banks of bougainvillea, Federer-level tennis courts, and ever-more elaborate estates until you finally reach Nimes Road. Down the block from the Backus House is a 19-bedroom, 24-bathroom, 38,000-square-foot mansion (estimated value: $70 million). Next door is a 39,000-square-foot castle with 25 bedrooms and 32 bathrooms. Across the street, meanwhile, is the 48,000-square-foot Le Belvedere, featuring a 1,000-foot-long hand-chiseled Jerusalem stone wall, a swan pond, a 5,000-bottle wine cellar, and an $85 million price tag. The most extravagant property, however, is directly behind the Backus House: a mysterious hilltop Versailles surrounded by 100-foot-tall concrete walls and half a dozen razed lots.
Boosted by its opulent neighbors, the relatively modest Backus House is now for sale for $6.9 million, or nearly $4,000 per square foot. (In 2012 the average American home sold for $86.30 per square foot.) At that price, whoever purchases it won't want to live in a house with "only" three bathrooms. They will want to keep up with the proverbial Joneses—the listing practically begs you to demolish the Backus House in order to "build your dream home on one of the most distinguished streets ... in Los Angeles"—and another piece of the city's rich architectural history will likely be leveled.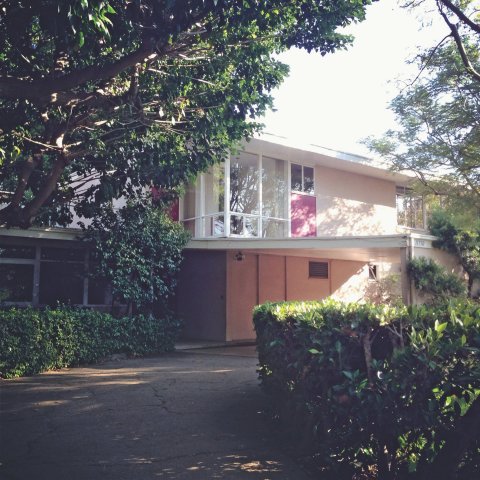 That's what happened earlier this year to the Kingsley Residence (1947). Designed for an ocean-facing site in the Pacific Palisades by J.R. Davidson, a congenial German who was responsible for the first of the Case Study Houses, the property seemed from the street to be an undistinguished builder's ranch. But inside it was a marvel: a "house without halls," as requested by the clients, with airy rooms, ingenious custom lighting and furniture, and large sliding glass doors that opened onto elevated terraces.
When it went up for sale for $4.2 million in February, the Kingsley Residence was the last unaltered Davidson house in the city. Two weeks later it was in contract, and on April 2 it sold for $360,000 over the asking price. Now, as a recent visit confirmed, the Kingsley Residence is well on its way to becoming a pile of rubble; the garage is filled with broken boards and crushed plaster, and appliances are scattered across the yard. The buyer evidently believes that a grander, newer estate would better suit the neighborhood, which, in the decades since Davidson's time, has become home to the likes of Steven Spielberg, Ben Affleck, Larry David, and Arnold Schwarzenegger.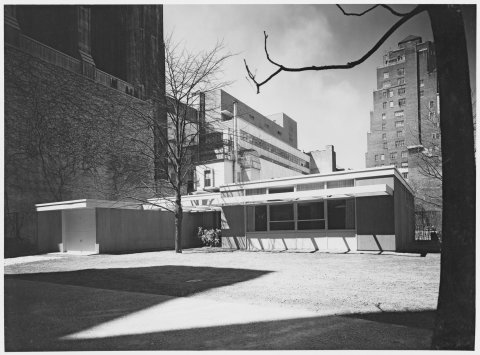 At-risk modernist houses don't always meet such a sad fate. In April the Schairer House, designed in 1949 by the great California architect Gregory Ain for a RAND Corporation aerospace engineer, went up for sale. Another posh neighborhood, another multimillion-dollar price tag ($3.199 million). At the time, observers were certain that the Schairer House was destined for demolition. "1949 Gregory Ain in Brentwood Hits the Market for the First Time, Probably as a Teardown," read the headline on real estate site Curbed LA. "In this neighborhood, it's selling at land value," added one commenter. "I don't see it surviving." Even the listing agent urged buyers to "build a new estate, possibly two new homes" on the half-acre lot, which is larger than most in the area. But now, 80 days after it sold, the Schairer House is still standing—and a source with knowledge of the transaction tells Newsweek that the new owners have hired an architect to oversee a complete restoration.
Whether that news warms your heart or leaves you cold is a matter of perspective and taste; not everyone loves modernist architecture, and even some avowed modernists don't believe a buyer should be demonized for personalizing his own property. But in Los Angeles, at least, there may be more at stake than architectural fancy. The history and character of the city are reflected in each of these pedigreed homes.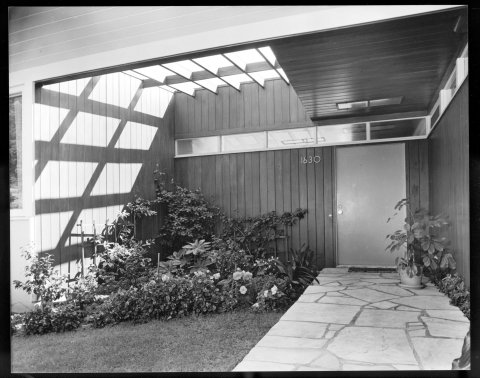 Right now, another Gregory Ain property is up for sale: the Feldman House (1953) in Beverly Hills. Commissioned by psychiatrist Fred Feldman and his wife, Elaine, after they saw an immaculate three-bedroom spec house by Ain exhibited in the garden of the Museum of Modern Art in New York in 1950, the Feldman residence was one of the last homes that the architect designed. It's also one of his least known—and loveliest: a U-shaped design with honey-colored wood paneling, expansive living spaces, and a long glass wall overlooking an acre of private, sloping forest.
In a perfect world, the Feldman House would survive for another 60 years or more. But even the listing agent, Joyce Rey, is worried. "I want to find someone who will restore it, and I know the family does, too," she says. "But here's the thing: all the buyers who want to restore it can't afford it right now, and the buyers who can afford it are the ones who want to replace it with something else. It's heartbreaking."