The proposal sat in my Airbnb email inbox for two days before I answered it: a retired German couple was visiting New York and wanted to rent out my Upper West Side studio for the month of May. Their offer: $4,000—nearly double my rent.
I had discovered the benefits of Airbnb, a website that matches residents who want to rent out their homes with travelers looking for alternative lodging, about a year earlier. Since then, whenever I need a break from the city, I list my place and use the money earned to pay for quick getaways—to Block Island or to Killington, Vermont. But a whole month away from home? I wasn't due for a vacation and had recently returned from visiting my family in San Diego.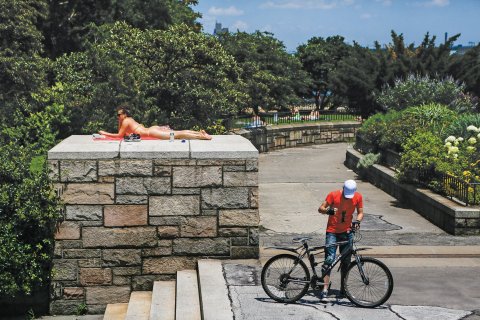 Like many New Yorkers, despite living in one of the most action-packed, diverse cities in the world, my days followed a variation on the same theme: gym, park, grocery store, nail salon, favorite hummus shop, Cuban brunch spot, sushi restaurant, and new Pinkberry down the street. Maybe this was the perfect excuse to "'hood-hop"—play tourist in my own city. Unlike when I entertain out-of-towners, I would get to do what I wanted. Plus, I needed to stay local for work meetings, and several friends who travel frequently had offered to let me stay in their homes whenever I have houseguests. And so, after surveying my friends' business-trip and vacation schedules, I put together a monthlong itinerary that included the Upper East Side, Murray Hill, and midtown neighborhoods of Manhattan.
STAYCATIONS BECAME popular during the worst of the recent recession. The term had a plucky "let's make the best of this" spirit. Families spend the day at municipal pools, rediscover local parks, or check out nearby museums they had meant to visit for years. The trick to a staycation is to avoid paying for lodging, but if you strip away the catchy phrase, what you're left with doesn't look much different from a day trip. As the economic downturn stretches on, who can blame us for being restless to get out of the house?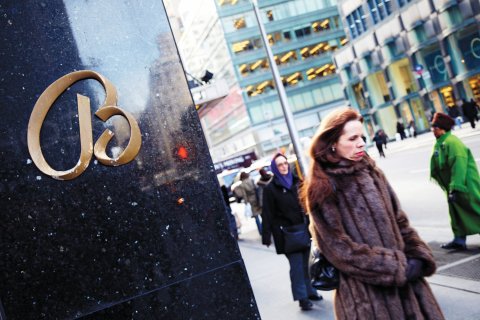 The growth of home-vacation rental sites, such as FlipKey, VRBO (Vacation Rentals by Owner), and Airbnb, has made 'hood-hopping easier than ever. There are no numbers available on how many people let out their residences to staycation nearby, but an Airbnb spokesperson says same-city rentals account for 5 percent of its business and have doubled to several thousand daily in the past year, with growth mainly in metropolitan areas like Los Angeles and San Francisco. Same-city rentals can be for visiting relatives, homeowners waiting out renovations, or new arrivals looking to check out different neighborhoods before choosing where to live. Whatever the scenario, such sites are revamping the lure of the local.
My first stop was Yorkville on the Upper East Side, where a friend's apartment had been empty since she moved in with her fiancé a few months earlier. I had always dismissed this part of town as boringly residential, filled with small dogs and large medical buildings, but I was surprised to discover the lush Carl Schurz Park as I jogged along the East River. A couple of evenings, I bought dinner, parked myself on a bench at the park, and watched barges glide upriver until the water reflected the lights of the city and fireflies emerged. I made a mental note to spend time on the Hudson River once this was all over and I returned to my side of Manhattan.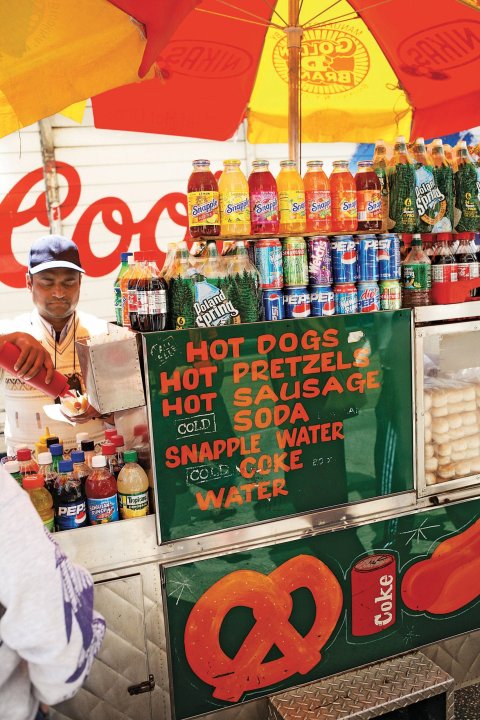 Two weeks later, I headed downtown to Murray Hill. I was excited to move to a more bustling part of town, even if it is packed with baby-faced professionals who look like they finished their college exams weeks earlier. I expected mostly culinary offerings of pizza and Buffalo wings until I remembered that the neighborhood is also home to the Indian ethnic enclave known as Curry Hill. As soon as I dropped off my bags, I headed to Dhaba's generous $10.95 Indian lunch buffet, where I gorged myself on vegetable samosas, chicken tikka masala, and chutneys. Inspired by my meal, I stopped in an Indian grocery store on the way home and bought spices and lentils that I cooked with that week. Though the same ingredients could be found in my own supermarket, I was drawn to the more authentic experience of buying them in a shop filled with incense and Bollywood soundtracks. I'd been to Little Italy and Chinatown countless times, but never once did I think to take out-of-towners to Curry Hill.
As a rule of thumb, I avoid midtown whenever possible. You risk getting crushed between hurried office workers or throttled by slow-moving, wandering tourists. But as a temporary resident in the neighborhood, I grew to accept the rhythm of this part of the city. When I stopped looking for an escape, I was able to enjoy the smells of halal kebabs and candied cashews. I made a game of walking through Bloomingdale's on my daily walk from Lexington to Third Avenue so I could stop by the fragrance counters. When I passed by a Second Avenue wine bar offering a happy-hour special, I didn't file it away as a place to try some other time. I walked in and ordered a glass of rosé. I complained with strangers about whether the Second Avenue subway line would ever be completed, speculated that the fancy new residential buildings would drive up rents, and agreed that the storied Irish bar P.J. Clarke's would never be the same since its famous bartender Doug Quinn left. I also realized that I plod through my neighborhood so lost in my thoughts that I can't even tell you the name of the guy who runs the fruit stand on my block. (I've since learned it's Salim.)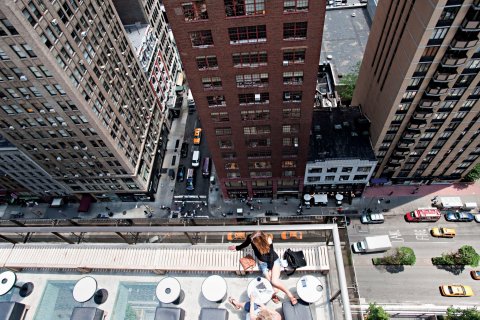 Of course, 'hood-hopping isn't all fun and discoveries. It's inconvenient being a guest, especially when you don't know how to turn on the cable TV or when you buy all the makings for a salad only to discover there's no balsamic vinegar in the cupboards. Eating out is expensive, and I often ended up paying $3 for a single serving of yogurt at Duane Reade or $4 for some watermelon chunks at the local bodega. And my gym was just far enough away that I missed my regular yoga classes. There were many weekend mornings when, catapulted out of my usual routine, I looked around a strange apartment with another person's favorite books and thought, now what do I do with myself?
Though I missed my bed and condiments on occasion, I fell in love with my city again. Only while staycationing in Murray Hill did I justify spending $25 to try hot yoga. I was glowing when I invited friends for cocktails on the rooftop of the Gansevoort Park Avenue. And Central Park's trees looked more majestic when I was forced to chart new running paths. By the end of my monthlong experiment, I had become that person craning my neck upward to admire the building façades and views I had grown too used to.
I thought of T.S. Eliot's poem "Little Gidding": "We shall not cease from exploration/And the end of all our exploring/Will be to arrive where we started/And know the place for the first time." Turns out the best way to know a place is to leave and come back. Except these days you don't have to go very far.