Nephi Craig graduated from culinary school in 2000 and began a promising career. In a few years, he was working his way up the stations at Mary Elaine's, Arizona's only five-star French restaurant, led by James Beard Award–winning chef Bradford Thompson. "I was getting a great French, classical training, but something was missing," says Craig, who is 33. "The French tradition isn't my tradition, and I wanted to cook in the tradition of my people: Apaches and Navajos."
It's an early Tuesday morning in late July, and Craig is driving his 10-year-old son, Ari, and me around the Fort Apache Indian Reservation, which is nestled in the White Mountains of eastern Arizona. Craig, whose mother is Apache and whose late father was Navajo, likes punk rock and skateboarding and is quick to laugh. Though he was born in Whiteriver (the reservation's largest community) and spent most of his youth there—he also lived for several years on a Navajo reservation—he never thought he'd spend his adulthood here. He went to culinary school in Scottsdale and then spent three years cooking at an affluent country club in the northern part of the city before joining Mary Elaine's.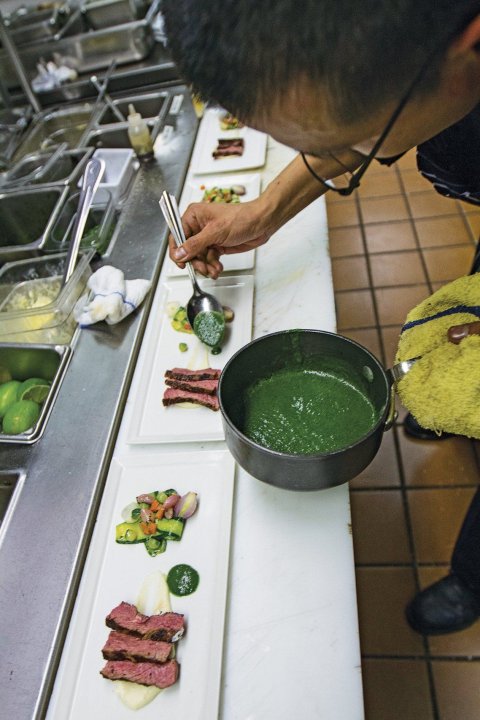 "At Mary Elaine's, we'd use a lot of local ingredients—rabbit, venison, squash, and corn—that I recognized as part of indigenous culinary history but were prepared in the French style," he says. "And as I got better as a chef, I began to think about using my skills to showcase my own peoples' culinary ways."
But he had a lot of learning to do. "Even growing up on the reservation, I got the same two-page social-studies version of our indigenous history," he says. "You know, the pilgrims and stuff." After leaving Mary Elaine's, he began to devote himself to rediscovering indigenous food. He traveled widely, hosting private dinners and conferences, and seeking out other Native American chefs as well as academics who had researched the cuisine of his ancestors. And when, in 2009, he learned of an opening at the White Mountain Apache Tribe's Sunrise Park Resort, "it was," he says, "the right time to bring my ideas back home."
Craig was eventually appointed executive chef at the resort. His restaurant serves mostly standard American fare. But guests can also book seats at his chef's table—and it's there, as well as through a group he founded called the Native American Culinary Association, that Craig is acting on his dream: to restore and reinvent the largely forgotten cuisine of his forebearers.
A SEARCH on the Zagat website for New York City lists 554 Italian restaurants, 191 French establishments, and 179 Japanese restaurants. There are 10 Ethiopian restaurants. But there isn't a single Native American restaurant listed. There's no culinary nod to the Lenape Indians who inhabited Manhattan long before Daniel Boulud and Mario Batali.
"American dining is based on our immigrant population, not our Native population," says Lois Ellen Frank, a half–Kiowa Indian chef-scholar who wrote Foods of the Southwest Indian Nations. Ask an American today for his or her conception of Native American cuisine, and you'll likely be met with some mumbling about Thanksgiving.
Before the Colonial era, Apaches relied for food on a "triptych of hunting, gathering, and raiding," explained Thomas Mails in The People Called Apache. Mails was writing specifically about the Mescalero Apaches of New Mexico, Texas, and Mexico, but the same can be said of White Mountain Apaches. Acorns, seeds, and nuts were staple foods in their largely plant-based diet, which also included rabbits, birds, raccoons, fish, and other native animals. Food was local. "If you lived in the Pacific Northwest, you would know the six types of salmon and know how to harvest them, but if you were a Navajo Indian on the Midwestern plains, you never would have seen one," Frank says. Early European contact and trade introduced new foods, which many Native American chefs today also consider part of their peoples' authentic culinary tradition. "It's fair to talk about Navajo sheep even though sheep were imported to the Americas, just as we now consider the tomato to be an authentic and indispensable part of Italian cuisine even though it came from Mexico," Frank says.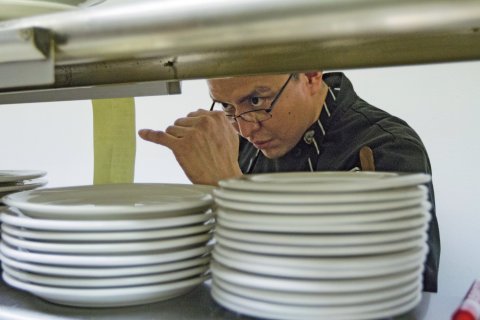 Then there is the food that arose from what Frank calls the third phase of Native American culinary history—the reservation experience. Deprived of most of their lands, Native Americans became dependent on federal rations, which often took the form of lard, flour, and processed sugar. With these, they made fry bread, which has become the food most associated with American Indian cuisine. Depending on how much sugar is added, it can taste like a slightly richer version of Indian (not Native American) paratha or something almost as decadent as state-fair elephant ears.
Fry bread, which is not good for you, to say the least, has contributed to a widespread health crisis among Native Americans. About 33 percent of American Indians and Alaskan Natives are obese, and more than 16 percent suffer from type 2 diabetes—rates far higher than are found in the general population. Ojibwa Indian musician Keith Secola, who penned an ironic ode to the dish, has said, admittedly with some hyperbole, that fry bread "has killed more Indians than the federal government."
But what does all this history add up to today? In other words, just what is Native American cooking? When I pose the question to Loretta Barrett Oden—who opened the Corn Dance Café in Santa Fe, New Mexico, in 1993 and is considered a pioneer of new Native American cuisine—she repeats it back to me: "That's the question, isn't it? Just what the hell is Native American food?
"To me," Oden continues, "it's working with indigenous foods of the Americas, precontact. My food is straightforward. At the Corn Dance Café, we served wood-grilled bison tenderloin with sage au jus. A lot of indigenous foods over wood fires." Oden doesn't cook fry bread. "I don't consider that Native American at all," she says. But the food doesn't have to be simple to be authentic, she adds. "Nephi comes from a French culinary background, and like him I'll do reductions and sauces. Coming from the Native tradition, we have the ingredients to do haute cuisine."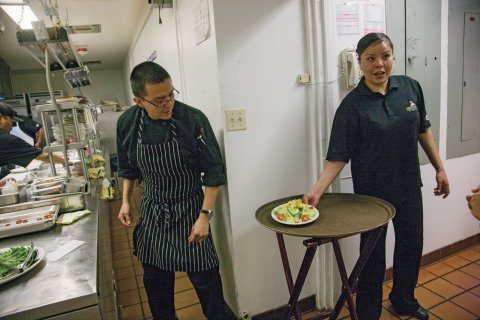 The Corn Dance Café closed in 2003, but Oden continued to evangelize, including in an Emmy Award–winning television series, Seasoned With Spirit, which aired on PBS in 2006. Currently she's consulting with the Wilton Rancheria Indians about opening a Native American restaurant as part of their proposed casino project in Sacramento County, California.
CRAIG TURNS off the main road connecting the community of Cibecue (famous for an 1881 Apache revolt) to Whiteriver and parks beside a two-acre garden known as "the People's Farm." The garden has been operating for several years with federal grants, tribal funds, and contributions from the Johns Hopkins Center for American Indian Health, which has a small office next to the Whiteriver Indian Health Service Hospital, where Craig was born. The farm employs four full-time tribal staff members, selling its crops on site and at a nearby weekly farmers' market.
Craig is preparing for a tasting dinner he's hosting tomorrow night for six people. Such dinners are uncommon in the summer off-season, when Craig operates with a skeleton crew, but he hosts these indigenous-cuisine showcases up to four nights a week during the busy ski season.
He wanders through the rows, picking out squash blossoms. Weeks earlier, he had taken rocks from the nearby riverbed to use as plates—"I'll return them at the end of the season," he says. On the following morning, Wednesday, the day of the tasting meal, I join Craig, his son, and two Apache assistants, Juwon Hendricks and Randal Cosen, and forage for edible plants among the aspen and pine trees surrounding the resort. We pick meadow rue, which has a delicate peppery taste; oxalis weed, which tastes like green apple; penny-bun mushrooms; and various wildflowers for plating.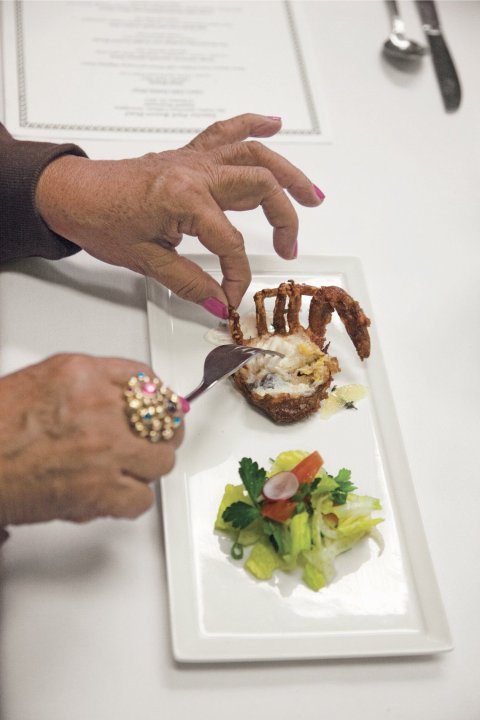 About 80 percent of the patrons who attend Craig's tasting dinners are Native American, he says. Wednesday night's group of six will include both Natives and non-Natives. It's a company gathering—board members of a local Christian in-home caregiving service are celebrating a recent milestone. The cost of the tasting is $89 per person.
Prior to the group's arrival, Craig and his assistants clear a portion of the kitchen for a round dining table. On a nearby counter, he places various books celebrating Native American cuisine and history. There are also cookbooks from his travels to Germany, Brazil, and Japan, all places where he's hosted dinners to showcase Native American cuisine. (Craig has also prepared a Native-themed menu at the James Beard House in New York City.) A banner over the dish-washing station reads: "Apaches Do It Better." I stand alongside Craig and his three assistants as they prepare and serve the meal, and they give me small servings of each course.
The 12-course meal begins with a spartan offering of traditional "trail mix": toasted kernels of three native corn varietals. This is followed by a shot glass of cold melon soup, enlivened with the oxalis; a quinoa salad; and cornmeal-fried squash blossoms stuffed with bean paste. Many of the courses employ the "three sisters" of Native American cuisine: corn, beans, and squash. "These crops, which have special, mythic meaning for Native Americans, are traditionally grown together, and they help each other grow—not like with the mono-crops we see now," says Allison Barlow, associate director of the Center for American Indian Health. (Native Americans historically used "companion planting," meaning that the three crops were planted in close proximity; as the corn grew, the beans climbed up, so the farmers didn't need poles, and as the squash spread along the ground, it blocked sunlight from potential weeds.)
Craig prepares each of the heavier courses two ways. Seared salmon—"it's not local, but a nod to our indigenous brothers and sisters in the Pacific Northwest," Craig tells the guests—is served on the riverbed slates alongside rock moss and charred pine needles. It accompanies balls of thinly sliced salmon stuffed with wild mushrooms cooked sous vide. There is also seared duck breasts (coated with lemon- and honey-infused tea) served alongside duck confit, as well as paprika-coated rabbit loins and a rabbit rack of ribs with Craig's Nana sauce, a parsley concoction named for a famous Apache warrior who fought federal troops well into old age. And there is bison tenderloin, served alongside chunks of rich, roasted bone marrow, as well as venison served in one version atop a parsnip purée and in another with wild rice.
For dessert, Craig serves Western Apache profiteroles, his salute to fry bread, with melted chocolate and pine nut–infused whipped cream. They are as delicious as they are decadent. "I recognize that fry bread is controversial," says Craig, "but now it's undeniably part of our heritage, so I'll use it in moderation."
LAST NOVEMBER Craig hosted the Native American Culinary Association's Indigenous Food Culture Conference over five days at the Sunrise Park Resort. Chefs from Utah's Black Sheep Cafe, New Mexico's Waterbird Catering, and a few other Native American establishments performed cooking demonstrations in Whiteriver and joined anthropologists for public discussions on Native culinary history. "Craig's work at the resort is localized," says Lois Ellen Frank, who presented at the conference. "But he's providing a model for other Native communities, and he's one of several Native chefs that's helping advance the recognition of Native American cuisine nationally."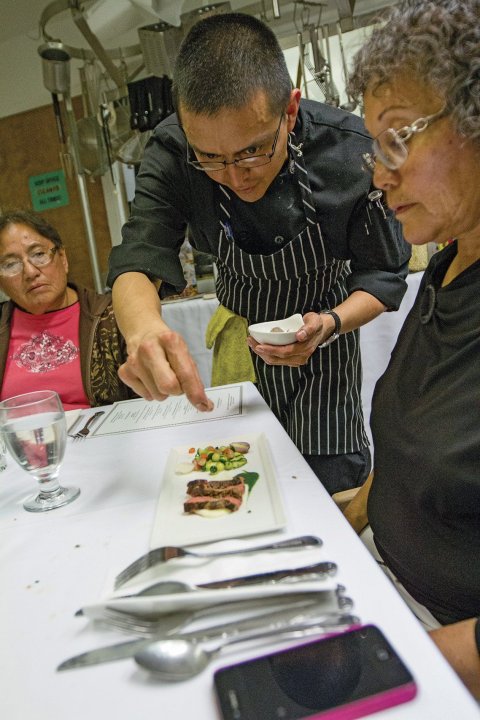 Next month Craig will have his biggest showcase yet: he's one of several Native American chefs (including Frank) who have been invited by the Chef's Garden—a Huron, Ohio, farming company that grows produce used by many of the country's top restaurants—to cook for more than 100 visiting chefs at a conference. "I'm hoping not just to present my version of Native American cuisine but to demonstrate to all these other chefs, who specialize in many different traditions, the indigenous roots of all types of cooking in the Americas, no matter what the cuisine," he says.
To be sure, Craig's high-end cooking isn't going to address the health crisis among average Native Americans. According to the 2010 census, more than half of the 13,409 people on the Fort Apache reservation live below the poverty line. And the impoverishment extends to the land, once rich with fields of alfalfa and other crops but now largely fallow. In Cibecue, there's a lone convenience store whose mostly barren shelves stock Pringles and a few other packaged snacks but no fresh fruit or vegetables.
"This area, which used to be rich with food, is now a food desert," Craig says. He is trying to tackle this problem, too. Earlier this year, he co-founded a nonprofit dedicated to revitalizing agriculture and water use among Western Apaches. The organization has since built a garden in McNary, a small community on the reservation. It has also hosted cooking workshops at the Sunrise Park Resort and begun a program to deliver Native American packaged meals to the Apache elderly.
Craig says he thinks these initiatives are compatible with his high-cuisine aspirations. The ideas are linked by a common goal: to reintroduce indigenous cuisine to both Native Americans and the outside world. In culinary school almost 15 years ago, Craig says he was "force-fed the notion that there were only three mother cuisines: French, Italian, and Asian." There are, of course, no shortage of groups—Middle Easterners, Africans, others—who might take issue with such reductionism. But Craig points out that each of the so-called mother cuisines was revitalized by contact with the foods of indigenous Americans. He points to the role of the tomato in modern Italian cooking. "And chilies changed all of the cooking of Asia forever," he adds. Despite this, modern Native American cuisine has yet to attain the three-star Michelin renown or even general awareness that's associated with ravioli or coq au vin. Craig hopes that will change. "My stance today," he says, "is that Native American cuisine is the fourth mother cuisine and needs to be included in that list."