Maine's Washington County is the farthest east you can get in America. It's where the sun first rises on the 48 contiguous states. But Down East, as Mainers call it, is more famous for its crop. Eighty-five percent of the world's supply of wild blueberries comes from the area; last year it produced nearly 90 million pounds.
The harvest is fast and furious. On the first day of every August, hundreds—not so long ago, thousands—descend on Cherryfield, Milbridge, and Deblois to work as rakers in the fields. They bring their own rakes: crude aluminum contraptions with two handles and long teeth that pluck the blueberries from the bushes.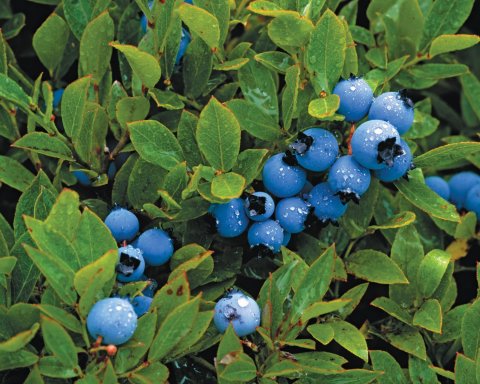 Many of them come to work for Jasper Wyman & Son, the biggest of the blueberry growers, claiming a 40 percent share of the U.S. wild-blueberry market and some 10,000 acres of land in Down East and Canada's Prince Edward Island and New Brunswick. In Maine, its property includes the "compound," a temporary village dotted with pale blue cabins that house roughly 250 migrant workers each season. The cabins surround soccer fields and taco trucks that come to life for just over a month each August.
But this year is quieter than most. Sixty of Wyman's expected rakers failed to show when the season started August 1, and the grower is down to just four crews of workers. Just a few years ago, it had 14.
"It's bad," says crew boss Randy Perry, shaking his head. "Bad."
Wyman is hardly alone, according to Julie Rabinowitz, spokesperson for the Maine Department of Labor.
The role was once filled in part by local teenagers earning money for the school year. But their numbers have fallen steadily over recent decades, with kids preferring to stay home and play videogames, as some say ruefully. It doesn't help that workers are still paid the same amount they were 20 years ago.
'Now that the machines have shown their worth, we're not going back,' says Wyman's president and CEO, Ed Flanagan.
But everyone agrees that the biggest factor driving rakers away comes in the form of machine harvesters, the implementation of which has given manual rakers the impression that they are obsolete. Wyman started using the giant, tractorlike machines in 1999. Ed Flanagan, Wyman's president and CEO, says the company had little choice but to turn to the harvesters. Increased regulations around immigration and labor started them down the path, he says. "Now that the machines have shown their worth, we're not going back." They account for 70 percent of the overall harvest.
Workers are still needed for the less manicured fields, though. This year's harvest is on track to be one of the best in recent record, but if the berries aren't picked in time, they'll rot in the fields. "It's a matter of having enough people to do the raking," she says. "The growers have been scrambling."
A few days after we spoke, Wyman put out a call for 35 more rakers and announced it would be extending its harvest for another three weeks, or until the first frost—whichever comes first. Perry, who jokes that he has been working for Wyman since the day he was born, says this was the first year he has ever needed to recruit people to work the fields.
At the start of this year's season, the Wyman crews worked for 15 days straight, 10 hours a day. Some 200 rakers—mostly men, many of them from Mexico and Honduras, but also some from Haiti, Canada, and Down East's surrounding region—fanned out across the fields, walking up and down long rows of bushes marked with white string. They stooped low, pushed their rakes into the bushes, then dumped one load after another into candy-colored plastic boxes that hold 25 pounds of blueberries apiece. They're paid $2.25 for each one they fill. On a good day, some of the best rakers make several hundred dollars. On a bad day, the notoriously backbreaking work hardly seems worth it.
At least some workers still show up. "It's where I find my inner peace," says Josh Paul, a 34-year-old raker from nearby Cherryfield, who has been working the harvest since he was 7. On the rise of the machines, he seems resigned. "It makes me sad, you know? But it's definitely the future. There's nothing that's going to change it."