Iris Apfel has become world-renowned for her eccentric sense of style. She has been called a fashion legend, a style maverick, a rara avis. The nonagenarian has developed a large following of young people attracted to her unique blend of aesthetic brilliance and self-assurance.
After starting her career as an interior designer, Apfel, along with her husband, Carl (who is now 99), founded international textile house Old World Weavers in the early 1950s. During the course of her career, she traveled the world to raid souks, bazaars, thrift shops, and countless couture houses, and completed White House restorations for several administrations, including those of Truman, Eisenhower, Kennedy, Nixon, Reagan, and Clinton.
Along the way, Apfel amassed a vibrant wardrobe, comprising thick bangles and necklaces, her signature glasses, wildly printed dresses, and eveningwear, that has been known to lend her—in the words of Harold Koda, curator in charge of the Costume Institute at the Metropolitan Museum of Art—"a Fellini-esque theatricality."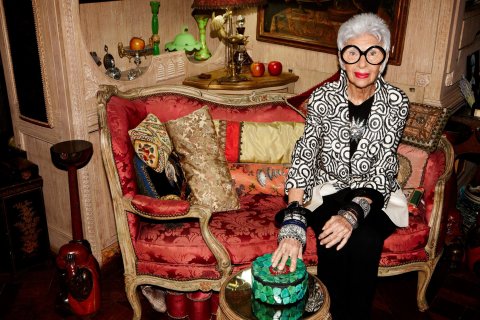 Apfel was photographed widely when she was younger, and in 2005 she inspired an exhibition at the Costume Institute spotlighting 40 pieces from her personal collection. She was the subject of a book, Rare Bird of Fashion: The Irreverent Iris Apfel, published in 2007, and is currently the focus of an upcoming documentary by filmmaker Albert Maysles, who was behind the original Grey Gardens in 1975. She also lends her distinctive fashion sense to various brands. Known for her taste in eyewear, Apfel has a collection through Eyebobs, which makes stylish glasses for the older set. And she's bringing her unique take on accessories to a collaboration with Swarovski, which will be sold on the Home Shopping Network.
The funny thing is, she never set out to be famous, never dressed to be noticed. She's a preacher of confidence and fearlessness, and often says about fashion: "It's all attitude. Attitude, attitude, attitude."
Before turning 92 on August 29, Apfel talked to Tavi Gevinson, 17-year-old founder of the website Rookie, about her philosophy on personal style, where she finds inspiration, and why she's still a teenager at heart.
This interview has been edited and condensed.
Tavi Gevinson: When did you feel that you could call yourself a grown-up and could no longer ask yourself what you wanted to be when you grew up?
Iris Apfel: I had a very brilliant father who was not only intellectual, but was street-smart and very curious to boot. The day I found out that he didn't know everything, I grew up. It was a shock. I just thought that the man was the end-all of everything, and he knew the answer to everything. Then I found out I'd have to find out my own answers.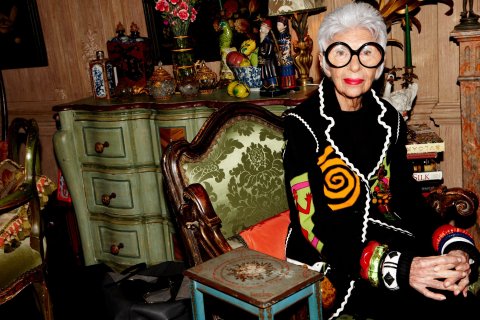 Was that discouraging or inspiring?
Oh, no, it wasn't discouraging. I don't want to know everything. I think people try so hard to learn everything that they miss all the wonderful essentials. There is so much mystery in life that you should leave a mystery.
I love that. There's an astrophysicist named Neil deGrasse Tyson who says that.
See? I don't have a degree in astrophysics and I figured that out.
[Laughs] People ask him things like "Isn't it scary that we don't know what 95 percent of the universe is?" And he says that's what inspires him to go to work each day. You have to embrace your ignorance.
When you learn everything, it becomes too cut and dry and uptight. OK, good. We agree.
How has your relationship to fashion changed throughout your life? And, alternately, how has your relationship to style changed?
For me, they've been one and the same because I've never been in the fashion business. So it was fashion as related to me, which is personal style. And it really has not changed, because I've always seen things the same way. I think my taste has been polished and my eye has improved, but my basic tendencies are the same.
"To lead the good life in New York, the two most important things for a woman are a chauffeur and a fur-lined raincoat. If you have those two things, you're made."
Where is the most unexpected place you've found inspiration?
I don't expect to find inspiration. It just sort of comes. Sometimes you step on a bug and you get inspired.
What advice would you give to someone in that moment of self-doubt before they go out wearing an outfit people might find strange?
They need enough courage not to worry about what other people think. You have to know yourself and know what you can carry. If you're not comfortable, no matter how well dressed you are, you're not going to look right. I'd rather be happy and feel comfy.
That's a good method.
It works for me. When it comes to style, you can't copy anybody's method. Eric Boman, the man I did my book with, always says about me, "Most people look in the mirror, and their mothers tell them, 'Take one off.' You look in the mirror and always say, 'Put another one on.'"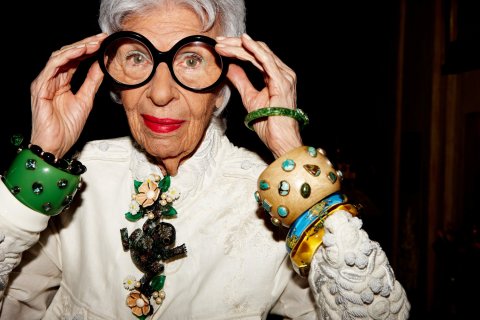 What has been your proudest accomplishment?
I've been doing a program for the University of Texas at Austin. They made me a professor, which pleased me to no end, and I've helped a lot of kids see where they're going and have tried to help them get there.
Wow. What have you learned from doing that program?
When you go for a job, you have to get into an organization that not only fulfills your creative needs but also suits your personality. For example, I take my students to a big company. Everybody there has a very specific niche, and they do not get out of that niche, so sometimes it takes months and months for a design to come to fruition. That's fine if you have that kind of personality. Then I take them to a much smaller place with about 20-odd employees that manufactures the same kind of object. Everybody there does everything, whatever is needed, more or less. It's a whole different ambience. I always tell people to try a few different places and find what suits them best. Don't go into a corporate firm that's highly specified and then say, "Oh, I don't like the fashion business." Maybe it's just the way that that particular corporation works that you don't like.
Right.
If you don't learn constantly, you don't grow and you will wither. Too many people wither on the vine. Sure, it gets a little harder as you get older, but new experiences and new challenges keep it fresh.
It's inspiring to see what you do, because you do it in a way that is your own. I can see that in your personal style and the work you put out into the world.
I'm very touched, thank you. There are huge segments of females in society that wear themselves ragged about how they look. It's very sad. I've had heart to hearts with people of all ages, and they are really so unhappy. They don't know how to put themselves together. They don't know where to go for advice. They just can't find what they think they're looking for. They don't want to look like everybody else, but they feel they have to. It's a psychological mess.
But you give hope to the rest of us.
Thank you for that. If they all turn out like you, then mission accomplished.
Aw, thank you. What has been the biggest challenge for you to overcome?
I never think about challenges because I've always fallen into things. If somebody told me five years ago that I'd be talking to you, being interviewed and lucky enough to be somebody that people know, I would have laughed and said, "You're off your rocker."
Well, it's worked out!
I hope! I guess getting through every day is a challenge. Well, it is when you get older. If you have to get around in New York, and you're not very young and you can't use the subway—especially me since I broke my hip—it's really tough. To lead the good life in New York, the two most important things for a woman are a chauffeur and a fur-lined raincoat. If you have those two things, you're made.
A lot of people glorify and romanticize the idea of being an early bloomer: finding success very early and being a child star. But it can also be quite dangerous. You've had a very different experience.
Yes, we're totally opposites in that area—you bloomed early, and I bloomed late!
What has been valuable to you about being a late bloomer?
Know that it's just a lot of la-di-da. You shouldn't take yourself too seriously and believe your own press. You shouldn't become a diva or think that because people write nice things about you, you're pretty swell. I've been doing this for over 70 years, and I haven't changed. I haven't changed my style, I haven't changed my thinking, I haven't changed my look, and now everybody's dancing up and down and jumping around. To say I don't enjoy it would be lying; it's very nice to have some adulation, deserved or not. But sometimes, when it happens too young, people think that everything is coming to them, that they're just so special, they don't have to do this and they don't have to do that, and they're so much better than everybody else—and that's sad. That's why I think you have so many of these drug addicts and suicides and everything in show business. Somebody has an instant success with a recording or something, and then they can't repeat it. They're a one-trick pony.
I'm very grateful that, at my tender age, I've had all this. I don't know what I would have done otherwise. Most of my good friends are gone. I don't play cards, I don't play golf, I don't like to go to ladies' luncheons—to me, that's a fate worse than death—and this gives me purpose. I'm so grateful.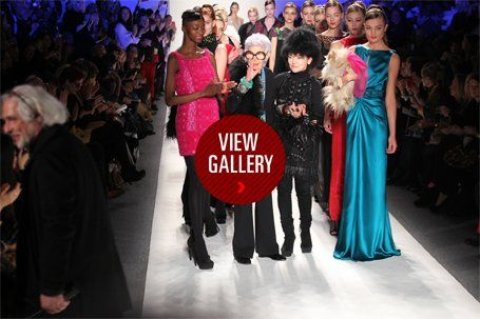 I think that's a wonderful place to end.
Good. When are you coming next to New York?
In October. I'm being interviewed at The New Yorker Festival, and then they're letting us throw a little party for all our teenage readers.
Just keep in mind I'm the world's oldest living teenager.
I will remember that for sure. What makes you say that?
I always feel like that. I always tell that to everybody. Being a teen can be wonderful.
What do you think is so wonderful about it?
It's a beginning, and everything is fresh, and you're learning. It's like a great awakening. All these things you never realized were around are around, and you can investigate them and experience them. It's wonderful.