It's 8:35 a.m., and I'm naked in Barbara Buono's bathroom. If you haven't heard of Barbara Buono, don't worry—you are not alone. Buono is the Democratic nominee for governor of New Jersey, but she is being almost comically overshadowed by her Republican opponent, Chris Christie—the savvily obnoxious, wildly popular governor who in several weeks is expected to annihilate Buono at the polls by 20 points or more, and then, presumably, focus on running for president in 2016.
So what am I doing naked in the guest bathroom of a gubernatorial candidate? (The bathroom, like the rest of her home, is tasteful, if unremarkable: butterfly prints on the wall, a boombox on the sink.) A few days earlier I had interviewed Buono for the first time. Having heard that the 60-year-old state senator kept up a rigorous exercise routine, I asked if I could go jogging with her. Rather than demur or laugh it off, she agreed without hesitation. And so, on a muggy Tuesday morning in late August, we ran five miles near Buono's Metuchen, New Jersey, house—for the record, she is in fantastic shape—and afterward I asked if I could wash my face. Hospitably she told me to go ahead and take a shower.
It's possible that, in agreeing to run with me—to say nothing of letting me bathe in her home—Buono was just being a good sport and humoring a pain-in-the-ass reporter, but she may also have had other incentives. One is that her opponent is famously obese, and going on a run with a reporter may have struck her as an easy-enough opportunity to highlight their contrasting levels of physical fitness. (In the interest of balance, I asked Christie's press secretary, Kevin Roberts, if the governor might be up for a jog. "We'll have to see what the schedule looks like," Roberts replied.) But the more likely explanation, I think, is the simpler one, and it's also probably the reason Buono was willing to let me spend so much time with her over the course of several days last month: at this point, she needs just about any kind of media attention she can get.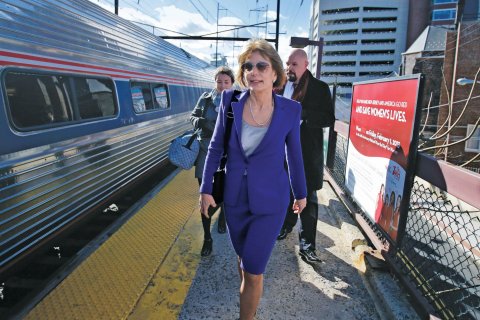 The fame imbalance between incumbent and challenger is often a reality of politics, but this year's gubernatorial election in New Jersey has taken things to another level entirely. Buono, as I learned while watching her in action, is smart, experienced, earnest, and on most issues—from gun control to health care to abortion—far closer than Christie to the views of most New Jersey voters. Indeed, ideologically speaking, there's little difference between Buono and Cory Booker, who, in the same state, in the same election year, is going to win his Senate race by a massive margin.
The problem for Buono is that, unlike Booker, she isn't a celebrity. Instead she's running against one. And running against a celebrity may be more difficult today than at any time in recent American history. State and regional newspapers—the institutions that used to police campaigns and ensure some measure of equal time between candidates, while applying a degree of investigative scrutiny to powerful incumbents—are withering. "The Star-Ledger used to have great investigative reporters not that long ago," Buono says, in the course of lamenting the—hint, hint—"waste, fraud, and abuse in state government." Meanwhile, the relative demise of these papers has made it all the more important for candidates to speak directly to voters through social media—a medium that provides a huge built-in advantage to a politician who is already a celebrity. (Christie has almost 400,000 Twitter followers. Buono has under 6,000.)
To the extent that local news organizations have been able to survive at all, it's by relentlessly focusing on Web traffic. And pretty much everything Christie says or does seems to draw clicks. "He farts somewhere, and these guys write 150 articles about it," David Turner, Buono's communications director, complains to me. What's more, the weakness of local media has placed increasing amounts of power in the hands of national media outlets—from late-night shows like David Letterman and Jimmy Fallon to magazines like New York. And guess which of the two candidates for New Jersey governor these outlets find most interesting?
In fairness, it isn't just the media that have frustrated Buono's efforts to get traction. With Christie widely viewed as a shoo-in, few prominent Democrats have been willing to stick their necks out on her behalf. In New Jersey, many Dems have abandoned her, while national power players, including President Obama, have all but ignored her.
I wondered: what does it look like, up close, when a credible, politically reasonable—but largely unknown—person attempts to get a fair hearing for her rather popular ideas in the face of an unstoppable juggernaut like Chris Christie? And is it possible that, in the doomed, depressing campaign of Barbara Buono, there lies a broader cautionary tale about the way American democracy treats political celebrities?
THERE ARE several types of candidates who run doomed races. There are people like Alan Keyes (Barack Obama's Senate opponent in 2004)—extremists who parachute in because they have nothing to lose. There are also those, like recent New York mayoral candidate John Catsimatidis, who are underqualified but tremendously wealthy and use their own money to prop up their campaigns, even though they have little chance of winning.
Buono fits neither of these models. A lawyer who spent seven years in the state Assembly and 11 more in the state Senate (two of them as majority leader), she's got a solid résumé. She's a forceful speaker and does well on camera. Against another candidate, in another election, nobody would be writing her off.
But the Christie of 2013 is about the toughest opponent imaginable. That's partly because his very public bromance with President Obama in the wake of Hurricane Sandy—just days before the presidential election—earned him a lot of good will with New Jersey Democratic voters. A week before the storm, according to a Quinnipiac poll, Buono trailed by 16 points. By late November, Quinnipiac had her down by 38. "No, she doesn't have a shot," says Monmouth University pollster Patrick Murray. "Before Hurricane Sandy she did have a shot."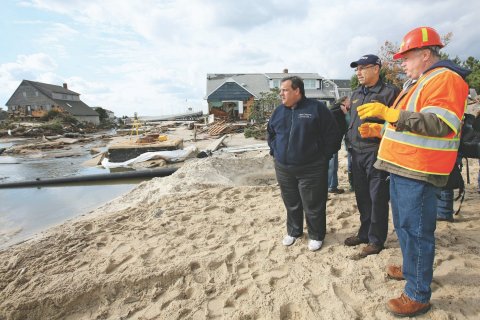 By late 2012, most observers had concluded that Christie would be basically unbeatable in 2013. Booker, the popular mayor of Newark, chose to run for the Senate rather than challenge Christie. Another relatively high-profile Democrat, former interim governor Dick Codey, told me he was deciding between running for governor and expanding his family's funeral-parlor business. He chose funeral homes.
In the end, Buono was the only Democrat who ran. Why didn't she take a rain check like the others? Does she genuinely believe she can win? "She probably thinks she has a shot," says one former adviser to her campaign. "I don't know. Or maybe she thinks she has a really good chance of surprising the s--t out of everyone and getting close." For her part, Buono says what you would expect about her odds of victory—though with a bit of a caveat. "If I raise the money, if I get the money, I'm going to win," she tells me. (Christie's raised over $4.5 million; she only recently broke the $500,000 barrier.)
I meet Buono for the first time at a homeless encampment known as Tent City, in Lakewood, not far from the Jersey shore. In person, she looks a decade younger than she is, her light copper hair cut stylishly below the jaw line. Tent City makes for unusual political terrain—obstacles include a proliferation of roosters—but Buono is in her element. Guided by Pastor Steve, who runs the camp, she walks up to a pair of men sitting on a picnic bench.
"So tell me what happened. What led you here?" she asks one of them, Paul Cohen. Cohen had worked for 29 years at Engelhard, a major industrial firm based just outside Buono's North Jersey district. In 2006 Engelhard was bought by German chemical giant BASF. In 2009, Cohen says, the company was downsizing, and he lost his job. After a few years of unemployment, he found menial work at a ShopRite supermarket, but soon lost that job, too, and became homeless. Now he lives in Tent City.
"Well, I'm going to try to help you when I'm governor," Buono says after hearing his story. "Because it's not a campaign stop for me. I want you to know that I care, and I'm not just going to fall in love with running for another office and forget about you."
Buono actually does have compelling reasons to empathize with the men and women of Tent City: her upbringing was far from privileged. Her father immigrated from Naples, and she grew up in Nutley, New Jersey. Buono was politically minded from a young age: in her high school yearbook, according to New Jersey Monthly, the entry below her senior portrait reads, "Barbara, who would like to practice law, fears the continued repression of the female." Her parents had a rocky marriage. After her father, a butcher, died while she was in college at Montclair State, her mother "kind of went off on her own," and Barbara found herself living on friends' couches. Looking for work after school, she proudly failed a typing exam; she envisioned herself not as a secretary, but as a strong, independent female political figure like Barbara Jordan or Shirley Chisholm, the original protest candidate.
That backstory is one of the many things Buono has going for her as a politician. "Since day one, since the first poll we took, our polling shows that when people hear who I am, just my narrative, my bio, it moves people very easily," she tells me. But Buono's story is something most New Jersey voters will probably never learn. In fact, a large percentage know very little about her. An August poll found that 48 percent of voters had no opinion of Buono at all; only 8 percent had no opinion of Christie. (One campaign spot features Buono, Sesame Street–style, sounding out her name for the camera: "That's Democrat Andrew Cuomo. I'm Democrat Barbara Buono.")
Buono herself doesn't always do much to correct this problem. After meeting Cohen at Tent City, she approaches a pit bull and its owner, a woman named Vera. "How you doing? I'm Barbara Buono," she says, petting the dog. Later Vera will tell me that she has no idea who Barbara Buono is.
Next we visit another dog, this one belonging to a woman wearing a yellow shirt. "Everybody, this is Barbara—Barbara Buono!" says Pastor Steve. "Barbara the cat lady?" the woman in the yellow shirt asks excitedly. "No, no," Buono says with a laugh, while remaining coy about her real identity.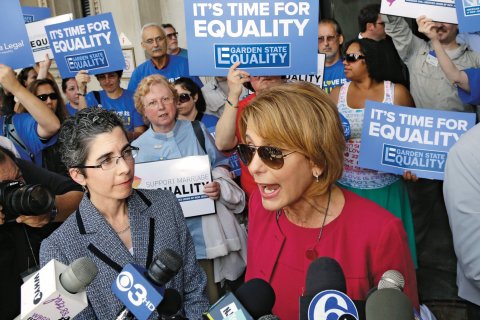 Yet the name-recognition problem is also, in many ways, beyond Buono's control. Even when she does get mentioned in the press, it's often for the purpose of dismissing her chances. Tent City resident Bert Haut, who supports Buono, says he knows who she is because he's been listening to New Jersey 101.5—the state's preeminent talk-radio station—where, according to him, the talking heads ask: "Why is she even running against Christie? She don't have a chance."
That's true across all media. It's true in the pages of the Post Eagle, a weekly Polish newspaper published out of Clifton ("Christie has in fact drawn huge support from Democrats across the state while his Democratic opponent Barbara Buono has run a campaign that is searching for media attention"), and it's true in the pages of the much glossier New York magazine, which managed to publish a recent cover story on Christie while mentioning Buono just once ("the tension of the summer has nothing to do with his reelection campaign—he leads in the polls by more than 30 points and the name of his opponent, State Senator Barbara Buono, is barely mentioned at all").
Then there was the Sunday morning in July when Buono was invited on MSNBC's Up With Steve Kornacki to contribute to a segment about conservative governors in liberal states. She used the appearance to stump against Christie, but Kornacki did not seem impressed. As if to indicate that she had misunderstood her role, the host brought up the election just once, telling her, "I don't think much of your chances to win." "I don't mean it personally at all," he continued, "but if you could just make the case for when and how this race is going to turn in your favor."
"He owes me one," Buono tells me as we sip unsweetened iced teas at a diner in Lakewood, after the Tent City appearance. "He was not nice to me on his show." The exchange was doubly painful because Kornacki knows Buono personally, from his days covering Jersey politics. Even to him, she was nothing more than a speed bump, temporarily impeding Christie's march to 2016.
Since she's viewed largely as a foil for Christie, most New Jerseyans have little idea about what Buono stands for—but she does, in fact, have plenty of policy positions. Buono is basically campaigning on a "straight-up liberal" platform, as one Jersey political reporter puts it. At Tent City, Buono criticizes Christie for a recent pledge to divert tens of millions of dollars in funding for affordable housing to plug budget holes. She also has an education plan that backs away from the charter-and-voucher model that's taken hold in New Jersey. She says she "loses sleep" over Christie's decision to halt the construction of a train tunnel from Jersey to Manhattan. Her running mate is a Latina vice president of a Service Employees International Union chapter. She is, in other words, an old-school Democrat: undoubtedly somewhere to the left of the average New Jersey voter, but hardly outside the mainstream. It's at least plausible that more New Jerseyans would consider voting for her—if they knew who she was.
After Buono leaves the diner where we were chatting, I notice a framed photo of Christie behind the cash register and ask the owner and the waitresses what they think of their latest customer. None of them—no surprise here—has any idea that a candidate for governor was sitting in one of their booths.
IF BUONO hasn't had much luck getting her name in front of average voters, she hasn't fared better with the state's Democratic establishment. The same week that I begin shadowing Buono, I attend an event at a bar in Philadelphia called Finnegan's Wake. A columnist for the Philadelphia Daily News is hosting his annual political-comedy night, which means we get inside jokes about his apparent penchant for Southeast Asian sex tourism. The guest of honor tonight is Cory Booker, here at the request of an ally named George Norcross III. Norcross is co-owner of the Daily News and The Philadelphia Inquirer, but more important, he's widely considered to be the political boss of South Jersey—a man who has used his wealth and connections to successfully shape Democratic politics in the southern half of the state for several decades. And, like many powerful Democrats, he is known to be on good terms with Christie.
In January Norcross offered Buono some extremely tepid support, saying that "in the absence of anyone else, the party ought to rally around her." Since then, he's basically been invisible, so I ask him if he's planning to formally endorse her against Christie. "Uh ... I encouraged her to run many, many months ago," he says after trying unsuccessfully to defer our conversation. I ask again. "I'm not an elected official. But obviously, I'm supporting her candidacy, like all good Democrats are." He remains lukewarm about her throughout our talk and hints at the reasons he's not head over heels. "She and I have had, along with a number of other people, philosophical differences over time," he says. "But, you know, she's a smart, talented person. But again, people aren't realizing who she's running against. And it's a significant, significant disadvantage. The last time we saw things like this was, you know, Ronald Reagan running against Walter Mondale."
In fairness, despite not campaigning with her or raising any money for her, Norcross hasn't openly endorsed the other guy, as has his North Jersey counterpart Joe DiVincenzo, known as Joe D, the executive of Essex County. Explaining his decision, he said he didn't want to "die with the party" and "wait in the back of the line" for state funding come 2014.
The last few years of Buono's career have basically been defined by similar slights from her own party. In January 2012, she lost her position as Senate majority leader when Christie-allied Democrats forced her out. In August 2012, the party chair declined to choose her as one of the state's 18 delegates to the Democratic National Convention. She went anyway, defiantly, but was forced to procure her own pass and stay in a different hotel without the rest of the delegation.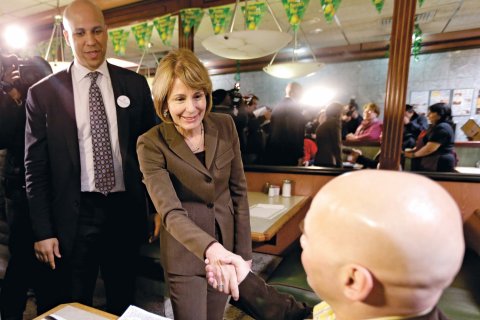 In June 2013, it got even more embarrassing. She was by then the party's nominee, and the party needed a new state chair. In New Jersey, the gubernatorial nominee has always been granted the right to pick the chair, no questions asked. But when Buono picked her guy, the party big shots simply refused to accept her choice and forced her to settle on a different candidate. "They didn't just throw her under the bus," says Buono's former campaign aide. "They threw her under the bus and drove over her back and forth, over and over."
Since announcing her candidacy, around 50 (it's become hard to keep track) elected Jersey Democrats have endorsed Christie. The Democratic Governors Association, aside from a $3,800 donation, has been sitting on its hands. Then, in late August, came the biggest blow: Obama would not be stumping for her.
Booker, meanwhile, has endorsed Buono and did campaign with her. But at this point he's focused on his own campaign for the Senate. "Booker was her best surrogate," the Jersey politics reporter told me. "The most press she had gotten was when he campaigned with her in Newark. Now he's got a race to run. So she lost that."
Why have many Democrats been so unenthusiastic about Buono and so warm toward Christie? One explanation might be Buono's already sour relationship with the party's (more conservative) power brokers, which stems from her unwillingness to cut deals with them. As one veteran statehouse insider explained, "It takes two to tango." But it's also true that the impression of Christie as the inevitable victor has become so entrenched, nobody wants to risk being the guy who goes out on a limb for Buono only to face retaliation from the famously thin-skinned governor.
"You have to feel a little bad for her," says Jeff Smith, a former underdog U.S. House candidate in Missouri who has since decamped to the Northeast and teaches political science at the New School. (Before arriving, Smith did some time in prison for a scandal involving campaign-finance rules.) "Obama screwed her with the many Christie photo ops, Booker screwed her by taking his sweet time to decide ... and some party bosses screwed her by quietly (or in a few cases, openly) supporting Christie."
EARLY ON a Saturday morning, two days after I meet Buono for the first time, I'm standing in a parking lot outside RFK Stadium in Washington, waiting for her to show up. Buono has traveled to D.C. to participate in the 50th-anniversary commemoration of Martin Luther King Jr.'s March on Washington. She's arrived in a coach bus with a local chapter of the Communications Workers of America and members of the New Jersey delegation of the NAACP. The event was listed on her public schedule, but it quickly becomes clear that I'm the only member of the media who's made the trip in order to observe her. When Buono sees me waiting, I detect a slight wince: it's probably better to have no reporters around than one reporter who can note the lack of other reporters.
"Should I take off my sunglasses?" Buono asks her staff after getting off the bus. She's wearing jeans, Toms shoes, and a little drawstring backpack. "I look better with them, right?" She's got four aides with her today, most of them fresh out of college. One is wearing braces. We look like we're on a high school field trip, trudging along with the masses, following our chaperone.
The purpose of being here is to call attention to Buono's passion for civil rights, particularly her opposition to the Supreme Court's recent decision overturning a key section of the Voting Rights Act. Buono tells me that, in contrast with Christie, who has declined to take a position on the case, she felt "an emotional, visceral response," to Justice John Roberts's opinion. I ask her whether she thinks Christie is at the rally. "No, he's in East Hampton," she says. "Truly a study in contrast." (Actually: Southampton, for a $3,800-a-head fundraiser hosted by Rudy Giuliani.)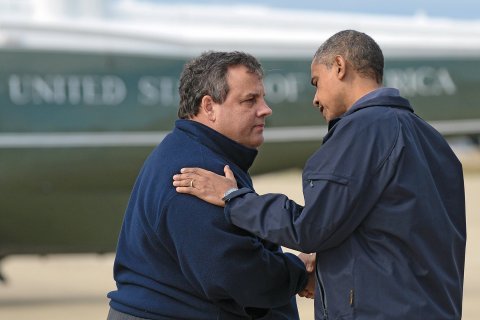 Buono's presence at the rally points to one arguable flaw in her campaign strategy: critics charge that she is more comfortable talking about national hot-button topics—like civil rights and women's health—than Jersey-centric "pocketbook issues." There is also the allegation that she hasn't articulated a concrete-enough platform. "She just has no message," says Carl Golden, a former press secretary for two Republican governors in New Jersey. "You know, she says things like, 'Well, he took 7 million out of the budget for women's health care.' And maybe he should be criticized for that. But that's not a message you run a gubernatorial campaign on."
But in Washington, as in New Jersey, the biggest challenge for Buono is always the most basic one: the fact that people just don't know who she is. Throughout our slow, tedious march to the National Mall—we'd split off from the group she came with—a handful of constituents do recognize her, but they tend to be Sierra Club types who don't need much convincing. Outside the entrance to a subway station, on our way downtown, we meet an older New Jerseyan, wearing pigtails and holding up a vaguely socialistic sign, who says she was at the original March on Washington. "If they still had a draft, the war in Iraq never would have happened," she says during a conversation with Buono. "The young people would have risen up." "Kids in their 20s are very, very engaged," Buono replies, trying to steer away from wherever this is going.
After several hours slogging toward the Lincoln Memorial, we've only made it a little more than halfway down the Reflecting Pool, and Buono and her team decide to watch what they can from afar. The day doesn't seem to have been much of a success: Buono never managed to meet up with her running mate, Milly Silva, and connected with only a handful of voters. (Her friend Booker did make it to the steps of the memorial, where he gave a speech; the closest Buono would get to him was on the train back north, where he graced the cover of the Amtrak magazine in her seat-back pocket.)
Suddenly, noticing Congressman John Lewis at the podium, Buono peels off to get a better view, leaving us behind. Staring up at Lewis, she seems enraptured. For a few moments, this is no longer a campaign event, and she's no longer a candidate; she's just an admirer. The spell doesn't last long. A woman in a bright yellow T-shirt tells Buono to get out of the way—she's blocking her view.
LATER THAT day, back in New Jersey, I get to see Buono at her best. The setting is a gay-pride festival just across the Hudson River from Manhattan. By the time we arrive, the crowd has thinned and devoted their energies to a dance party. Walking to the stage, Buono bounces to the DJ's set and whispers in my ear, "They have the best music!" After she gets complimented on her Toms by a vice chair of Garden State Equality, the music goes silent, and Buono steps up to the mike.
Buono has a gay daughter—who has been featured in one of her campaign videos—and it's clear that she cares passionately about gay rights. She tells the audience the story of a bakery in Oregon that declined to bake a wedding cake for a lesbian couple—"Can you believe that? In 2013 two individuals willing to pay for a service are told by the owners, 'We don't do gay marriage'?"—and then uses the anecdote to effectively hit Christie for his stance on gay rights.
"Well, being that I just came up from Washington, D.C.," she says, "we were celebrating the 50th anniversary of the March on Washington, the civil-rights movement, it started me thinking about—a lot of you in the audience are too young to remember Woolworths. Woolworths used to have—they had that policy that—remember that policy? The lunch counter? It's vaguely reminiscent of the policy at this bakery. And because there were sit-ins, there were protests, there were people demanding justice, that policy ... is in the history books. Well, now we have a governor in the state of New Jersey who says New Jersey doesn't do same-sex marriage."
Polls show that Christie's opposition to gay marriage—which he vetoed in 2012, after it passed the state legislature—is extremely unpopular in New Jersey. According to one June survey, only 31 percent of voters oppose same-sex marriage. On its face, this seems like a paradox: how can so many New Jerseyans vote for a governor they don't agree with on a hot-button issue? The problem may be that, blinded by Christie's celebrity and his reputation as a moderate, many voters don't actually know what he believes. A separate poll, conducted in April, found that a quarter of respondents incorrectly identified Christie as pro-choice and pro–gay marriage.
A couple of days before the rally, I'd asked Buono whether it was a bit naive to think she could win on the strength of her liberal bona fides alone. "I think idealism is enough to win as long as people know who I am and what my vision is," she says. "The whole issue is communicating that to people."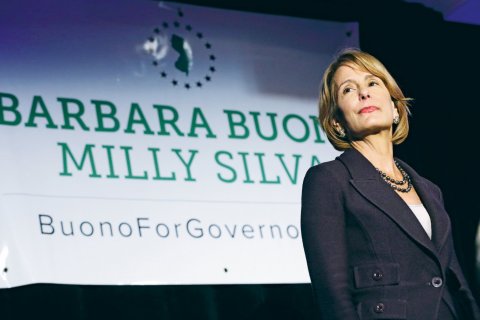 A FEW days later, I pull up to Buono's Victorian home in Metuchen, where she's lived for 31 years. She's already pacing in the backyard—wearing a gray Under Armour top and blue shorts—when I get out of my car. David Turner's there too. I meet her neurologist husband, Martin, who emerges from behind a door to express his regrets that he can't come. Buono tells Turner and me that we'll start with three miles, and if we're up for it, we'll do two more.
The run is pure New Jersey, taking us from cul-de-sac suburbia to a quiet wooded trail to a steel footbridge floating above the fumes of U.S. 1. It's hard to sustain any single topic of conversation too long, with everybody panting and nobody really wanting to talk. Yankees or Mets? Not a baseball fan. Giants or Jets? Ummm, Giants, but she prefers tennis. She's fine with whatever you want to write, as long as you don't use too many nasty quotes from unnamed Democratic sources. Our interview meanders like this for a while, until something I say strikes a nerve. On the topic of Obama's refusal to stump for her, Buono expresses clear annoyance: "I don't know, I think it'd be a pretty nice part of his legacy, albeit a small part, to step in and help the underdog first all-women ticket."
But Obama can't be bothered to help—perhaps because Buono's underdog status has become self-fulfilling. Politicians will not help her and the media will not pay her much attention because Christie is unbeatable, and Christie is unbeatable because politicians shun her and the media ignore her. Even when she does get a few minutes of precious airtime, Buono is painfully aware that no matter what she says or does, the story will never truly be about her. As she puts it: "Why do you think I'm getting on MSNBC?"
About two weeks after our run, Buono will finally get a hint of celebrity in her campaign. The actress Kerry Washington is a cousin by marriage of Milly Silva, Buono's running mate, and she makes a campaign appearance to formally endorse the ticket. "She is a woman that I look up to in so many ways," Washington tells the crowd at Montclair State that gathers to hear her endorsement. "And I called Milly when I heard that she was running for lieutenant governor of New Jersey, and I said I think we should step out there. I think we should let people know. And not because this campaign needs a"—at this point, she makes air quotes with her hands—"celebrity endorsement." She's right. What Democrats needed was a celebrity candidate.