She's the woman behind nine No. 1 songs and more than 28 million singles sold. In fact, she's the woman behind pretty much all your favorite pop songs from the past three years. The thing is, you've probably never heard of her.
Bonnie McKee has been called pop music's "best secret weapon" and its "best-kept secret." Since 2009, she has written or co-written an astonishing string of smash hits—the kind of inescapable radio sensations that embed themselves in your head, playing on a loop. She has written for Ke$ha, Kelly Clarkson, Adam Lambert, and Christina Aguilera. She penned No. 1 hits for Britney Spears and Taio Cruz ("Hold It Against Me" and "Dynamite," respectively). She's partly responsible for the unprecedented collection of No. 1's on Katy Perry's 2010 album Teenage Dream: "California Gurls," "Teenage Dream," "Last Friday Night (T.G.I.F.)," and "Part of Me." Perry's latest chart-topper, the empowerment anthem "Roar," is also McKee's handiwork.
"It was definitely difficult for me, wanting to become an artist," McKee says about watching others' fame skyrocket on the back of her songwriting. After clandestinely gilding albums with her Midas touch the past four years, McKee's ready for the secret to come out.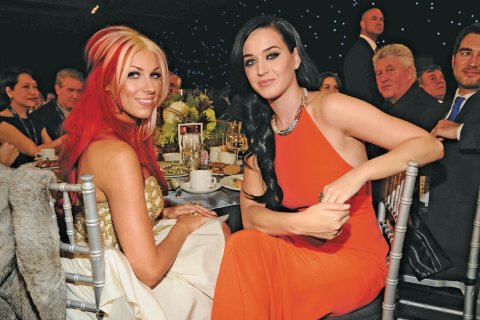 "American Girl," the lead single off McKee's debut album—expected in early 2014 from Epic Records—appropriates some of her hit-making prowess for herself. The song went up on YouTube in July with viral video–making fanfare, including a red carpet's worth of McKee's celebrity friends—from Ke$ha and Perry to Joan Rivers and George Takei—lip-syncing to the track. The video was as much a love letter to McKee from the chorus of industry players rooting for her breakout as it was a ploy to drum up interest in her career launch. To date, it has amassed more than 3.5 million views on YouTube, and played on the radio all summer.
Songwriter-to-superstar is a path traveled with increasing frequency recently, with Bruno Mars, Ke$ha, and Lady Gaga all penning hits for others before stepping up to the mic themselves. Still, future stardom isn't a foregone conclusion. For every Bruno Mars, there is a songwriter who has failed at the endeavor. One of the most famous cases is Kandi Burruss, who wrote hits like the Grammy-winning "No Scrubs" for TLC, "Bills, Bills, Bills" for Destiny's Child, and "There You Go" for Pink, only to have her solo effort, 2000's Hey Kandi, flop. She's currently a regular cast member on The Real Housewives of Atlanta and starred in one season of The Kandi Factory (it wasn't renewed by Bravo).
Dressed in a leather crop vest to go with the leather glove on her left hand, cow-print leggings, and neon-pink pumps that match her neon-pink lipstick, McKee, 29, is a style smorgasboard of the artists she grew up worshiping: early Madonna, Billy Idol, Axl Rose, and even Carole King. Her Hollywood Hills home, too, resembles the set of one of those stars' music videos—candy-colored walls and furniture, brimming with pop iconography, and decorated with vintage Technicolor set pieces. It's a fitting abode, considering McKee's mantra: live life like you're starring in a music video.
Interestingly enough, her career trajectory has been perfectly written to fit an installment of Behind the Music. McKee was kicked out of school in the ninth grade, when, as luck would have it, she had just finished recording a demo as part of a high school project. She "knew someone who knew someone who knew someone in L.A.," who got the demo into the hands of local radio DJ Nic Harcourt. He played it. A bidding war started. A record deal with Warner Bros. happened. At 16, McKee moved from Seattle to Los Angeles. "I won the lottery," she said. "I was invincible. I believed all my problems were gone and I finally made it, that L.A. was my answer to everything."
'It was just an act of desperation. I needed to get his attention," she says. "Needless to say, I got dropped.'
The release of her first album, Trouble, in 2004, however, was hardly charmed. It barely registered in the industry. "The album ended up being more singer-songwriter-y and less pop," she says. It was "the girl stuck behind the piano" at a time when "the kind of Michelle Branch and Avril Lavigne thing was dying down." McKee wanted to be like Britney and Christina, but the music she was writing was dark and tortured. "I hadn't figured out how to translate that," she says.
She began work on a follow-up album, only to get radio silence from the label. Ignored and depressed, she spiraled. She began using meth. One misguided night, she purchased a dagger from a smoke shop on Hollywood Boulevard. It had a tiger on it with a jewel in the eye. She drove to Warner Bros. then-CEO Tom Whalley's house in the middle of the night and stabbed her demo CD onto a tree right outside his front door. She scrawled "Platinum, baby!" in lipstick on his car. "It was just an act of desperation. I needed to get his attention," she says. "Needless to say, I got dropped."
'The key to writing hit songs is simplicity,' McKee says.
McKee's second chance came when her boyfriend Oliver "Oligee" Goldstein, one half of the electronic duo Oliver, helped her land a meeting with Pulse Recording. She actually used the three songs from that demo she stuck onto the tree to land the deal, becoming one of Pulse's first publishing signings. Her job was to meet with artists, producers, and other songwriters and collaborate on new tracks. It was, in its own way, a huge break, even though it didn't seem that way at the time. "I had never really co-written," she says. "I thought it was weak or something if I needed to collaborate."
By the time she was brought in to write on 2010's Teenage Dream with Perry, she was broke. "Like, really broke," she says. The two had met years earlier, when they were both penniless songwriters hawking their clothes at a Los Angeles thrift store for enough money to buy dinner at Taco Bell—only since then Perry had gone on to score one of the buzziest debuts for a new artist ("I Kissed a Girl"). Those Teenage Dreams sessions, of course, turned out to be career making for both parties. "I think the key to writing hit songs is simplicity," McKee says. "Try to say something familiar in a unique way, so that it's sing-alongable, even if you don't speak English." Her song "American Girl" abides by that rule, and nails that rallying cry for endless summer and I-don't-give-a ... empowerment. The opening lines: "I fell in love in a 7-11 parking lot / Sat on the curb drinking Slurpees mixed with alcohol."
"I always thought she was an incredible songwriter," Josh Abrahams, co-founder of Pulse, says. "But somehow she wasn't writing the right songs for where she was at in her life," he says of her first album.
In the end, cutting her teeth in sessions with stars like Perry may give McKee the advantage in breaking out this time around. "Bonnie's learned a lot from being in the room with these great writers and artists," Abrahams says. In its third official week of release, "American Girl" is at No. 92 on Billboard's Hot 100—and surging. Perry's "Roar," meanwhile, dominates for the second week in a row.
***
McKee On Her Hit-Makers
"California Gurls": Katy wanted to do an answer song to "Empire State of Mind." The song sounded like summer, and I knew I wanted to get popsicles in there. So we started weaving together imagery from "Beverly Hills 90210" and California in the '90s: the beach and the palm trees. We knew it felt West Coast.
"Teenage Dream": This is the most dear to me. The whole teenage thing has been a theme in my music. On my first album I had a song called "Confessions of a Teenage Girl." I was always trying to write that song and finally nailed it with "Teenage Dream." So I had to break up with the word "teenage," and that was hard for me. I love that song, but if I sang it, it may never have been a hit. I'm glad it was Katy.
"Roar": "Roar" is all about female empowerment. I think Katy and I have both been through a lot in the past year. We were in Santa Barbara wrestling with how many big cats we can have in one video. And is that a bad thing? So we just went for it with the big cats in that one.
"Hold It Against Me": Writing for Britney Spears was a big deal for me. She was an idol of mine. I grew up listening to her and watching her and studying her. To hear her voice on words I had written was a big moment for me. I saw her play Staples Center and was bawling the whole time. "Hold It Against Me" was inspired by Katy. I was in the studio working on "California Gurls" with her, and in my downtime I was working on the Britney stuff. I had this track. I had this melody. I was trying to put it all together and I saw her and I was like, "Damn, Katy. If I told you you had a nice body would you hold it against me? ... Just kidding." But then I was like, "Oh my god. Not kidding! Ding ding ding!"

"American Girl": I really did fall in love in a 7-Eleven parking lot. I was a juvenile delinquent, just loitering and getting people to buy us beer and cigarettes and whatever. I grew up in the mall and was raised by television, and I feel like a lot of people can relate to that. I learned a lot of life lessons by watching sitcoms. Also, music videos really shaped who I am aesthetically, just watching MTV and VH1 and wanting to make music videos so badly.