"You eating this now or later?" asks Derek Krantz, site manager at the Kernel's BBQ, a roadside tent on a gravel lot along the Potomac River.
It's a standard question for customers buying his St. Louis–style spare ribs. If they're having the barbecue to go, Krantz doesn't take the knife to the racks. "You want to do it right before you eat them, so they will be as juicy as possible." Then he takes a foil-wrapped package from the smoker dripping with grease, adds another layer of foil, and asks which of six sauces they'd like on the side. Customers dash to their cars, tortured on the ride home by the aroma of succulent meat rubbed with paprika, two kinds of peppers, two kinds of sugar, and six secret spices.
The Kernel's BBQ is open four days a week, from 9:30 a.m. to 6:30 p.m. It can sell up to 80 racks of ribs and 150 pounds of pulled pork on a good day. In addition to a selection of sauces on the menu, there are quality sides, such as macaroni and cheese, coleslaw, and corn bread. During the past few years, a new kind of roadside barbecue stand has been taking root across the country. Unlike renegade pit masters who show up on short notice at gas stations or in the woods to sell their modest stash of meat (side dishes are considered an unworthy distraction), these stands occupy a more permanent location and hold regular business hours. The food is often presmoked in commercial kitchens, chilled, then heated to a sizzle in mobile smokers on site. Some even build smokers inside food trucks. Many take credit cards and even have hand sanitizers.
Half the fun is never knowing when you're going to come across the best ribs you've ever eaten.
Purists claim these latest incarnations are wrecking the romance of America's most original cuisine. "There are too many generic places, run by new guys who learned how to cook barbecue from the Internet," laments Ray "Dr. BBQ" Lampe, who has written eight cookbooks, including a barbecue competition guide. "Barbecue is becoming watered down and losing all its regional flavor. How can you claim to offer six authentic sauces and do them all well? It's easy if you're in Virginia to say, 'This is my Kansas City sauce.' But it's often just tweaked molasses. It's nothing like what you're actually served in Kansas City." The result: barbecue is becoming one mediocre hodgepodge of traditions, he says. (The folks at the Kernel's BBQ beg to differ.)
In a particular affront to Lampe's idea of "real barbecue roadside charm," the Kernel's BBQ—which opened the location along Route 340 in Harpers Ferry in the spring of 2012 and a second in Point of Rocks, Maryland, shortly after—plans to launch a food truck this month to serve Frederick, Maryland, and Loudoun County, Virginia. But the hallmark of real barbecue, Lampe insists, is that people will drive miles to get it. Half the fun is never knowing when you're going to come across the best ribs you've ever eaten.
"That's the magic of barbecue," Lampe says. "Every time you drive by a funky old stand, you think this could be it! You want to think that guy has a secret recipe and special sauce that you don't. And you happened to catch him that day."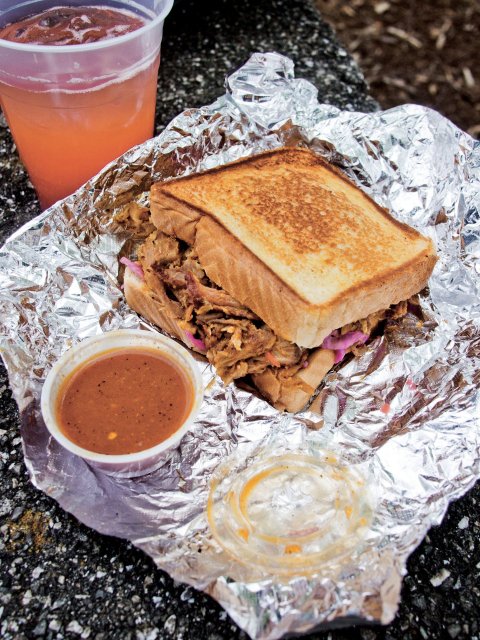 The roaming nature of the old-school pit masters was to elude the local health department certifications. But it was a crackdown in the 1970s that led to the most flavorless era in barbecue history, according to Robb Walsh, who traveled across the South to write Barbecue Crossroads: Notes and Recipes From a Southern Odyssey. Stricter health laws and the rise of fast-food chains pushed the cuisine into restaurants that cooked their 'cue in stainless-steel ovens fueled by gas instead of inside real smokers. But over the last decade, a new generation of enthusiasts has been reviving the artisan tradition.
This current evolution of the roadside stand is resonating with customers. In Loudoun County, for example, the health department certified seven such operations this year, compared with three in 2008. And during an economy when rustling up tens of thousands of dollars to start a brick-and-mortar place seems intimidating, the roadside stand appeals to amateurs who want to dip their toe into the restaurant business. "It's the ultimate inexpensive way to kick-start a business. It's even cheaper than getting a food truck," says Daniel Vaughn, barbecue editor for Texas Monthly magazine.
But it has to be done right. Brian Carter opened his stand, Rolling Smoke, which offers two kinds of ribs and his father's pulled-pork recipe from his catering business, in the parking lot of Crestar Realty in Harpers Ferry three years ago. He's one of three stands in a two-and-a-half-mile radius. Yes, that means you can smell barbecue everywhere in this land of Civil War landmarks, rolling hills, and wineries at the intersection of West Virginia, Virginia, and Maryland. "I wanted to start small and build up my name. I didn't expect to do as well as I did," says Carter, who moves 30 racks of ribs, nearly 40 pounds of chicken, and 160 pounds of pulled pork on a busy summer day.
He's got his own critique of his competition, though, claiming that some operations cut corners by selling food bought from a store. Or, in the worst insult imaginable, baked in ovens. "Everything I do is made right on my grill," he says. "Some other places have smoke coming from the grill, but nothing's cooking. I call it a smokescreen."
Unlike many grill masters before him, Carter doesn't dream of opening a restaurant or driving a food truck. Next spring he plans on trading in his tent and coolers for a shacklike building with walk-up windows and picnic tables. "That feels authentic to me."