When the Armory show opened in New York in 1913, it caused one of the biggest sensations the art world had ever known. An exhibition conceived by artists, it drew unprecedented crowds—about 87,000 at its debut in New York, 188,700 in Chicago, and 14,400 in Boston—publicizing modernism in a big way. In a retrospective displaying about 100 works from the 1913 exhibit, opening at the original location, the Park Avenue Armory, on October 11, the New-York Historical Society will pay tribute to the show's legacy.
Two works in particular, Matisse's Blue Nude and Duchamp's Nude Descending a Staircase (No. 2), proved especially controversial to viewers in 1913 (and provided great fodder for satirical cartoons). One art historian referred to Matisse's work as "that toad"; Duchamp's was famously explained as "an explosion in a shingle factory." The latter work, with its hard-to-decipher cubist forms, was met with puzzlement and amusement, according to co-curator Kimberly Orcutt. "But with Matisse you see more outrage and more emotion," she says, because he was "perceived to be challenging traditional standards of beauty ... He is purposely choosing to primitivize his work, to return to a childlike or archaic way of seeing."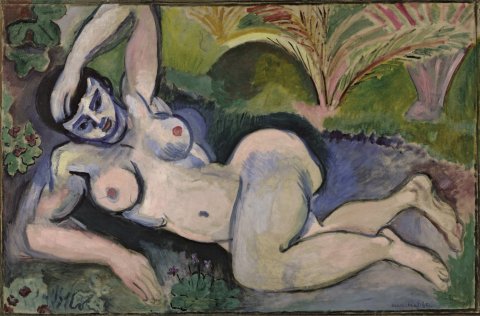 Though newspapers reacted with sensationalized disgust (the New York Tribune, for instance, called the works "freakish absurdities"), serious buyers paid attention. In one of many essays for the anniversary show's catalogue by art historians, Avis Berman writes, "For some collectors, the Armory show was a proving ground or a confirmation of their own earlier intuitions." For while these avant-garde works may have shocked Americans in general, and even the museum-going crowd, many American artists had already begun to assimilate these styles after stints in Paris and elsewhere. Even open-minded New Yorkers who had never been to Europe could have already sought out works by artists like Picasso at Alfred Stieglitz's gallery 291. "For others," Berman continues, "it was a door to perception." Either way, enough took out their checkbooks: of nearly 1,400 works displayed, most of which were for sale, about 275 were sold.
After the Armory show, more American artists began to adopt the loose forms and vibrant colors of modern impressionists like Cézanne and Matisse. More important, buyers warmed up to these works. The Armory show "sort of established the art market in America," says Todd Weyman, vice president and prints-department specialist at Swann Galleries, which is auctioning off works by artists who appeared at the 1913 show in November. "It didn't just influence artists, it influenced buyers so much for the next 100 years." In many ways, it has since served as a prototype for contemporary commercial showcases.
The Armory show (officially titled the International Exhibition of Modern Art) was split somewhat evenly between European and American artists, and their works didn't mix in the galleries. A visitor to the 1913 show would have begun by passing through ill-organized American galleries with no grouping by movement or school, partly out of a desire not to privilege some schools over others and partly for a lack of time; this will be corrected in The Armory Show at 100. To fans of the avant-garde, much of this work seemed too academic or derivative of the Europeans, offending "by their choice of subject matter," in depictions of urban life and nonclassical nudes, "not in the way they handled color or composition," writes Virginia M. Mecklenburg in the exhibit's catalogue.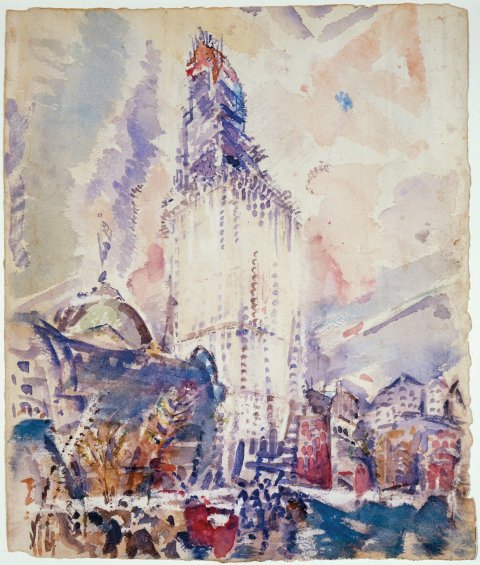 The anniversary show is consistent with the original in continuing on to central galleries featuring a retrospective of artists who had preceded modernism: Courbet, Daumier, and Delacroix, then Cézanne, van Gogh, and Gauguin, all of whom had stirred controversy in their day, but were revered as masters by 1913. They were meant not only to remind viewers of the rhythm of progress, but also to draw a line from the specific movements that had birthed modernism—from realism to impressionism. "Just trust us," they seemed to say of the galleries around the corner.
The show (then as now) ended with the climax of Duchamp, Matisse, and some cubists and fauves—painters known for vibrant, sensual works like Blue Nude. After these galleries, "it seemed," writes co-curator Marilyn Satin Kushner, "as if everyone from the most seasoned collector or established artist to the uninitiated viewer had an opinion."
Of the sold works, European pieces outnumbered American ones (which were more expensive, in part because the European pieces sold were mainly prints and drawings). This success, according to Berman, "persuaded existing dealers who had not represented [Europeans] before to take a chance and show their work to a public that was gradually warming to modernism."
On the whole, Swann values the European works in the catalogue at a higher price than the American ones (though some pieces, like one John Marin print, may top $100,000 at auction). Two thirds of the art sold in 1913 were works on paper, which made particular sense at the time: "For a collector," Orcutt says, "it's an easy way to try on modernism; for an artist, it's an easy way to experiment with the new styles." The same holds true for new collectors today, who will often "dip their toe in the waters by buying lithographs and etchings and move on to drawings and paintings," says Weyman.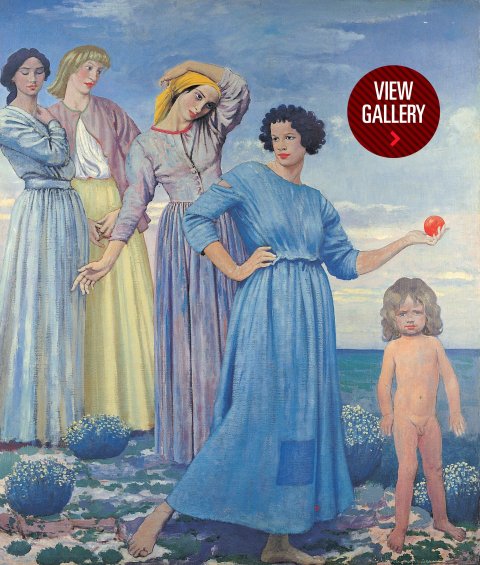 These factors worked in favor of Odilon Redon, who had his own gallery of about 70 works in the 1913 show, mostly on paper, and was one of the exhibit's bestsellers in both quantity and value. With his dreamy prints, paintings, and lithographs, "he was a happy surprise for visitors," Orcutt says. Five Redon works will be auctioned by Swann, including one that sold for $25 in 1913 and is estimated to bring in up to $20,000 this year. The takeaway for dealers seems to be: pack them in with a garish cubist; send them home with a serene (if mysterious) symbolist.
The size of the show, though not unheard of after more than a half century of World's Fairs, was a democratizing force for the art world. Did it also further commercialize art? "It certainly did," says Weyman. "People bemoan the blockbuster exhibitions that go on today, but that's sort of what we were looking at back then."
Today, with the global elite jet-setting to high-profile fairs like Art Basel and the Venice Biennale, it's easy to see the descendants of the Armory show's provocative self-promotion and controversy-stirring headliners. The dealers here may have also learned a key lesson from their forebears: couple the "wow factor" masterworks with plenty of (relatively) affordable options that will look just fine over the mantelpiece.